Director of the company
Weapons
workshops "Dmitry Galkin said
RIA News
that armored cars of the Typhoon family as weapons will receive a combat module with remote control (BMDU) "Arbalet-DM". It was in the "Armory workshops" that this combat module was created. According to Dmitry Galkin, the main defense department of the country expressed interest in the BMDU "Arbalet-DM" in relation to the "Typhoon" to increase the combat equipment of these armored vehicles.
In addition to the possibility of installing the Arbalet-DM module, we are also talking about equipping a BMDU of such equipment as the MT-LB multi-purpose tractor, which has long been recognized as one of the most popular army armored vehicles.
RIA News
quotes Dmitry Galkin:
At the moment, our company is fulfilling its obligations under a state contract with the Ministry of Defense, which involves the delivery of the first batch of Tigr-M armored vehicles with the Arbalet-DM military vehicle to the troops this year. "Arbalet-DM" "demonstrated high performance, including the ability to work in the temperature range from - 40 ° C to + 50 ° C, which makes it possible to use it effectively in any climatic zone of our country, as well as outside.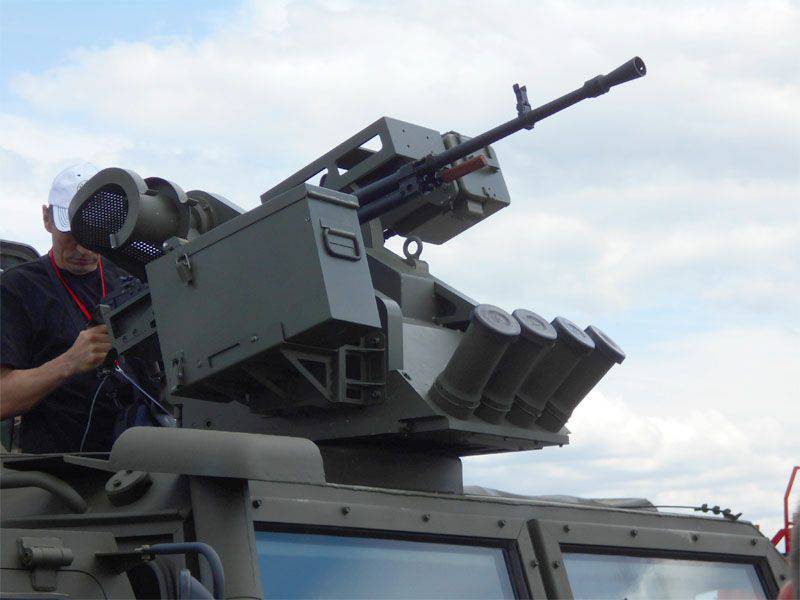 For reference: The Arbalet-DM BMDU consists of a Kord machine gun with 150 ammunition for 12,7 mm caliber cartridges or a PKTM machine gun (250 7,62 mm cartridges). The developer notes that the stationary version of this combat module may have virtually unlimited ammunition. The module is able to "capture" and accompany the target until the attack on this target. At a distance of up to 2500, the module can determine the target in the form of an armored troop-carrier with the help of a special television camera, and at a distance of up to 1500 m there is the possibility of operating a thermal imaging camera. Aiming is done with a laser.