The Ministry of Defense of the Russian Federation has published a new report on the actions of the VKS group of the Russian Federation in Syria. It is reported that over the past day Russian planes made 16 sorties, attacking 57 targets of various terrorist groups, including ISIS. The press service of the Ministry of Defense of the Russian Federation reports that due to a sharp deterioration in weather conditions, combat sorties were carried out for strikes only in the provinces of Latakia and Deir ez-Zor.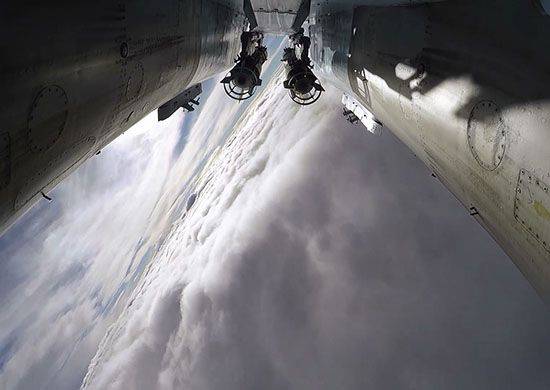 From the message
press service
The country's main defense department:
In the area of ​​the settlement of Mriay, Deir ez-Zor province, a blow was struck at the field camp of the ISIL terrorist group. As a result of direct hits, the command post and the barracks premises for the militants with all the contents were destroyed.
In the vicinity of the town of Meshiyah, Deir-ez-Zor province, a Su-34 bomber struck at positions of militants field artillery. Objective control data confirmed the destruction of 3-x artillery shells.
In the Bgelia region, Deir ez-Zor province, Russian
aviation
bombed strikes on the firing position of rocket artillery and the storage of fuels and lubricants of the militants. Means of objective control recorded the destruction of 2 multiple launch rocket launchers, as well as the detonation of fuel stored in the warehouse.
Marks and military work of the crews of Russian military aircraft in the province of Latakia. Thus, in the region of the mountain range of Jebel al-Akrad, located in Latakia, the aircraft of the Russian Aerospace Force struck four air strikes against isolated groups of terrorists. It is noted that under the onslaught of Syrian government forces, the militants at this point retreated. In addition, it is reported that detachments of the patriotic Syrian opposition also took part in the ground operation against the militants.
From the message of the Ministry of Defense:
In the area of ​​Hatla, Deir-ez-Zor province, Su-34 aircraft struck a workshop where militants filled cars with explosives. Information about this goal came from the representatives of the Syrian opposition. As a result of the bombing, the workshop of terrorists with all the contents was destroyed.
It is noted that the humanitarian operation of the Russian Armed Forces in Syria continues. With the help of the Russian platforms P-7, in the province of Deir-ez-Zor more than 50 tons of humanitarian supplies, including food, were landed.