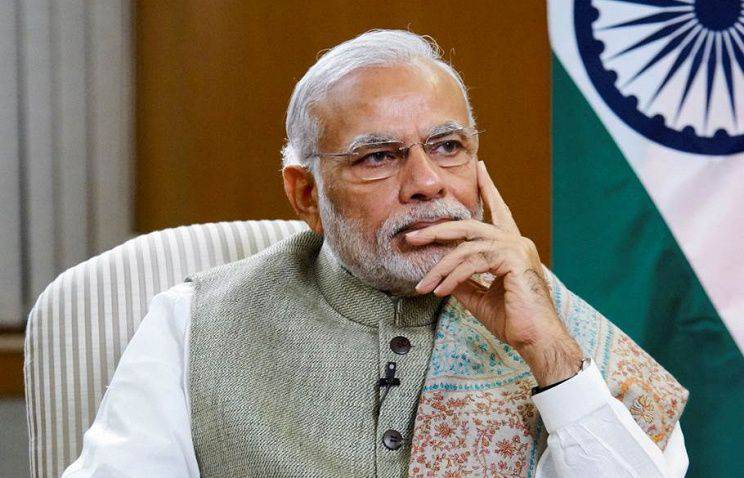 On the eve of a state visit to Russia, the Prime Minister of the Republic of India, Narendra Modi, gave an exclusive interview to the First Deputy Director General of TASS, Mikhail Gusman. This is the first interview for the Russian media by the head of the Indian government, who took this post in May 2014.
- Mr. Prime Minister, thank you very much for the opportunity to meet with you. We are meeting on the eve of your first state visit to Russia, this is your first official visit to our country. What feeling do you go to Moscow, to Russia and what do you expect from this visit?

- First of all, I cordially greet the Russians. Russia is a true friend of India. Russians connect with India indestructible friendship, something more than a political partnership. Russians are deeply interested in the traditions and culture of India, which makes our relationship even stronger.
This is the first time I am going to Russia on an official visit, but we meet regularly with President Putin. In a sense, our political paths with President Putin coincide - he came to power in 2000, and I in 2001. And in the same 2001, we had our first meeting with the Russian leader, when I, as the Chief Minister of the State of Gujarat, visited Russia as part of the official delegation of Prime Minister Atal Bihari Vajpai.
On the eve of the current trip, I have a feeling that I was late, and it bothers me a little. At the same time, I am overwhelmed with those feelings of joy and spiritual growth that you experience when you go to a friend.
Relations between Russia and India cover all areas. We successfully cooperate on land, in water and in the sky. Russia and India have been linked in the defense field for decades. We also cooperate closely in the international arena - in times of crisis or when the presence of a friend is simply necessary, Russia has always been close by. We never had to wait and guess what kind of reaction Russia would have on one issue or another. We always knew that she would support us. Between us has always been, is and will be complete trust. Thanks to this, our strategic partnership has reached a new level and continues to evolve.
- Mister Prime Minister, you said very rightly about the close ties between India and Russia, they really have
historical
roots. Recently, it seems to me, these ties have acquired a special dynamic when you became prime minister and your contacts with President Putin took place. How is your personal contact with the Russian president developing?
- Before the interview, you told me that it was much colder in Russia now than in Delhi, and you were advised to dress warmer. I immediately replied that the love and spiritual warmth of Russians warms even at sub-zero temperatures. This is one of the manifestations of our close ties.
Putin knows how to be friends, possessing a rare talent for self-sacrifice for a friend. Few are capable of it.

It is true that we are well acquainted with President Putin. The whole world knows him as a strong, determined leader. And most importantly - he knows how to be friends, possessing a rare talent for self-sacrifice for a friend. Few are capable of it. It is thanks to this force that he can quickly establish trusting relationships with any leader and country in the world. President Putin and I trust each other. Another quality is openness. This is not the person who thinks one thing, but says another. What he thinks, he says. He doesn't care if someone likes it or not. And, of course, for many years he has skillfully headed the state. Coped with the economic crisis, returned the power to Russia after the collapse of the USSR. When a crisis occurs in the world, Russia comes up with its own point of view. And all this thanks to the leadership of President Putin.
- Russian-Indian relations have a long and rich history. They have never been marred by wars or conflicts. How do you assess the dynamics of relations between Russia and India?
- Indeed, our relationship has strong and deep historical roots. Russian merchant Afanasy Nikitin visited India in 1469 year. Indian merchants from Gujarat came to Astrakhan and established trade relations, and also founded a lively Indian community in 1615. Tsar Alexei Mikhailovich in 1646, he sent ambassadors to the Indian Emperor Shah Jahan in order to establish diplomatic relations.
Russia was perhaps one of the first European countries where the study of indology was introduced. For centuries our peoples have had a great interest in each other. Indian films have always been very popular in Russia, and Russian literature has found a response in India. Thus, our ties are long and deep.
As for me, my first international agreement as Chief Minister of the State of Gujarat was concluded with Astrakhan.
Since the establishment of India's independence in 1947, India and Russia have developed a truly close strategic partnership, characterized by unsurpassed mutual trust and solidarity with each other. Russia contributed to the industrialization of India and its progress in many areas, including in space.
Russia supplied India with military equipment and provided international support at a time when few were ready to lend us a hand. Indians will never forget the help to Russia that we received when we needed it most.
The world has undergone tremendous political, economic and technological changes since the end of the Cold War and the collapse of the Soviet Union.
Nevertheless, in these turbulent times, our relations steadily progressed. Largely due to President Putin and the leaders who ruled India in the last 20 years.
I am very pleased with our current relationship. Russia became the first country with which we concluded a formal agreement on strategic partnership, which has since reached the level of a "special and privileged" strategic partnership, as recognition of our multifaceted bilateral cooperation. I see clear signs of future growth due to the complementarity of both countries. Russian advances in science and technology, military technology, nuclear power, and many other areas complement the huge Indian market, the growing economy, and the needs of its young population. This gives us confidence that our dynamic partnership will move forward.
- The dynamic development of a whole range of bilateral relations gives them the features of a comprehensive strategic partnership. It would not be an exaggeration to say that there is practically no such area where our countries would not establish close ties. In which area has our bilateral cooperation achieved the greatest progress and where is there still untapped potential?

- Our relationship with Russia is unique and covers almost every area of ​​life. We have a great understanding at the political level. We have a strong partnership in the field of defense, nuclear energy, science, technology, etc. Russia has always been and will be the largest supplier of military equipment to India.
Energy is an area where we can do much more. Russia is one of the largest sources of hydrocarbons in the world, and India is one of the largest importers. We have significant investments in this area. Our oil and gas companies have been present on the Russian market over the past 20 years, investing in the Sakhalin project, as well as acquiring shares in the Vankor, Taas-Yuryakh projects and LNG projects.
We want to increase turnover to $ 30 billion by 2025 year. We also want to increase our investment to $ 15 billion on each side by year 2025
Indian global involvement in nuclear power began with Russia.
As for space, the first Indian satellite, Aryabhata, was launched by Russia in 1975, and the first Indian astronaut flew on a Russian ship in 1984.
Cooperation in the field of pharmacology is characterized by mutually beneficial investments and reliable supply of world-class medicines at affordable prices.
We have opportunities to strengthen our relations in the field of trade and investment. Our turnover is growing, but the potential has not yet been fully realized. We want to increase it to 30 billion dollars by the year 2025. We also want to increase investment to 15 billions of dollars on each side by 2025 year.
In addition to cooperation between our companies and businessmen, we are in the process of starting negotiations on a free trade agreement with the Eurasian Economic Union. We establish more direct trade routes through the North-South international transport corridor, which will significantly reduce the cost and time of transportation of goods between India and the Russian Federation.
Also, Russia will be able to send rough diamonds for processing directly to India, bypassing third countries.
- Military-technical cooperation between Russia and India has been going on for more than half a century, and its scale is traditionally wide. What is your vision of the results of cooperation in this field and its prospects?
- Russia has been India's most important MTC partner for decades. Most of our military equipment is Russian-made. We appreciate the support that Russia provided to us in those years when many doors remained closed to us. Even under current conditions, despite the fact that India has gained greater access to the world market, Russia remains our main partner. The aircraft carrier Vikramaditya, Sukhoi fighters and cruise missiles BrahMos are excellent examples of our military-technical cooperation.
They are the fruit of our unshakable mutual trust and reflect the strength of our strategic partnership.

Our MTC ties have evolved from a common buyer-seller relationship to joint R&D and production of advanced systems such as BrahMos rocket in India, as well as licensed production of Su-30 MKI aircraft and
tanks
T-90 in India. As part of our expanding military cooperation, the Armed Forces of the two countries regularly conduct joint military exercises. We also collaborate in the joint production of military equipment and components in India as part of the Made in India Initiative.
Russia can become a major partner of our military-industrial project "Make in India" (Make in India). Soon we will begin work in this direction.
- Mr. Prime Minister, you have been in high office for over a year now, heading the government of India. We managed to do a lot, you started big reforms. And yet - what, shall we say, is your main goal as prime minister? How do you see India, what reforms does your country need?
- I am the first Prime Minister of India, who has 14 years of experience as Chief Minister of the State. Therefore, I know firsthand what the strength and importance of a particular state and what federalism is. In my work, I proceed from the fact that our country cannot stand on one pillar. Each state is such a pillar, and the strength of the country lies precisely in this. I emphasize the importance of the concept of Team India - teamwork for the good of the country. We focus on the federalism of interaction, healthy competition, which will soon give a positive result.
The goal of each state is the achievement of national welfare. I ask myself the question - how to bring positive changes in the life of the people? How to make everyone have access to education, to quality education? To have healthcare for everyone? How to improve the quality of medical services? How to carry out reforms in universities? How to provide basic needs of the population? The state must create the conditions for the realization of the wishes of the people, and state governments must assume this responsibility. Every citizen can then follow the path of development himself. So we need to focus on creating the appropriate conditions. For me, the Skill India vocational training initiative is the main element of human resources development, and the "Do it in India" program is an attempt to turn India into an industrial center. With the help of professional training, every citizen can become part of the country's economy and directly participate in its development.
Everyone says that from an economic point of view, India is like a ray of light in a dark kingdom

We need to develop the infrastructure of India, not only to build roads, but also to lay telecommunication routes, to promote information technology. We want to develop both water supply networks and a gas pipeline system. The Digital India program currently being implemented in our country is aimed at implementing these and other initiatives. Based on the experience of one and a half years, I can say that work in this direction is bearing fruit, as evidenced by the data given by world rating agencies. Today, India is perceived as the most powerful and fastest growing economy in the world. Everyone says that from an economic point of view, India is like a ray of light in a dark kingdom. The whole world sees that India is developing at a rapid pace. If the 21st century is the century of Asia, then the role of India is even greater, and we are aware of this.
As a democratic country, India can combine a trend towards further development and respect for human values, fulfilling its role in the world. Our goal is to support the ideals of humanism, democracy, and also to assist the poorest countries not as an observer, but as an active global player.
- Mister Prime Minister, both India and Russia know the danger for your country, for our country and for the whole world such evil as terrorism. Today, the whole world is overwhelmed by a wave of terrorism, a whole terrorist army is fighting in Syria, the world community is uniting against it in order to resist this evil. India has its own experience in fighting terrorism, you know firsthand what it is. What efforts should countries such as India and Russia, the entire world community, make to defeat this terrible evil - terrorism?
- First of all, I want to express my condolences to the families of those killed in the terrorist attack in Egypt, when the plane was shot down with innocent Russian citizens on board. India has suffered from terrorism for years already 40. We have seen the most terrible manifestations of it. This threat to innocent citizens is gradually spreading throughout the world.
When we began to fight terrorism in India, we warned the whole world community that this phenomenon has no limits. But unfortunately, the world was not ready to listen to us and understand
When we started fighting terrorism in India, we warned the whole world community that this phenomenon has no boundaries and can manifest itself anywhere in the world. But unfortunately, the world was not ready for us to listen and understand. It seemed to everyone that this was a problem for India. Of course, it's a pity that our warning turned out to be true.
Terrorism is the enemy of all mankind and everyone who believes in humanism. All must join forces to fight terrorism. Humanism knows no political boundaries. Political philosophy is not a measure of humanism. Humanism can only be assessed in terms of humanism. That is why everyone who believes in humanism, regardless of political conditions, must unite. This is the only way to fight terrorism.
The UN appeared as a result of two world wars. Today there is no war, but an even more terrible threat is looming over the civilian population - terrorism. The wars had borders and were fought by the armed forces, and in acts of terrorism people with
weapons
in the hands of killing innocents. It is worse than world war. Unfortunately, at the UN we have so far failed to come to a common definition and understanding of terrorism - who is such a terrorist, who is considered to be their sponsors, henchmen, how to deal with such countries - the UN still does not dare to discuss these issues. The reason is that some countries prevent this. The world must realize this.
As for Syria and the Middle East as a whole, it was a thriving region, but now, by its example, we see that wealth and military power do not guarantee peace and tranquility. For further development, humanity must learn a lesson from this: we cannot make our society happy only on the basis of money, we need something else, namely, human values. Everyone says that terrorism needs to be brought to an end, but each has its own priorities and interests. Under these conditions, terrorism is only growing stronger. None of the terrorist groups have their own weapons production. It means that some countries are putting weapons into the hands of terrorists. How does this happen and why does it not stop? The terrorists have no machine for printing money. Who then finances them? For such activities requires a lot of money. The states of the world can stop financing and interfere with the implementation of telecommunications links between terrorists. But the result will be only if all countries coordinate their efforts. If you fight with individual attacks, it will not produce the desired effect, so all humanistic forces must unite.
Today, some manage to carry out religious blackmail. All countries, communities, religious leaders must unanimously declare that there is no connection between religion and terrorism. It is necessary to stop those who spread emotional influence on young people through religious speculations, including in social networks, and society should protect young people from such harmful effects. Those whose authority is recognized by young people must show them the right path, otherwise our attempts to explain something to them will be in vain. We can save the representatives of the current and subsequent generations from this terrible threat if we define such authoritative youth mentors who can always be near.
- Moscow and New Delhi hold close or identical views on most pressing foreign policy issues. For example, our countries are supporters of a multipolar world, where the national interests of all countries and peoples would be taken into account. What is your opinion about our interaction in this direction?
- Strong international partnership has always been the hallmark of our relationship. The support provided by Russia for decades in international forums, including the UN Security Council, is deeply appreciated in India. Today our international cooperation has expanded. We work together in a number of international forums, including BRICS, SCO (where Russia's support this year helped in deciding whether India can join the organization as a full member), the 20 Group and the East Asian Summit.
The BRICS group of countries, in whose creation President Putin played an important role, makes a significant contribution to international finance and trade, financing for development, combating international terrorism and climate change, and ensuring food security and sustainable development. The voice of the BRICS countries can be an important argument on the way to a fairer and more comprehensive global order. Both within the framework of the SCO and at the East Asia Summit, we can work together for peace and prosperity in two vast regions of the world, where both our countries have significant interests.
Multipolarity is a global reality. India and Russia are two faces of a multipolar world. We want to work with Russia not only to secure bilateral interests, but also for the sake of a peaceful, stable and sustainable world order.
- Mr. Prime Minister, this year in September, as far as I know, you celebrated your 65 anniversary. As they say, welcome to the Club 65-year-olds! You are in great shape, you hold on beautifully. What helps you keep that shape? As far as I know, you are a big fan of yoga, yoga is part of the national culture of India. Thanks to your proposal, the UN General Assembly even decided to celebrate World Yoga Day, which is held around the world. By the way, and in Russia, yoga is becoming more and more popular, perhaps under your influence. How do you rate yoga as part of Indian culture, and what would you advise Russian yoga fans on how to develop yoga in Russia?
- You asked a very good question. First of all, I would like to take this opportunity to thank the United Nations, all states and all citizens for the fact that within a hundred days after India's application almost all countries supported our resolution on the celebration of International Yoga Day. This holiday was held in 192 countries of the world. It is gratifying to note that in Russia, the celebration of the Day of Yoga was held in the open air in more than 200 cities with the participation of more than 45 thousand people. This in itself is of great importance. It is true that yoga appeared in India, but it belongs to the whole world, not just our country. And each country in its own way preserves and develops the tradition of yoga. Therefore, today the form of yoga has changed a lot and has become more diverse. Everyone added something, and I am grateful to everyone. Why is yoga so popular today? Our mistake was that we had previously discussed health issues from the point of view of treating diseases, and should have paid attention to a healthy lifestyle. Yoga contributes to our health. Today, the whole world cares about a healthy lifestyle, and yoga is the ideal way to achieve this goal.
A person is subject to imbalance - his soul wants one, the body makes another, the mind contradicts them. Sometimes we do not even realize it. For normal life, a person needs their harmonious coexistence, and this can be achieved through yoga. Yoga gives inner strength. This is not physical exercise, not only body flexibility. If this were so, then one would assume that circus performers are proficient in yoga, but this is not always the case. For example, Russia is famous for its circus art around the world. But yoga is directly interconnected with the consciousness and the spiritual component. It is very important to know this side of yoga.
I heard that President Putin is interested in yoga, like other leaders I meet on trips abroad. I have been practicing yoga for a long time, and only this I devote personal time when it appears. I feel better from doing yoga.
"Our program is called Formula of Power." You, like anyone else, know what power is: you were a very strong, successful chief minister of the state government, now you are the prime minister. In secret I will say that the Indians consider you a very strict leader ... And in this regard, my question is: what is this, in your opinion, power?

For me, God is the people, so I worship the citizens of my country.
- In our country, great importance is attached to spiritual thought, worship of God. For me, God is the people, so I worship the citizens of my country. For me, my strength and the strength of the state is the strength of the people. And if I have a boss, then this is 1,25 of a billion of my compatriots. The power and future of my state is made up of these 1,25 billions of people. And the more I betrayed them, the better they will work for the good of India.
This, in my opinion, is the meaning of power. In India, for me, the word "power" has acquired some negative connotation, so I avoid it. The power of India lies in the 1,25 billionth population, in their 2,5 billion hands. If India has a million problems, then there are a billion solutions. This is my strength.
- Mr. Prime Minister, there are literally a few days left before the New Year. God willing, in India and Russia it will be, hopefully, a happy year. This, by the way, will be the Year of the Monkey, and for India the monkey is a special animal, even in your residence I saw several monkeys somewhere ...
What would you like to wish the Russians, the Russian people in the coming New Year? ..

- I heartily congratulate the Russian people on the upcoming New Year - the Year of the Monkey. I believe that Russia will continue to play its worthy role in the world, the power of Russia will be directed to the benefit of peace and peace in the whole world, and the unbreakable bond between the peoples of India and Russia will continue. I urge all citizens of our countries in the new year to strive for a world freed from terrorism and the protection of the environment. Very soon I will personally be able to congratulate the citizens of Russia on the New Year, but even now, taking this opportunity, I convey congratulations and best wishes to the friendly Russian people.