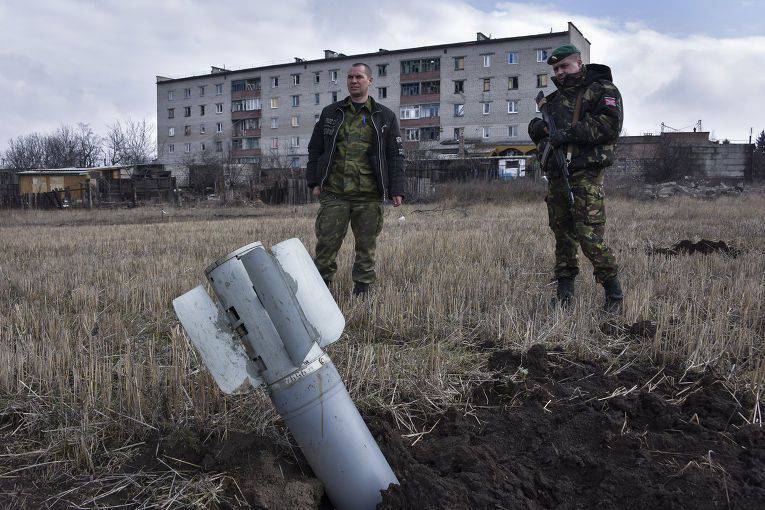 The four directions of American politics that most insult Russia.
I am glad to be with you here in San Francisco. The farther away from Washington and from leading media, the better they represent you!
Perhaps one of you knows that our small group has been protesting against American politics from the moment the crisis began in Ukraine two years ago. What only harsh and degrading nicknames we did not give us in connection with this: "Putin's advocates", and "Putin's useful idiots", and "Putin's best friends in America".
Paris events should have changed everything, but for these people nothing has changed. This morning I went online and saw everything again. So let me say a few words about myself.
My answer to these accusations is: "Not you, but I am a true patriot of American national security." I really am such a man for almost 50 years, since I was studying Russia. I started in Kentucky, then transferred to Indiana University, and my old friends who are now here will confirm that I have been doing this for many years. During this time, no matter how or why, I came to the conclusion that American national security passes through Moscow. This means that the US president in the Kremlin should have a partner — not a friend, but a partner. So it was during the Soviet Union, so it remains to this day.
This is true of any of the most serious threats on a world scale that you name. For some, this is climate change, for some, human rights, for someone the spread of democracy. For me, for quite a long time, the most serious danger is terrorism of a new type, which today is causing suffering to the whole of humanity. These terrorists are no longer any "non-state actors." These people are well organized, they have an army, there is a self-proclaimed state, there is a lot of money. And they have the ability to cause us serious harm in many parts of the world. It seems everyone forgot about 11 September and about Boston, but Paris should have reminded us what is at stake.
So for me, international terrorism is a global threat that should be a priority for US national security. I mean, she must be a top priority for the president of the United States, whether he or she is a Republican or a Democrat. This is a threat to our existence, which is a combination of a new type of terrorism and religious-ethnic civil wars. Worse, these guys really want to get the raw materials to create
weapons
mass destruction. Cups of radioactive material aboard one of September's 11 aircraft would be enough to make Lower Manhattan uninhabitable - to this day.
Today, terrorists use non-nuclear weapons, bombs, mortars and assault rifles. But if they had a cup of radioactive material in Paris, the French capital would have to be completely evacuated. This is the real threat of today. It cannot be reduced, restrained, and even less eliminated if we do not have a partner in the Kremlin. That's the whole point, and again, notice, I said "partner," not "friend." Nixon and Clinton vied with each other about their dear friend Brezhnev and their dear friend Yeltsin, but it was all window dressing. I don't give a damn whether we like the Kremlin leader or not; What we need for a partnership is recognition of our common interests. So two people in business make a contract. They have the same interests, and they have to trust each other, because if one person violates the agreement, the interests of the other person will suffer.
We do not have such a partnership with Russia, even after the Paris events, and I have been saying this for several years now, proving its necessity. In response, people say that I have a "pro-Putin" and unpatriotic point of view, to which I reply: "No, this is the highest form of patriotism regarding American national security."
Today I will try to clearly and briefly highlight a few points instead of giving a lecture. It is much more interesting for me not to lecture, but to find out what others think about it.
The moment the first. The chance to establish a strong strategic partnership between Washington and Moscow was lost in the 1990s, when the Soviet Union collapsed. In fact, everything started earlier, because Reagan and Gorbachev gave us a chance to establish a strategic partnership during the 1985-1989 period. But it all ended under the Clinton administration, although nothing ended in Moscow. It all ended in Washington. Washington squandered recklessly and lost opportunities. I lost so much that today, and at least the past few years (I would say that after the Georgian war in 2008), we are literally in a state of new cold war with Russia. Many people from politics and from the media do not want to use this term. After all, if they admit that there is a cold war between us, they will have to explain what they have been doing for the last 20 years. Therefore, they say: "No, this is not a cold war."
Next moment. This new cold war has every opportunity to become more dangerous than the 40 summer cold war that preceded it. There are several reasons for this. First of all, let's think about this. The epicenter of the former Cold War was in Berlin, rather far from Russia. In Eastern Europe, there was an extensive buffer zone between Russia and the West. Today, the epicenter is in Ukraine, literally on the Russian border. It all started because of the Ukrainian conflict, and Ukraine politically remains a time bomb. The current confrontation is not only on the Russian borders, it is in the heart of the Russian-Ukrainian "Slavic civilization". This is a civil war, as intricate and complex as the American Civil War.
Many Ukrainian antagonists were brought up in the same faith, speak the same language, are bound by marriage. Does anyone know how many mixed Russian-Ukrainian marriages are today? Millions. Almost all families there are mixed. This is also a ticking time bomb that can cause even more damage and even more danger. It happens right on the Russian borders, in fact, right in the center of the Russian / Ukrainian soul ... or at least in half of the Ukrainian soul ... since half of Ukraine wants to be in Western Europe. And this makes everything even more dangerous.
My next moment is even worse. You remember that after the Caribbean crisis, Washington and Moscow developed some general rules of behavior. They saw how close they were to the brink of a nuclear abyss, and therefore adopted a number of prohibitions, both in the framework of treaties and in the framework of informal agreements. Each side knew where its red line was. From time to time they stepped on them, but immediately retreated, because they had mutual understanding about these red lines. Today there are no such red lines. Putin and his predecessor, Dmitry Medvedev, constantly say Washington: "You cross our red line!" And Washington said and continues to say: "You have no red lines. We have red lines. We can build military bases around your borders as long as you wish, but you cannot have bases in Canada and Mexico. Your red lines don't exist. " This clearly shows that today there are no general rules of behavior.
For example, in recent years, the United States and Russia have waged three mediated wars among themselves. This is Georgia in 2008, Ukraine, starting from 2014, and until Paris, it seemed that Syria would be the third. We do not yet know what position Washington will take on Syria. Hollande made his decision; He announced the creation of a coalition with Russia. Washington, in Russia's opinion, "remains silent or opposes a coalition with Moscow."
Another important point. Today, there are absolutely no political forces and movements in the US opposing the Cold War and for defusing tensions - neither in our political parties, nor in the White House, nor in the State Department, nor in the leading mainstream media, nor in universities, nor in analytical centers . I see one of my colleagues here nods his head, because we remember how in the 1970 and 1980 years we had allies even in the White House, among the presidential aides. We had allies in the State Department, there were senators and members of the House of Representatives who supported detente and supported us, expressed their own opinions and listened carefully to our point of view. Today, nothing like this. What can we do in a democratic society without such openness and support? We can not throw bombs, attracting attention to ourselves, we can not publish in the leading media, we can not make so that we heard the whole country. Such a lack of debate in society is extremely dangerous.
My next point is the question. Who is responsible for this new cold war? I ask it, not because I want to point a finger at someone. I want only the White House to make changes in American politics, although Congress can also help here. But we need to know what went wrong in Russian-American relations after the collapse of the Soviet Union in 1991 and why ... otherwise there will be no new thinking. There will be no new policy. At the moment, there is no new thinking in the US political and media establishment. Such new thinking is actively present in the European Parliament. There is great anxiety and concern in the French media, in Germany and in the Netherlands. Even Cameron in London rethinks his views.
The position of the current US political and media establishment is that at the beginning of the new cold war, Putin is the only one to blame, only he, from beginning to end. And we in America did nothing wrong. At all stages we were virtuous and wise, and Putin was aggressive, and he is a bad person. And so what is here to revise? That Putin should review everything, but not us.
I disagree with that. Because of this, I am under outrageous attacks, I and my colleagues. In Kentucky, in childhood, I was taught one saying: "In each
stories
there are two sides. " And these people say: "No, in this story, in the history of Russian-American relations, there is only one side. And there is no need to look at it through the eyes of the other side. You just have to tirelessly repeat the generally accepted interpretation of the dominant establishment. " If we continue to do so without solving the existing problems, we will get a second "Paris", and not only here in the USA.
That is why I say that we must be patriots of the national security of America, and that we need to rethink everything. For some reason, the Clinton administration proclaimed the "winner takes all" policy towards Russia. She said: "We won the cold war." It is not true. Jack Matlock, who in the era of Reagan-Gorbachev worked as ambassador to Moscow, explains in his book what happened at each stage of Reagan's talks with Gorbachev, at which he was present. In fact, the Clinton administration has taken an unwise position, based on the principle that the winner takes all. What are the consequences of such a policy? The consequences are vast. The worst thing is that the US has not used its chance to establish a strategic partnership with Russia at a turning point in history.
Obviously, there are four areas of American policy that most offended Russia. They are as follows.

1. The decision to move NATO directly to the Russian borders. We are talking nonsense, stating that it is Putin who has disturbed the order in Europe that has taken shape after the Cold War. Russia was excluded from this European order in the process of NATO expansion. Russia was pushed "far away" (outside the security zone). Russia constantly repeated: "Let us sign the pan-European security agreement proposed by Gorbachev and Reagan." But supporters of the NATO expansion said: "There is nothing military here, it is about democracy and free trade. This is useful for Russia. Swallow your poison and smile. " When Russians had no choice in the 1990s, they did; but when they became stronger, they had a choice, and they decided that it was enough to be silent.
Russia began to fight back, as any sensible Russian leader who enjoys support in his country would do. This is no joke. In the end, Yeltsin had difficulty walking. He was pushed out of the presidency; he did not leave voluntarily. The important thing here is that. Anyone could have predicted such a situation in 1990's — and some of us did it, talking about it as often and as loudly as we were allowed to.
2. US refusal of negotiations on missile defense. Now the missile defense is a NATO project. This means that anti-missile defense installations, land and sea (maritime more dangerous) are now part of the NATO expansion, part of the strategy of encircling Russia. Missile defense is part of the same military system. The Russians are absolutely sure that the missile defense is aimed at their nuclear systems of retaliation. We say: "Oh, no, it's all about Iran, not about you." But talk to Ted Postol from the Massachusetts Institute of Technology. He will explain to you that the missile defense system is today an offensive weapon capable of striking at Russian targets. It is also a violation of the INF Treaty, because cruise missiles are used in this system. Meanwhile, we ourselves blame Russia for the fact that it is again creating cruise missiles. Yes, she began to do it, because for the first time in many years we returned to an unnecessary arms race.
3. Intervention in the internal affairs of Russia in the name of promoting democracy. We not only financed the programs of "opposition policy" in Russia and Ukraine, which were implemented by the National Endowment for Democracy. You hardly know this, but when Medvedev was the president of Russia, and Clinton and Michael McFaul were conducting their wonderful "reset" (if you look at its conditions, it becomes clear that it was a diplomatic game with fraud), Vice President Biden arrived in Moscow State University and said that Putin should not return to the presidency. Then he said it directly to Putin. Imagine: Putin is coming to us soon and telling Rubio or Clinton that they need to get out of the presidential race!
Are there any red lines in our actions towards Russia? Do we have the right to say and do whatever we want? This applies to everything, and certainly to politics. The White House simply cannot keep its mouth closed, it is constantly pushed by the anti-Russian lobby with its own self-interest and leading media. We all believe in democracy. But whether we like it or not, we will not be able to impose it on Russia. And if we could, we would hardly have liked the consequences.
Therefore, we need to ask ourselves: should we carefully think over our positions with regard to Russia after the Paris attacks? And does Russia even have any legitimate interests in the world? And if so, what are they? What about their boundaries? Does she have any legitimate interests in Syria?
4. The last moment is hope and recommendation. (Before Paris, I thought there was no hope at all.) We still have a chance to restore the lost partnership with Russia, in at least three areas.
Ukraine. You know the essence of the Minsk Agreement. It was developed by Angela Merkel, Francois Hollande, President of Ukraine Petro Poroshenko and President Putin. It provides for the termination of the civil war in Ukraine through negotiations. It recognizes that this conflict is mainly a civil war and only secondarily by Russian aggression. I don't care what the leading American media say - in fact, it's Ukrainian civil war. Putting an end to civil war means strengthening security.
Syria. Before Paris, I thought that there was almost no chance of creating an American-Russian coalition. Partly ... I am not strong at psychoanalysis, but at least partly the reason is because Obama is simply fixating himself on Putin. He is indignant, he is offended at him, and he says things about him that do not help build relationships. But after the Paris events, when Hollande said that there is now a Russian-French coalition, when Germany agreed with him, and I would say, all of Western Europe joined them, a chance appeared. But it will be realized only if the White House takes this opportunity. Soon we will understand.
False confidence that the nuclear threat disappeared along with the Soviet Union. In fact, this threat has become more complex and diverse. But the political elite forgets about it. This is another disservice to the Clinton administration (and to a certain extent Bush's elder during the re-election campaign) - she said that after 1991, the nuclear dangers of the Cold War era no longer exist. But in reality, this threat has intensified, by chance or by neglect, and now the situation is more dangerous than ever.
Last year, due to an unreasonable outburst of irritation and anger, Russia withdrew from the Nunn-Lugar initiative, which, if you remember, was one of the wisest legislative acts adopted by Congress. In the 1990s, we gave Russia money for which it provided security and reliable storage of its materials for the production of nuclear weapons. In addition, we paid salaries to its scientists who knew how to make and use these materials, and who otherwise could have gone to Syria, Yemen or the Caucasus to work there and sell their knowledge. Russia withdrew from this initiative, but said that it wanted to revise the conditions of the Nunn-Lugar initiative. The White House refused. After Paris, there is hope that Obama will pick up the phone and say: "I send people to you, let's negotiate."
Unfortunately, the information coming in today indicates that the White House and the State Department are primarily and mostly thinking about opposing Russian actions in Syria. They are alarmed by the fact that Russia is weakening the American leadership in the world.
But there is one extremely important point. The United States can no longer lead the world alone, and indeed hardly ever could. Long before Paris, globalization began, other events occurred that marked the end of a unipolar world dominated by the United States. This world is no more. A multipolar world appears before our eyes, and this is not only Russia, but also five or six more countries. Washington's stubborn reluctance to recognize this new reality has become part of the problem, not its solution. That's where we got today ... even after Paris.