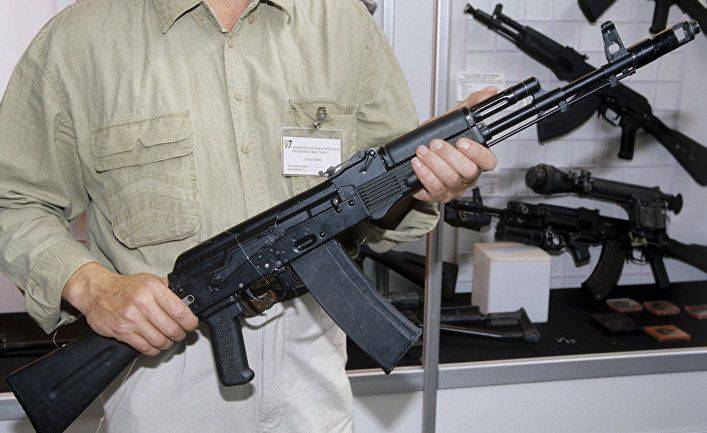 The value of the annual report of the Stockholm Peace Research Institute (SIPRI): in 2014, it was Russia that won the largest share of the market compared to Western manufacturers
weapons
.
The Russian defense industry is showing wonders. According to the latest data from the Stockholm World Research Institute (SIPRI), Russian manufacturers in 2014 increased sales by 50%. Nineteen defense enterprises, including their affiliates, are included in the 100 rating of the world's largest arms manufacturers.
This active growth stands out strongly against the background of rather mediocre indicators that western participants in this sector were able to achieve: taking up 80% of the market, which is estimated at a total of 400 billion dollars, Americans and Europeans faced a decline in sales by 3,5% in value terms and by 7,4 % in volume compared to the same period of the previous year.
New real border "East-West"
This is a clear sign that the affairs of these countries and their producers are now quite bad. First of all, they are suppliers to their domestic market, and also satisfy the demand of their own armed forces and allied states.
In general, taking into account all countries, the global arms market has slightly decreased - in comparison with 2013, the fall was 1,5%. A real border is beginning to appear between Western manufacturers, whose sales are falling, and new participants, among whom Russia is becoming more and more dominant.
Traditional clientele
Russian manufacturers make a profit from two main markets, which show great demand and have always, from Soviet times, used Russian equipment. This is India and China. They themselves, if necessary, are engaged in manufacturing under a license, working to improve equipment, but always make purchases from "Big Brother" -
Russia.
Most of the former Warsaw Pact countries, which are now under the command of NATO, naturally moved to the Western arms suppliers.
New growth prospects
However, other countries are showing an increasing interest in Russian equipment, which at one time had advantages in terms of a favorable price and reliability of the design, compared with Western equipment, which is technologically more complex and therefore more demanding in terms of maintenance and control.
As SIPRI notes, recently another phenomenon contributes to a significant increase in sales of Russian weapons: "The conflict in Ukraine and economic sanctions are not a hindrance, they forced Russia to invest in the development of technologically more advanced weapons and look for new sales markets."
The conflict in Ukraine as a vector of growth
In other words, Russia exports more than just Kalashnikov assault rifles. It looks like it is a more modern and sophisticated weapon, at a lower price than its competitors.
The arms race in the Middle East and Asia allows Russian manufacturers to experience a sharp increase in sales and an increase in profits. The Ukrainian conflict, instead of harming Russia, opened to it all the most promising markets. Moreover, the Crimean conflict has completely eliminated one of the largest competitors of the Russian defense industry - Ukrainian manufacturers.
A few years of steady growth ahead
Ukrainian enterprises, which produced a large amount of Russian equipment under license, faced a sharp decline in sales compared to the same period last year - by 37%, the trade turnover of the country's largest concern, Ukroboronprom, was reduced by half.
A freer competitive field, an increase in the range of technologies, promising old and new sales markets: according to experts, Russian weapons manufacturers are waiting for several successful years of growth, although the Russian military export agency (Rosoboronexport - approx. Ln.) Out of caution now prefers to rely on stable sales in the next three years, taking into account the negative effect of exchange rates.