Financial Times journalists conducted their own investigation to find out the mechanism for the supply of weapons to the DAISH group, for which they met with several suppliers
weapons
on condition of anonymity, conveys
RIA News
.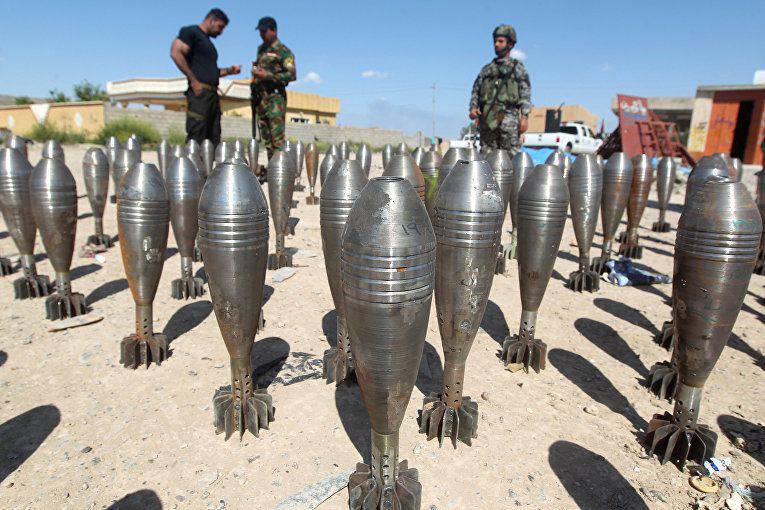 Daisy ammunition found by Iraqi police near the city of Tikrit
"The main product that Daishe members buy is ammunition. After Xnumx was captured in the summer of Mosul, the second largest city in Iraq, military equipment worth hundreds of millions of dollars fell into the hands of militants. With each victory won, the Islamic State replenishes the stock of weapons, but they are ready to buy bullets daily in large quantities, "says the publication of the word arms dealers.
"They buy like crazy. They buy every day: in the morning, in the afternoon, in the evening, "said one of them.
According to his estimate, "the fighting in the area of ​​the (Syrian) city of Dair Al-Zor spent monthly ammunition worth at least 1 million dollars." The same, in the opinion of suppliers, took place "in one week of the onset of terrorists in the area of ​​the nearby airport in December."
For the supply of weapons to DAISH, a complex logistic scheme has been developed, "which is headed by the highest military command of the group, by analogy with the oil trade, which confirms the critical importance of this direction," the newspaper notes.
According to a military source in Iraq, "terrorists are sent ammunition within 24 hours after the request."
"Weapons dealers are provided with special supplier certificates after approval of their candidacies by two representatives of the group. Traders receive complete freedom of movement in exchange for the fact that goods will be delivered only DAISH, "writes FT.
As one of the interlocutors said, "it doesn't matter to the terrorists from whom the ammunition was purchased — from Iraq, the Syrian regime, the rebels or the Israelis." According to him, "as a result of a tripartite confrontation in Syria, a large number of weapons hit the black market." Often, militants use tank trucks to deliver projectiles that return empty from Turkey.
"As the coalition's actions force terrorists to move farther from the Turkish border, opportunities for smuggling are reduced, and prices for the supply of ammunition grow, the IG increases the number of trade licenses, forcing suppliers to fight among themselves and lower prices," the source said.
At the same time, he noted that if one of the suppliers decides to quit the game and leave Syria, "many other people are ready to take his place, since the opportunities for earning money in the country are very limited".