Everything that the representatives of the USA have recently been saying about the situation in Syria is based on double standards,
RIA News
statement by the representative of the Ministry of Defense of the Russian Federation Igor Konashenkov.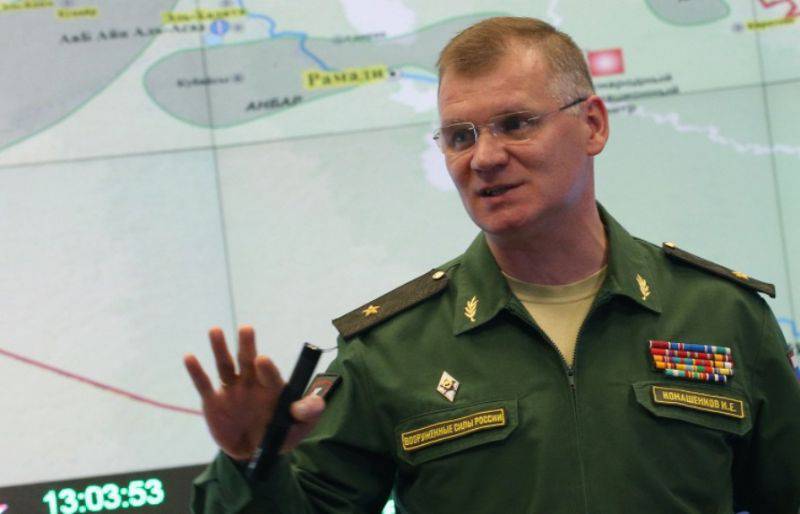 "In general, the statements of representatives of the Pentagon and the State Department lately resemble the" theater of the absurd ", based on double standards and a play on words",
said Konashenkov at the briefing.
"That they see, they do not see, they divide the opposition into moderate and unlimited. Even terrorists have bad and very bad ones, "he noted.
The general recalled that Moscow had repeatedly warned against flirting with terrorist groups.
"Moreover, it was stressed that such a short-sighted position may respond with a bloody echo on the streets of your and our cities. We are convinced that terrorism does not have any comparative degrees or nationalities. Terrorism is an absolute evil that must be dealt with in all its manifestations, "he stressed.
"This is the same axiom, as well as the evidence presented at the 2 December briefing - from where and where does the thief oil flow from areas controlled by international terrorism, who patronizes it and where does ISIL (DAISH) have money to carry out bloody terrorist attacks," the Defense Ministry spokesman added .
Konashenkov expressed bewilderment at the statement by the head of the Pentagon Carter that the US Air Force recently hit only the profitable oil industry enterprises DAISH and do not seek to destroy the entire oil infrastructure.
"How to understand the statement of the head of the Pentagon, Mr. Carter, that
aviation
In the last month, the USA destroys only profitable terrorist oil companies It turns out that for a year and a half the Americans destroyed only unprofitable objects of the militants, "the general said.
"Now it's clear where the bandits have such money for buying weapons, recruiting new supporters, carrying out bloody terrorist acts and why the territory controlled by ISIL has increased hundreds of times during this time," he stressed.