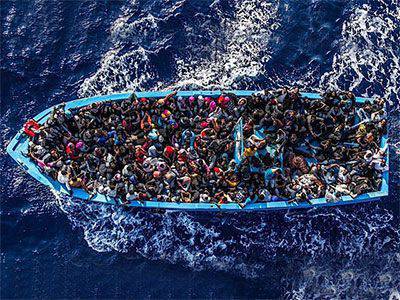 "TOMORROW". In the widely discussed situation with refugees in Europe lately, there is a lot of strange: first, the refugees are frustrated as if on cue, secondly, their entry into Europe takes place with the total inaction of the border services. Was it organized?

Olga CHETVERIKOVA. Somewhere in September, the impression of such a completely uncontrollable chaos was really created. Although in fact many researchers have already cited facts and evidence pointing to a special operation, which was called "Special Operation: Refugees". This massive influx of migrants differs not in the fact that there are many of them, because a lot of illegal migrants have been coming to Europe for many years. There are now about 7 million, and every year somewhere around the 1,5 million illegal immigrants come.
The new thing is that, firstly, in a very short time came a large mass of people. Secondly, really, there was a stream, initially at all levels very well organized. People organized in order to provide transportation. Then they were supplied with the appropriate money, and, finally, they were supplied with relevant information through mobile phones. That is really real, apparently, behind this were the special services. Although it came to the surface only that the relevant American funds were involved: the Rothschild funds and other structures. But it is clear that this was due to the special services, and not only American, but also European.
This flow of refugees really changed the situation, and not so much in terms of social and economic, as in the ideological and informational. The general ideological and political background was such that the problem was turned into topic number XXUMX and everyone shouted about the migration crisis. Although there is no migration crisis per se, because once again I want to emphasize that migration is a constant problem that accompanies all European construction. Moreover, migration, migration flows are an essential tool for global governance. And if we are talking about who was behind this process and why it was necessary to submit information in this way, then we need to understand that there is a whole hierarchy of interests.
"TOMORROW". Like in the orchestra, where everyone plays their own part ...

Olga CHETVERIKOVA. In the orchestra, more or less everyone is equal, and the global management system is multi-level and consists of the corresponding managerial structures. There are VIP-managers, there are middle managers, there are lower-level managers. Those politicians we are talking about are Merkel, Hollande, and the rest are middle managers. Next comes the top management associated with corporate governance, and even higher are the owners: the owners of finance, the owners of the world of ideas.
The people who control the global process and control the world economy and world politics are people of a religious type. Therefore, for them, the system of global governance, globalization itself is a religious idea. And naturally, since their key goal is the establishment of total power, it is clear that the world can be controlled at this level only if the world is fragmented and people are separate atoms. Neither nationality, nor religion, no social strata are needed. And in this regard, the migration and the demographic revolution that is happening all over the world today is an instrument of such erosion, fragmentation, and destruction of traditional communities.
It is significant that one of the key figures of the European Union - Richard Coudenhove-Kalergi, the founder of the Pan-European movement and the Pan-European Union, is very much honored by current European figures, since he laid the foundation of today's program in the 20s. In his works he showed very well that Europe was not conceived as a union of European nations. Coudenhove-Kalergi proceeded from the fact that such nations as French, Germans - they simply do not exist, they are artificial formations, and it is necessary to create a single European nation, which is possible only due to the erosion of European nationalities.
In his works, he showed that if there are no nations, there will be no corresponding boundaries, so a single community will be created. Everything was spelled out in official documents, but he also had the work Practical Idealism, which did not become the property of wide publicity, in which he had already spelled out more precisely what he understood by this mixture of nations. It is clearly stated that in the future Europe will be ruled by the spiritual elite, the core of which will be the German aristocracy and the Jews. Still, the leading role will be left to the Jews, whom he calls the "leading spiritual race of Europe", the "nobility of the brain", the "spiritual aristocracy" who will be at the head of these processes. As for the rest of humanity, it is also clearly stated there that in the future it will turn into a Eurasian-Negroid race, and in this way nations will disappear and only individuals will remain. And it is not by chance that at the height of the crisis, somewhere on September 12, one of the world's leading global mondialists, Jacques Attali, who is a member of the Bnei Brit ("Sons of the Covenant") lodge and who enters the Franco-Jewish lobby, is openly He said that the process that began in Europe is wonderful and wonderful, but this is only, as he put it, the announcement of a film called "Migration", and then the film itself will be. And this is great, because it will strengthen the European Union, there will be a change in the demography of Europe, on the basis of which a strong united Europe will be born.
"TOMORROW". Accordingly, the hierarchy of understanding further process will be played out from the point of view of the interests of individual groups, for example, someone will benefit from an economic point of view.

Olga CHETVERIKOVA. Yes, then comes the level at which a large European business operates, naturally connected with large finances. Little is written about such an interesting association as the European Round Table (CEN) is an association of European industrialists, formed in the 1983 year, when the transition to a neoliberal strategy began. All this is connected with shadow structures, about which we know almost nothing.
Few people, for example, know about such a structure as "Century" (Siècle in French). Meanwhile, it is such a paramasonic structure created in 1944, which is the core of the French government. It unites people of different political views and worldviews. This is the very backbone that in reality rules France. And it was created precisely in order to ensure the unity of the French elite, to consolidate French big business, financiers and journalists. And with the external political and ideological fragmentation of the country, it continues to be governed by a single model, because it is in this organization that meets annually who decides who will be president, who will be prime minister, what political and economic course will be held, etc. About this structure wrote a French journalist Emmanuel Ratier, who died of a heart attack this summer. His book, which is called "In the Heart of Power. The investigation into the most powerful club in France was released in 2011 year. He was one of the few French researchers who studied the French elite and the real mechanisms of governance in France.
This is me to the fact that since the middle of the last century, they have already been actively working on the implementation of the federalist project of European construction. Prior to this, the European elites had been fragmented, and in the presence of pro-globalist groups, a certain segment of national industrialists remained. The task of the Round Table of European Industrialists, created in 1983, was to form a single mondialistic vision among European elites. The round table brings together around 40 the largest transnational European corporations, which actually determine the agenda and dictate their interests and plans of the European Commission, the European Parliament. They have relevant analytical centers and mechanisms of influence. It can be said that today there is a close union between this transnational European business elite and the European Commission. Therefore, those documents that were written and compiled by the European Commission are actually being developed by the analytical center of this European Round Table (CEN).
This is only one of the structures, but there is also a powerful organization of the Transatlantic Political Network (TPN), which brings together the largest transnational corporations not only in Europe but also in the United States. Both CEN and TPN are working on the key task now - to prepare and adopt the Transatlantic Trade and Investment Partnership (TTIP). This is a treaty that should create the largest transatlantic market. First time in
stories
such an education is being created, and all forces are striving towards it. CEN played a decisive role in this, since the documents for the partnership were prepared by the commission that was created after the meeting of Merkel and Hollande with CEN representatives in 2013. It was called so - the French-German Commission. And, of course, the TPN is actively involved in this, for which all shadow analytical centers known to us work - the Royal Council on Foreign Relations, the European Institute for Strategic Studies, the Aspen Institute, the Brookings Institute and others. Well, due to the fact that this partnership, giving large rights to corporations, actually puts the state under the control of transnational business, of course, its preparation is carried out on a shadow level, and only recently these documents became public.
"TOMORROW". So these structures are behind the refugee crisis in Europe?

Olga CHETVERIKOVA. When such a market is created, then we are talking about competitiveness, there is a transition to a new system. Not only minimum costs are necessary, but also the highest labor productivity, so we are talking about cheap labor. If we now turn to economic problems, then today in Europe, many state a demographic catastrophe, which leads to the replacement of the European ethnos. Europe cannot reproduce itself, today there are somewhere 728 million people, and in 30 years there will be 600 millions of people. So, by 2050, Europe will lose about as much of the population as it lives today in Germany, Poland, Finland, Denmark, Norway combined. Demographers compare this situation with what happened in medieval Europe in the middle of the XIV century. Even in England and France, where there is still some average birth rate, it is provided at the expense of migrants, and in no way at the expense of the general population. This problem is extremely serious. It leads to a growing number of older people who need to be maintained, and the number of the working-age population naturally falls. After a few years, this will lead to the fact that the entire social system in Europe, which has been created for so many years, will simply collapse. So it is necessary to urgently change the situation, really really working hands are required, and on a massive scale. One of the French closed reports said that in the coming 30 – 40 years, it would take almost 75 millions of new workers to maintain this social order. In Germany, too, they give such data, and first of all we are talking about the service sector (health care, hotel business, etc.), which requires 6 million people.
"TOMORROW". But even if immigrants are economically justified, then the Europeans really do not understand that if the so-called refugees at the border were met by an organization affiliated with the United States Agency for International Development (USAID), which is primarily a tool of the US special services If the launch of the flow of refugees is directly related to sending out on social networks, then it is obvious that the refugee crisis is of a project nature. And the "melting pot" of nations being created is not inert, it's enough to remember Kosovo. Many experts point out that most of the refugees are young men without families. In Europe, don't they understand that they create a hotbed of tension with their own hands?

Olga CHETVERIKOVA. Why I said that there is a hierarchy of interests and we must consider several levels. You see, when we talk about Europeans, we perceive them as a single whole. But the fact of the matter is that there are certain structures related to big business, financial business that implement their own plan to build the European Union, as they understand it, and it is in no way connected with the interests of individual Europeans, individual European nations or individual European states. We continue to proceed from the fact that in France, Germany, and Italy, there are national-minded politicians representing the interests of their nations, but it is this layer of the national elite that was destroyed in the first place. For this purpose, CEN was created in order to forge the consciousness of the European elite exclusively in the transatlantic spirit. And today, even when a certain segment of the national elite remains, music is no longer determined by it. It is determined by the transnational European elite, for which real European nations - the French, the Italians - do not exist, it is simply a management tool.
So we talked about migrants, who today largely provide the future of the so-called European economy. In this regard, it is necessary to note a very important thing. Most of these migrants are illegal migrants who go into the shadow business, which is today one of the fastest growing areas of the European economy. In Europe as a whole, the share of this business in GDP is 20%, and if we speak in individual countries, the largest ones are in Greece (30%), Italy (23%), Belgium (23%).
What is a shadow business? First of all it is, of course, drug trafficking, trade
weapons
, human trafficking, slave trade.
"TOMORROW". In this context, Kosovo looks like an experiment ...

Olga CHETVERIKOVA. Of course, the "Kosovo" project did not arise because of Europe's thoughtlessness, it was created as a center and exemplary model of an "innovative" economy. The shadow market for the trade in organs for transplantation is growing fast. And Kosovo plays an important role in this, because people are brought there, where organs are taken from their centers, which are then sent to hospitals in other countries. Why precisely Kosovo? And because it is a "state" outside the system of international law, which was achieved by its architects who were interested in not being recognized. Kosovo remains an out-of-area zone where it is possible to carry out criminal activities without any control. And they need as many of these enclaves as possible that are beyond international control.
Today, the shadow economy, and primarily the drug trade, is a very extensive system in which Kosovo, couriers from the Czech Republic, dealers in England and Cosa Nostra is only a grassroots level, and then more serious structures: corporations, banks and special services who oversee this process. Illegal and a significant part of legal migrants are sent to this shadow business.
"TOMORROW". But this will cause a social clash with the European population sooner or later.

Olga CHETVERIKOVA. Please note that when this very well-organized and powerful stream went, the German business made it clear that for him such a mass of labor was a gift. This was said through the mouth of the German Minister of Economics, then the head of the Federal Association of German Industrialists. Merkel herself said that they can take from 800 thousand to a million people, and in general every year they are ready to take on 600 thousand, because it is necessary for business. The head of Daimler went the farthest, who said that the current wave of emigration would play a very important role, because it would provide the same economic miracle that Germany had experienced in 50 – 60-s, when a lot of migrants came to them.
Indeed, Germany initially insured itself, so that only the so-called economic migrants, those who really can really get involved in the development of the economy, would go to her. And it was not by chance that the Germans started talking about the need to make a change to the Constitution of the Federal Republic of Germany, because this would make it possible to define the status of refugees in a new way, leaving those who are needed. Naturally, it was said that this status will be transferred only to those who come from problem countries - this is Syria and Iraq. And migrants from Africa, from the Balkan countries - they will be expelled from Germany.
Why are migrants from Syria needed? I was in Syria a few months before the events began, and I saw with my own eyes that there was nothing in common with what the Europeans portrayed, demonizing Assad and the Syrians themselves. Syria is a country with a very high educational level, where young people have very good qualifications. And what is happening in this country is, of course, a tragedy, because 4 has a million refugees, among which are mostly young people, a blow to Syria itself. This was immediately noted by Syrian analysts, who indicated that in fact Europe had begun to wage war against Syria by other methods, more dangerous, because they suck out the human potential from Syria, one that could fight against terrorism and revive the country. And now these healthy, skilled, educated people are heading to Europe.
"TOMORROW". Even such a selection does not remove the theme of social conflict.

Olga CHETVERIKOVA. Of course, but the explosive mass of refugees goes to the countries of Eastern Europe, which is turning into a NATO attack fist and in which it is now necessary to maximally erode the homogeneous population. Now, in the Baltic countries, in Poland, in the Czech Republic, in which there have never been Arabs and blacks, there will also be a multi-religious, multi-ethnic and multicultural society, such is the setup. To what extent this process will go quickly - we do not know, but the fact that it is being implemented is a fact.
We saw how the Visegrad Group (Polish. Grupa Wyszehradzka, the unification of four Central European states: Poland, the Czech Republic, Slovakia and Hungary) began to resist, and then it was quickly put in place, they began to twist their arms. Then, all the same, these 160 thousands of refugees were distributed, although they left hard quotas. It is not by chance that the High Commissioner for Refugees of the European Union said again that they must do everything so that Serbia could become a refugee camp, from where they will be distributed in the right direction. For this, walls are built on the borders between Hungary and Serbia, and no matter how Serbian politicians protest, this will be done, since they are economically and financially completely dependent on Brussels, and this is one of the main governance mechanisms.
You say it will cause a social protest. But let's not forget that these guys from the EU are the successors of managers who have been developing sophisticated social technologies for many, many decades. Therefore, this influx of migrants also plays into their hands due to the fact that, oddly enough, it ensures social stability. Why?
Of course, the general deterioration of the economic situation, the decline in the living standard of living, mass unemployment resulting from the economic crisis should cause social protest. But when migrants come, who create a lot of problems for Europeans, this social protest can be quickly transferred to another channel, turning it into an ethno-religious, ethno-cultural protest. Today, as public opinion polls show, most Europeans believe that there is a very strong differentiation, the gap between ethnic groups and religions, that is, they all lead away to the ethno-religious sphere. And the problem of migration is not so much as a social, as an ethno-religious, confessional, civilizational problem, which plays a very important role in the management of European society, because all European discontent is directed against migrants. In turn, migrants' discontent is directed against the Europeans, against the European new right, who are conservatives.
If we talk about right-wing nationalists who are gaining momentum in Austria, the Netherlands, Belgium, etc., then we must not forget that they represent the interests of big business and have nothing against big business. They do not have social programs for economic restructuring - they are also neoliberals. The only thing they oppose is against migrants, against allowing migrants to be allowed to preserve their culture and turn into an alien enclave. And if these rightists actually begin to influence the policy of the EU, they will contribute to the establishment of a more rigid political order and tighter control over the citizens of Europe, which is what the elite needs.
Left forces are not able to build a police state - this is not consistent with their political democratic doctrine. And the right - this is just a strict order and control. And the electronic control, against which the Europeans are still actively protesting.
With the influx of refugees in the European Parliament, it was stated that now the strengthening of external European borders is a priority task. The Security Council authorizes the use of EU force against illegal immigrants; as a result, they move on to the second stage of the Sophia program, according to which six warships in the Mediterranean can more tightly control this process. Anyone who arrives illegally, will be delivered to Italy to undergo an inspection. Moreover, in Italy, Greece will create a new system of checkpoints, where they will study migrants, take fingerprints from them, make files on them, that is, Europe is really turning into a fortress. And the elite gets the opportunity to create a police state under the slogan of combating terrorism.
"TOMORROW". But there is another social level of the process: in Europe, calls to remove the crosses from churches in order not to offend the Muslim population are heard more and more often; it turns out that the refugees - it is also an anti-cross campaign in Europe.

Olga CHETVERIKOVA. While addressing the issue of the religious aspect of geopolitics, one cannot but pay attention to the fact that what is happening in world politics is more and more similar to the ongoing revelations of John. The idea of ​​a new world order is a religious idea, it is a religious project, therefore Christianity is not provided for in it. It should not just be blurred, but destroyed. Although Protestantism and Catholicism are now so mutated that they fit into this project.
So Islamists are used to destroy the last remnants of Christian culture, which is expressed in social and political life. Behind all this is the idea of ​​a clash of civilizations, which was supposedly designed by Huntington. In fact, its author is geopolitical Lewis, an orientalist by profession, who worked for British intelligence, who then moved to America and worked for Brzezinski. According to his theory, Islam represents the main enemy of European civilization, but European civilization is presented as a Judeo-Christian civilization. And the most interesting thing is that, again, if we talk about right-wing nationalists, it is interesting that they show solidarity with Zionism and with Israel, in this regard, two camps are really built: the Judeo-Christian civilization against Islamic civilization.
Judeo-Christianity is used as a flag of opposition to Islam. But in fact, the Muslims, through the lips of their spiritual leaders, are not protesting against Christianity, they are protesting precisely against those secular "values" that destroy Christianity itself. Against that perverted course in the field of morality, morality, which is conducted by European elites. And the same leader of the Dutch nationalists criticizes Muslims not because they are for a different civilization, but because they do not want to accept such values ​​of Europeans as homosexual marriages, as the emancipation of women, that is, something that has nothing to do with Christianity.
Therefore, there is a double game here: they hide behind Christianity to fight Islam, while Muslims are used to implement the anti-Christian project. Since under the guise of "secularism" an occult project is being implemented, which is based not on the humanistic, but on the transhumanist concept of man. And Islam, by virtue of its traditionalism, prevents this.