For the first time, 76 parachute platforms with 90 barrels of fuel for a small one were dropped from an IL-26TD-200VD airplane on one of the inaccessible aerodromes of Antarctica
aviation
, Said
MIC
with reference to the press service of the company "IL". Fuel was delivered from Novolazarevskaya station.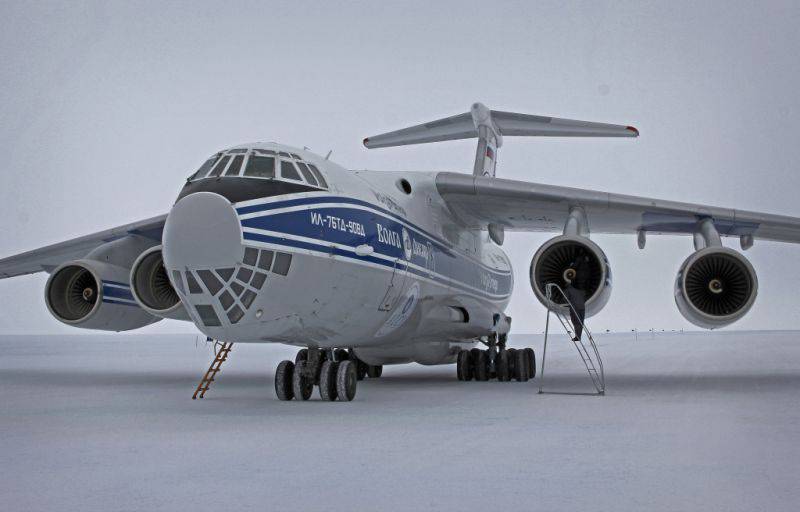 According to the information, the operation was performed on November 27 "as part of the flight operational tests of the Il-76ТD-90ВД aircraft in Antarctica."
"Test flights are carried out in order to issue" Supplement to the manual on the flight operation of the aircraft, "providing for the possibility of its operation from snow-covered ice airfields," the report says.
"The use of the Il-76TD-90VD aircraft for flights to Antarctica from the mainland allows for increased safety, since the decision to continue the flight and to land or return to the departure aerodrome in the absence of alternate aerodromes and unstable Antarctic weather has been moved to the destination. This is achieved due to the increased range of the Il-76TD-90ВД aircraft, equipped with more efficient PS-90А-76 engines, compared to the Il-76ТД / МD with D-30КП engines, the release says.
It is reported that the first landing in Antarctica was performed on November 4 2015, at the airfield of Novolazarevskaya station. "On the same day, a series of test runs was carried out to confirm the technical characteristics and methods of using thrust reversers during landing, as well as several short flights were performed to test takeoffs and landings of the aircraft."
Preparations for the flight to the ice continent took place in Ulyanovsk, "where the wet run test was performed and braking was performed using the reverse." In the tests involved aircraft company Volga-Dnepr.
"Based on the experimental calculations and data obtained from the results of test runs in Ulyanovsk, design engineers of the Aviation Complex named after S.V. Ilyushin was drafted "Temporary change to the manual on the flight operation of the aircraft," providing for the possibility of its operation from a snow-covered ice airfield, "- said in a statement.
To confirm the correctness of these calculations in the first flight to the South Pole, the company's leading designers took part. "After each landing and test run, they carried out the decoding of the aircraft's on-board registration device (" black box ") of the aircraft to compare actual figures with calculated ones," the press service said.
According to them, "it was experimentally confirmed that all calculations were correct, and the" Flight Test Report "was drawn up and approved directly in Antarctica."
"This is of significant practical importance, since the data obtained can later be used to compile the relevant section of the Flight Manuals Manual of the newest heavy military transport aircraft IL-76MD-90А, equipped with similar PS-90А-76 engines," emphasized in press service.
It is also reported that today there are three flights en route Cape Town-Novolazarevskaya-Cape Town. Test flights should last until March next year.