Turkish President Recep Erdogan declared his readiness to leave the post if it is proved that Ankara actually bought oil from the DAISH (IG) group, reports
RIA News
.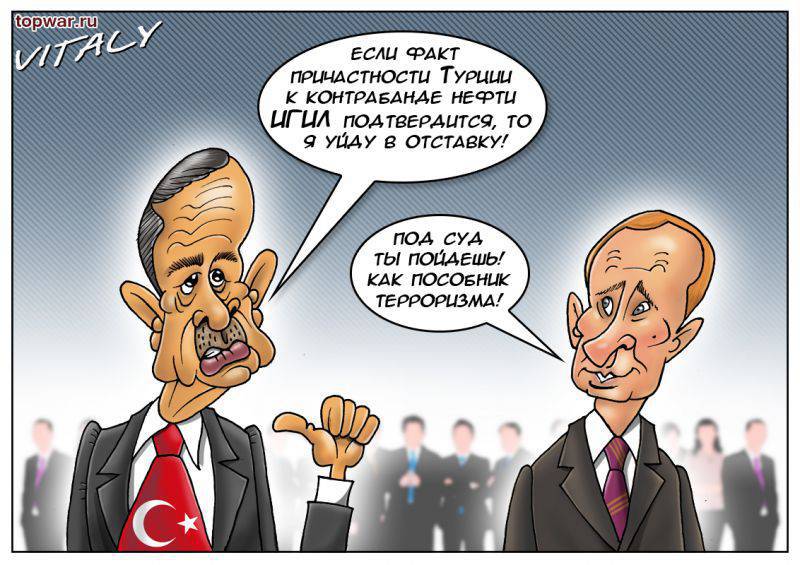 "The accusation that Turkey allegedly buys oil from the IG is unacceptable, and it is immoral to say. And such topics just do not work out, you need to present evidence. If there are such documents, let them show. If this fact is proved, I will not stay in this chair, "said the Turkish leader in Paris at the summit on climate warming.
"There was nothing of the kind, we never bought oil by illegal means. Such transactions with terrorist organizations are excluded. Sources from which we take oil are known to everyone: Russia, Iran, Azerbaijan, Iraq, Algeria, Qatar, Nigeria, "Erdogan said.
He recalled another fact previously voiced by Washington. "According to American data, one of those who buy oil from the IG is a citizen of Russia and Syria, George Hasvani. This man sells it to the Syrian regime. Everyone knows that. First, let's figure it out, answer, "said the Turkish leader.
Meanwhile, there is no official confirmation of Hasvani's Russian citizenship. There are no comments on this issue from both the American and Russian side.
Earlier, the head of the Syrian Foreign Ministry Walid Muallem said about the possible involvement in the illegal oil trade of the son of Erdogan himself. According to him, it was "because of the interests of the oil company of Erdogan's son, Turkey shot down a Russian Su-24 aircraft in Syria."
The fact that the incident with the bomber occurred immediately after the attacks on the oil fields of the IG, drew attention and Sergey Lavrov.
He noted that this happened "after targeted and very effective blows of ours began to be applied to these fuel trucks, in general, to these oil mines
aviation
».