Turkish President Erdogan called the Russian bomber Su-24 "unidentified military aircraft that invaded the airspace of the country." At the same time, Erdogan notes that "Turkey did not want such a development of the situation."
RIA News
quotes a statement from the Turkish president:
We did not want this situation, but everyone should respect Turkey's right to defend its borders. An unidentified military aircraft invaded our airspace for ten minutes, ten warnings were sent to him, but the breach continued. Strictly within the framework of the rules adopted by us and announced earlier for responding to threats against it, intervention was undertaken.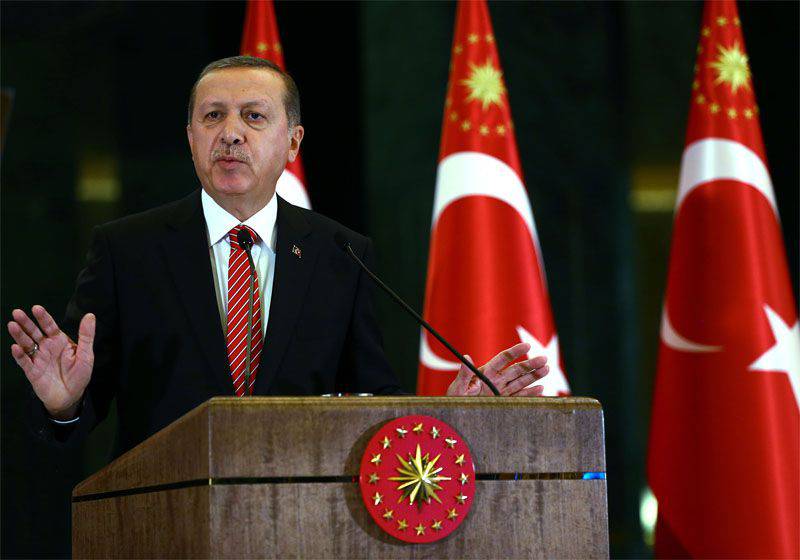 In addition, Erdogan once again expressed criticism of
aviation
Russian Aerospace Forces participating in the counter-terrorist operation in Syria. According to the Turkish president, Russian planes "strike at Syrian Turkmens, and they are forced to come closer and closer to the Turkish border."
Erdogan states that "Turkey has no hostile intentions towards any country", in this case not specifically mentioning the Russian Federation.
And in the letter of the Turkish Permanent Representative to the UN says that "the Turkish Air Force did not know which country the military aircraft belonged to."
Strange ... American planes do not just invade the Turkish space, but also feel at the rank of owners at Turkish airfields. And every time these aircraft are properly identified by the Turkish Air Force. But the Russian aircraft, which was outside the airspace of Turkey and did not threaten this country, the Turkish Air Force could not identify "." Perhaps, Ankara should start a revision of the training methodology of its flight personnel in view of how, as Ankara herself wants to say to everyone, his crying unprofessionalism ...