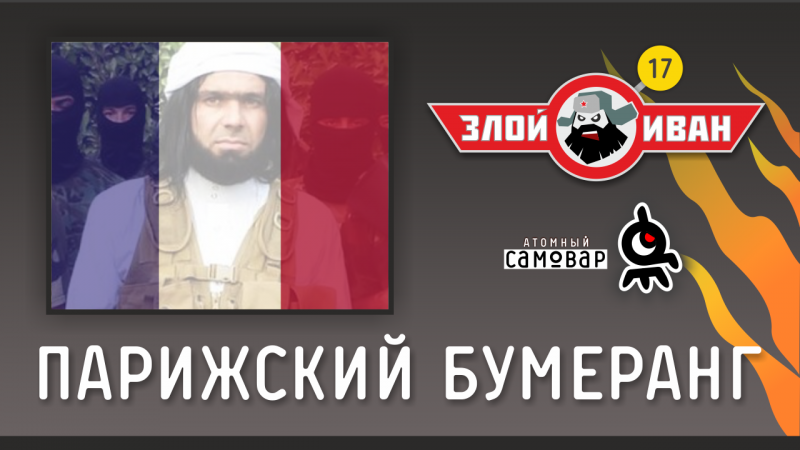 Hello to all ours and not to ours, I am Ivan Victory, I am back, and I am angry again.
News:

"The French Embassy in Moscow warns of a growing terrorist threat in Russia.
This is stated in an e-mail, which was received on Friday by the French in Russia. They are recommended to take special care in crowded places and in public transport. "
This news spread the day before the terrorist attacks in Paris. After all, as it happens, the terrorists were given the wrong card. Or maybe for terrorists there are simply no boundaries and blow up that Russians, that the French are the same for them. As the customer wishes, so be it.
And two weeks before the events in Paris, in Egypt, there was a catastrophe with our plane. Killed 224 person. And so, it turns out that I sincerely regret the victims of this tragedy and I am very sick for what happened.
And now, I listen to myself, my feelings, about the terrorist attacks in Paris, and I understand that as a person I should feel sorry for the innocent people who died in Paris. But here I have no feelings of empathy. There is emptiness and indifference.
And this is not gloating, and by no means resentment. Although there seems to be reasons for this. Suffice it to recall the reaction of the West to our tragedy. "So you need the Russians! You deserve it! You started bombing ISIS, now get ready for terrorist attacks!" And with this intrusive warning either, or a threat came many American and European politicians.
Further more, the French weekly Charlie Hebdo released caricatures of the tragedy of our plane. And the official representative of the Ministry of Foreign Affairs of France justified it, saying something like the fact that French journalists can insult anyone they want, because this is real freedom of speech.
What are we seeing now? Competent and professional information support of the Paris tragedy. It was made fashionable, it was imposed on all of its importance and tragedy. Everyone must worry and grieve. And who does not do this, that is even worse than the terrorists who committed this crime.
And compassionate citizens with a friendly herd rushed to paint their avatars in the color of the French flag on social networks, to like sad pictures with thematic tags. Even YouTube changed its logo, stylized it under the French flag. And the American Negro Obama called the attacks in Paris as much as an attack on civilized humanity.
My dear fellow citizens, and you with the same zeal showered the embassy of Kenya, Iraq, Syria, Afghanistan, Thailand or Turkey with flowers and candles? Where this year were no less terrible attacks. Or do these innocent victims of terror cause you no pity? Or maybe they do not belong to civilized humanity?
I do not sarcastic. You need to be honest, at least in relation to yourself. You can only empathize with your own. The death of our citizens is a tragedy. The rest are statistics and informational reason for our western partners, to shed somewhere harvested tears and promote their "civilized" interests to the detriment of other nations and countries under the pretext of the war on terror. The United States mastered it perfectly. Which, under the pretext of fighting terrorism, smashed more than one country into smithereens.
Maybe for whom it will be a revelation, but the Europeans do not consider us as equals, and never considered ... And they take it for granted that we should mourn for the killed civilized Europeans, but they are not for the natives. They are indifferent to the fact that the Chinese, the Syrians, the Libyans or Iraqis ... And yes, the Russians are in the same row. Therefore, the tragedies of these peoples for them is only a reason to come up with yet another hypocritical, generally humane preaching.
Sick perverted morality, sodomy, hypocrisy and lies, there are almost no other "values" in Europe.
So you simply and briefly express the duty of sympathy for the dead and forget about it. And do not tear your veins, showing how you empathize and grieve for the dead French. They will not worry about your death, unless they draw another mocking picture and gloat.
Do you believe that in the world after the tragedy in France, something will change?
That there is at least one European politician who will find the courage to name the real culprits of the incident. And no, they are not Islamists, Wahhabis ISIS or Al Qaeda.
The real culprits are their sponsors, these are countries and organizations that invented and raised them. Who supply them with equipment, supply
weapon
and train terrorists. And here is a surprise, in this list in addition to the United States, Britain, NATO countries, Qatar, Saudi Arabia, Turkey, includes France.
Did not France take an active part in the destruction of the statehood of Libya? Wasn't France supplying weapons to terrorist gangs in Syria? Wow, they! Directly visual boomerang law in action.
So there will be no insights, revelations and sincerity. Having released a terrorist gin from a bottle, it is very difficult to push it back. And the terrorist threat in Europe will only increase. Europe itself chose this path. And we can not save everyone.
In a fit of empathy for the European tragedy, we need to avoid the trap that we got into with the 11 attacks of September on 2001 in the United States. Russia then sincerely supported the fight against terrorism, which was led by the United States, and we helped them in every way. In gratitude for this, they sponsored terrorists in Chechnya. Overthrown through color revolutions, legitimate governments in many neighboring countries. Created chaos in the Middle East, Iraq, Libya, Syria, Egypt, Tunisia, Afghanistan. And the current madhouse in Ukraine, in many respects their merit.
Russia today has many years of successful experience in the fight against terror. Uncompromising and efficient. And now she is showing it in Syria. And if Europe wants to survive, it can stand under our banners. We do not offer other options.
Everything! Russia ark of the new wonderful world. Save yourself while she is still taking aboard.
And we support ours, help ours, empathize with ours. This rule has long been valid all over the world. Here, for some reason, Russians worry more for others than for themselves.
See you soon!
PS Watch video to the end. In the end, important news!