Boeing has proposed a US Navy action plan, according to which the production of the F / A-18E / F Super Hornet will continue until about the mid-2030s with the goal of preventing a shortage of fighter jets and maintaining combat power
fleet
reports blog
bmpd
with reference to Aviation Week and Space Technology.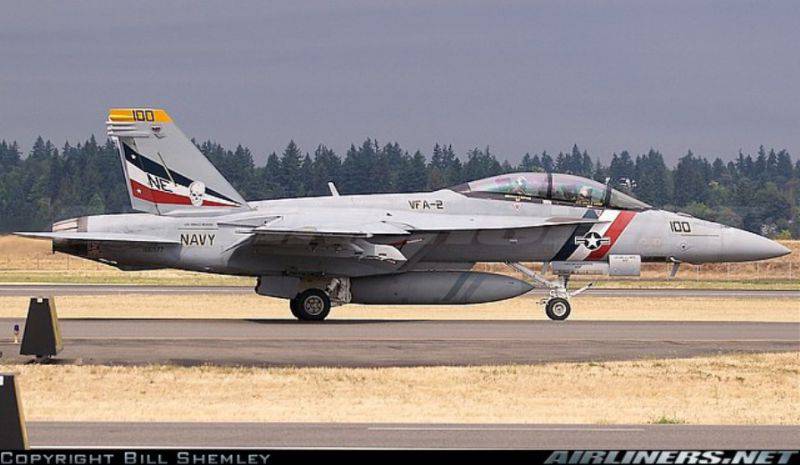 "The oldest F / A-18E / F Super Hornet fighter, which is operated by the US Navy, in 2017 will reach the design resource in 6000 hours. The remaining fleet of this type of aircraft will follow it in approximately the same quantity as the fleet bought them - that is, around 40 per year. At the same time, the US Navy can afford to buy a maximum of 20 fighters each year from the Lockheed Martin F-35C, and perhaps even less, "writes the publication
As part of the Service-Life Extension Program (SLEP), the company will extend the resource of aircraft to 9000 hours, however, according to the commander of the marine
aviation
Mike Shoemaker, "Keeping the fleet with SLEP alone is a pretty big challenge."
"The program will help, but will not solve all the problems," an unnamed representative of the military-industrial complex agreed with the admiral.
The representative of "Boeing" Dan Gillian sees the way out in the combined approach, which consists of "SLEP, aircraft of new construction and modernization of aircraft."
To keep the production of these machines, the company is also looking for external customers. According to the publication, "negotiations are underway for the supply of 24-30 aircraft to Kuwait." It is noted that the agreement is almost reached, it remains to sign the contract. If everything goes well, the Boeing will be able to safely maintain the production of F / A-18E / F Super Hornet to 2019.