After the Paris attacks 13 November in the world sounded: "Molenbek". Six square kilometers of the Belgian territory, a suburb of Brussels, 10 minutes by car to the European Parliament. Even in the last century, this suburb of the capital of Belgium (and now concurrently - the European Union and NATO) was an unremarkable working town with several industrial facilities and the complete absence of any fame. Now Molenbek is well known.
Europe, and with it the rest of the world, suddenly found out that over a hundred thousand migrants from various countries in Asia and Africa live in Molenbeek (oh, horror! ..). In European political talk shows, they are seriously discussing the questions: "Who let in?" Who allowed? Who is to blame? "And, of course," What is to be done? "No one in tolerant Europe could imagine, you know, that if in one place thousands of people gather at the same time except for war, Afghans, Syrians who saw in their lives, Libyans, Yemenis, Moroccans and other former inhabitants of the sunny East, then sooner or later they will want to turn this place and its environs into their usual "Afghanistan", "Libya", "Syria", "Yemen", "Morocco" or a mixture of these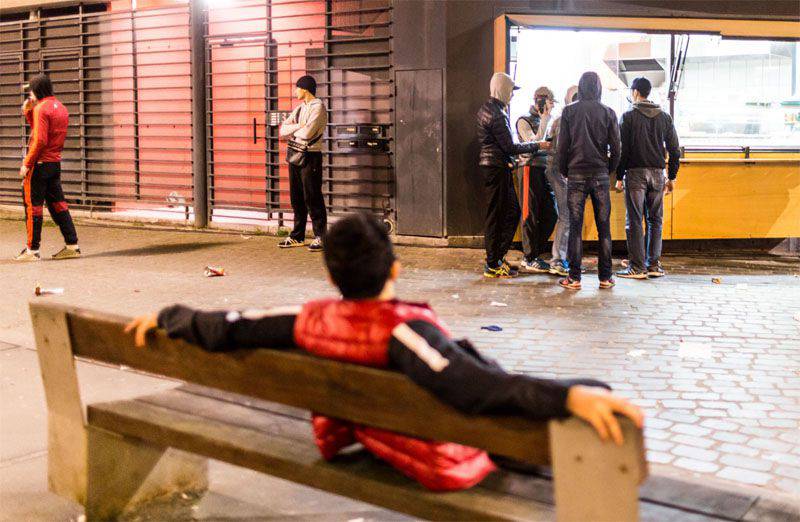 When in Molenbek a few years ago the question was raised that the New Year (Christmas) fir was an insult to the feelings of individual believers, the Belgian authorities tolerated: they say yes, the fir does offend ... Yes, yes, we understand you perfectly well and no intolerant Christmas trees We are not going to install.
When the last policeman who tried to enter one of the quarters of an armed policeman in Molenbeck, were cast out by iron rods a few strong guys of African appearance, threatening with consequences, let's say, for the integrity of his bone tissues, the Belgian authorities tolerated: we don't impose our own laws - integrate, they say, into our democratic society freely, without police.
When crime statistics related to trafficking
weapons
, drug trafficking, counterfeiting in Molenbeck ceased to be conducted for the simple reason that in this suburb of Brussels it is easier to keep statistics of those who do not sell weapons and do not use drugs, the authorities of Belgium once again explained everything tolerantly to the society. And let's not make hasty conclusions and we will wait - people have not had time to get used to the new place of residence, not everyone got a job - we tolerate, we will see - perhaps everything will settle down by itself ... Perhaps the former "soldier" of the free Syrian army "Mohamad, who receives our unemployment benefit, suddenly wants to go to work at the plant - at the machine, and Khairulla and Abdulla will stop selling heroin and first learn French or Walloon ...
Interesting statistics on Molenbek today
.
The unemployment rate exceeds the Belgium average 3-4 times. The youth unemployment rate is in excess of 42%. There are more 15 mosques in Molenbeek than Christian churches. Moreover, in the majority of mosques, according to the information of the Belgian media, radical views are preached, which in reality have nothing in common with Islam. The suburb is divided into sectors of influence. The most influential group are immigrants from Morocco, who are not enthusiastic about the fact that the number of immigrants from Syria is growing in Molenbek. For recent years, interethnic clashes have become a common and daily affair for Molenbek.
Despite the fact that the residents of Molenbek of non-Belgian origin constantly appeared in the reports of law enforcement officers since the 2001-2002. (since the terrorist attacks in New York and the beginning of the American operation in Afghanistan), a suburb of Brussels continued to concentrate extremists of all stripes. Burst - in Paris. And now it seems like in Belgium they were preoccupied with the problem of Molenbek. We decided that further, you see, this cannot continue.
But the question is: what, Molenbek - is he the only one in Europe? Is this the only suburb that has long been turned into a branch of some Tripoli or Aden? This is the only place where your Mehdi Nimush or Ayub al-Kazan can leave. Why, there are Molenbecks both in Britain, and in Germany, and in France itself. Entire quarters of major European cities have been turned into "police-free zones", into "Sharia territory" —that is, into conglomerates, where the very European laws that "united" Europe is so proud of do not work.
At the same time, the authorities of the countries in which such hotbed areas of crime have been created for many years in greenhouse conditions also manage to say something about their readiness to fight international terrorism. A killer group from him killer fuses and fills a group in a social network with photos of preparations for the terrorist act, and he is broadcasting from the tribune how the valiant American "coalition" fights the militants ...
Examples do not have to look long. Facebook group is easily found
Ichkeria.info
, which quietly conducts its activities from the French Strasbourg (if, of course, to believe the published information). Again, if you believe the published data, it turns out that while the French police declares advances in the fight against terrorism, in the city where the EU's most important institutions of governance are located, there is a terrorist cell that fills social networks with extremist feces.
There are examples and more, what is called, worse. In London, the so-called government of the so-called Ichkeria "in exile" is sitting at all. This "government" is led by Mr. Zakayev, accused of terrorist crimes in Russia. And after all, Zakayev in London is a person about whom everyone in Britain knows (everything is known, including his "heroic" past). Lawsuits were conducted against him, but Zakayev, who is one of the odious terrorist figures who repainted as a champion of democracy and law, always came out dry. It's no joke to say that in 2002, Zakayev supported the European Parliament, awarding the so-called "freedom fighter's passport". He was detained in Denmark and Poland, but apologized, was released ... Now Mr. Zakayev sipped coffee in the British capital, publishing also appeals to the leaders of G20 that it was time for them to finally concentrate and attack Russia ... Drink coffee ... In London ... And Premier Cameron declares that his country is literally sizzling up the war on terrorism ... In both!
Europeans, well, how many "Bataklanovs" should still thunder, how many more civilians should suffer at the hands of the radicals, warmed by you on their chests, so that flirting with terrorists and their differentiation "by the color of their pants" and attitude to Russia would stop once and for all? Or an understanding of this problem and a single European Union are conflicting concepts.