Ukrainian authorities are trying to get
weapon
wherever possible. Recently, with a proposal to significantly strengthen military cooperation, President Poroshenko visited his colleague Nursultan Nazarbayev in Astana, writes the French resource Intelligence online. Article translation publishes a blog.
bmpd
.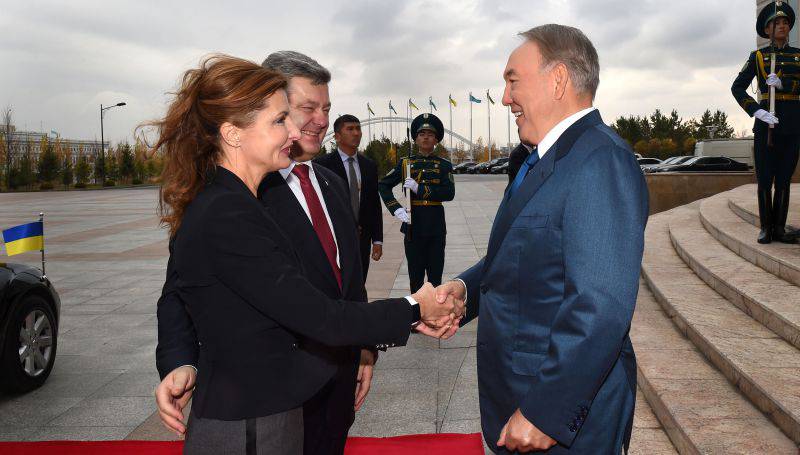 During the visit, which took place on October 9 and passed almost unnoticed, Poroshenko promised to cooperate with Kazakhstan in the production of components for Antonov Design Bureau aircraft and the production of engines of the Motor-Sich enterprise.
In addition, Poroshenko discussed with Nazarbayev the possibility of supplying arms to Ukraine. However, as the newspaper writes, "the Kazakh side chose to evade the answer."
"The supply of Russian weapons by the Kazakhs to Ukraine does not make sense: Astana is purchasing its own weapons, first of all, from Russia within the framework of the CSTO," the resource notes.
According to the author, "the turn of Kiev to Astana, which is very deeply involved in the Minsk negotiations and is the main supplier of grain to the east of Ukraine, may not seem so shocking." "In essence, this is a search for alternatives, despite the fact that Washington has finally decided to carry out massive arms supplies to Kiev," writes Intelligence online.
According to the newspaper, the cooperation of Kiev with Washington in addition to the supply of artillery shells and equipment for cyberwar "will be aimed at significantly increasing the capabilities of the Ukrainian Air Force."