The cycle of articles on the armament of the era of the Trojan War has come to an end, and ... somehow even an unusually little. It seems that something is missing? At one time, I wanted to write an entire book about it - why, by the way, was the cycle born so quickly that a lot was already done, but in one of the most famous publishers I was told that "the topic is narrow and the book will be expensive". Therefore, to print - it makes no sense. But, thanks to BO, she still found her reader, though ... and in a rather raw form. As I worked on the materials of the cycle, I myself learned a lot of new things, met interesting people, so this work was not only interesting, but also useful. Someone even asked me whether it is possible to make a candidate dissertation on this material. You can, but not worth it! But the graduate work of a student of history can be done completely.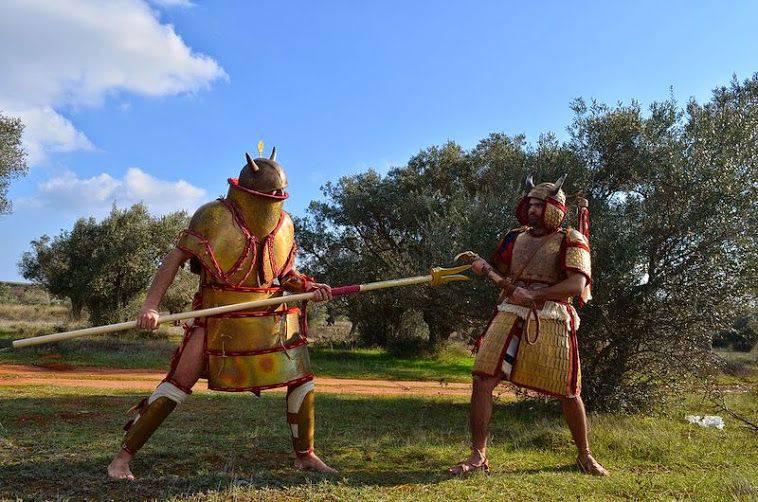 Duel of two warriors with a spear and a "mace with a hook." Photo by Andreas Smaragdis.
At the end of any monograph usually put a list of references. There will be difficulties with this, because much was taken not from books, but from sites, including Greek, and English. In one of the articles were called the latest books of the publishing house Osprey. Who needs it - he can easily find them on the website of this publisher and order. But without literature, it is still impossible.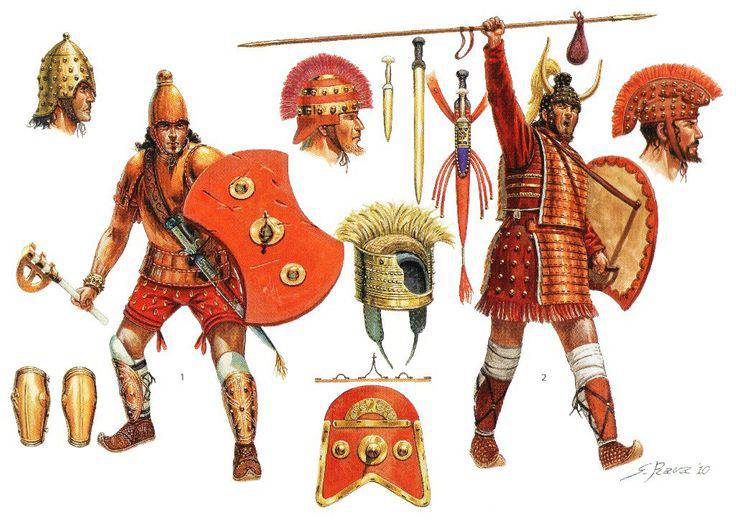 Drawings of the warriors of the artist J. Rava with all their advantages and disadvantages.
Therefore, it provides a list of books recommended by British historians on this topic. From this list, I happened to read books under the numbers 3,4,6,10 and 11 and I can say that they, especially the book by Connoli, were recommended not in vain. So if someone decided to devote himself to the study of this topic, then ... the foundation for this is his substantial plus links to the websites of Korivantes society and Matt Poitras. There are great photos that they are always ready to share. You can also write to Corivantes and offer them your article on a related topic. For example, "Bronze
weapon
Kerch "," Kolkhida of the ancient Kolkhs "," Warriors of the Golden Fleece ". True, you need to write in English. You can translate via Google translator, but then you must re-read and correct the errors, because they will be in every sentence !!! You can get acquainted with our national archaeological material on this topic, besides the already named 20-volume edition, in the journals "Soviet Archeology" and "Archeology of Russia", as well as in the magazine "Rodina".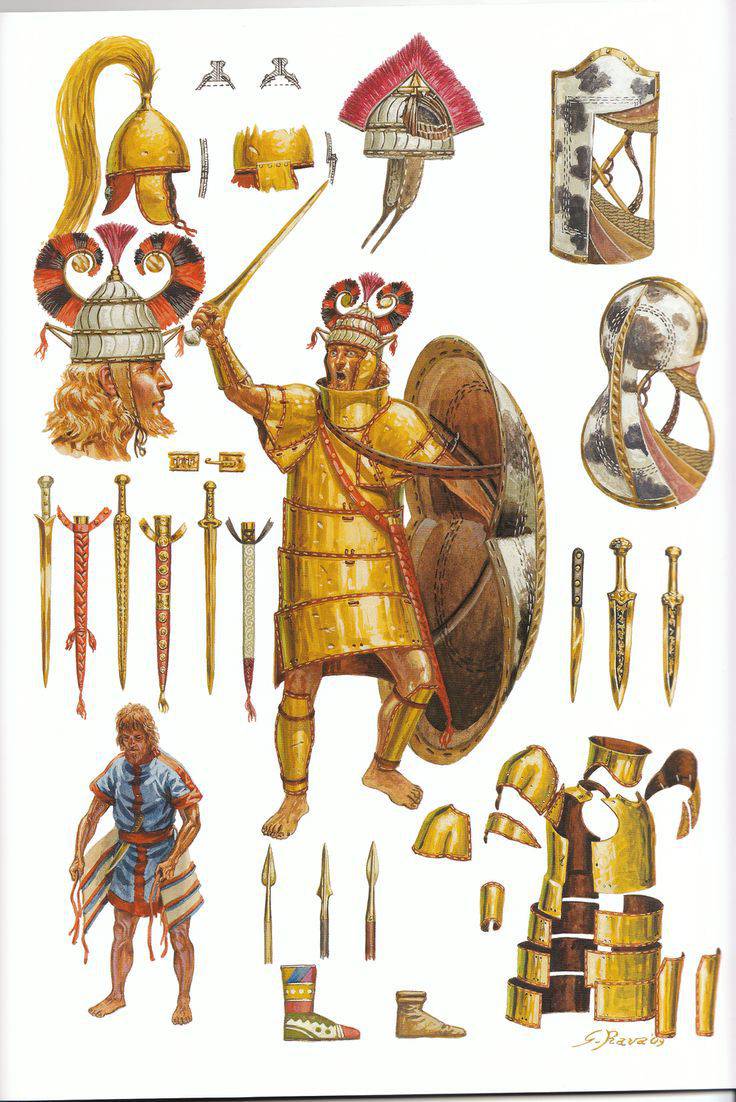 Mycenaean warriors of the XII century. BC. c. Artist J. Rava.
But there is a lot of work to be done and a "cavalry assault" will not take this topic. However, we are people, we love difficulties, so if someone suddenly becomes "tempted", then I am always "for". Well, the books - here they are - read:
1.Astrom, Paul. The Cuirass Tomb and Others at Dendra, Part I: The Chamber Tombs. Studies in Mediterranean Archeology, Vol. Iv. Goteborg, Sweden, 1977. ISBN 91 85058 03 3. (Astrom, Paul. "The Tomb of the Cuirass" and other finds in Dendra. Part I: Chamber tombs. Studies in Mediterranean archeology. Volume IV. Gothenburg, Sweden, 1977. ISBN 85058 03 3. Excellent photos of each piece of armor, among them many large plans, drawings, and descriptions. Not to mention all the pottery and other items found in Dendra's tombs!)
2.Avila, Robert AJ Bronzene Lanzen- und Pfeilspitzen der Griechischen Spaetbronzezeit (Praehistorische Bronzefunde, Abteilung V, Band 1). Munich: CH Beck'sche Verlagsbuchhandlung. Text in German. http://www.antikmakler.de/catalog/index.php. (The series is not cheap and it can be difficult to find, but there are large-scale drawings of weapons and much more.)
2.Barber, Martyn. Bronze and the Bronze Age: Metalwork and Society in Britain c. 2500-800 BC. Stroud: Tempus Publishing, 2003. ISBN 0-7524-2507-2. (Barber Martyn. Bronze and Bronze Age: metalworking and British society 2500-800 BC Strod. Tempus Publishing, 2003. ISBN 0-7524-2507-2.
3.Connolly, Peter. The Ancient Greece of Odysseus. Oxford: Oxford University Press, 1998. ISBN 0-19-910532-4. (Connolly, Peter. Odyssey in Ancient Greece. Oxford: Oxford University Press, 1998. ISBN Number 0-19-910532-4. Full of excellent information, richly illustrated. Price $ 12!
4. Dickinson, Oliver. The Aegean Bronze Age. Cambridge: Cambridge University Press, 1994. ISBN 0 521 45664 9. Not exactly a light read, but a good overview of the subject. (Dickinson, Oliver. Aegean Bronze Age. Cambridge: Cambridge University Press, 1994. ISBN number 0 521 45664 9. It is difficult to read it, but a qualitative overview of the topic is given).
5.Drews, Robert. 1200: The End of the Bronze Age: X-Menus and the BC-St. Princeton, NJ: Princeton University Press, 1993. ISBN 0-691-04811-8. (Dreis Robert. The End of the Bronze Age: Changes in the Art of War and the 1200 Catastrophe BC Princeton, New Jersey, Princenton University Press, 1993. ISBN 0-691-04811-8. The author draws attention to many of the flaws of modern science, but many English historians consider it superficial. Obviously, this is a kind of British Fomenko, and those who criticize him are "conspiratorial traditions").
6. Grguric, Nicolas. The Mycenaeans, c. 1650-1100 BC. Osprey Elite Series #130. Oxford: Osprey Publishing, 2005. ISBN 1-84176-897-9. (Grgurik, Nicholas. Mykenets, 1650-1100 years BC. Osprey. Elite Series # 130. Oxford. 2005. ISBN 1-84176-897-9. Illustrator Angus MacBride. Like all Osprey books, it is too short. But There are beautiful illustrations, interesting photos.
7. Harding, AF European Societies in the Bronze Age. Cambridge: Cambridge University Press, 2000. ISBN 0 521 36729 8 (Harding, AA European Societies in the Bronze Age. Caimbridge, Cambridge University Press, 2000. ISBN 0 521 36729 8)
8. James, Peter. Centuries of Darkness. London: Jonathan Cape, 1991. ISBN 0-224-02647-X. (James, Peter. Centuries of Darkness. London: Jonathan Cape, 1991. ISBN 0-224-02647-X. Another British Fomenko! Now you understand where our ears grow from? Draws attention to the "failures" of the theory of "dark ages" and that the chronology of the three continents is clearly "corrupted" by the Egyptian "royal list" of Manetho. Now, all dates before 950 BC can be reduced by at least 250 years. But then at least the amendment to 250 years, not 2500 ...)
9.Osgood, RIchard; Monks, Sarah; and Toms, Judith. Bronze Age Warfare. Sutton Publishing, 2000. ISBN 0-7509-2363-6.
10.Wood, Michael. In Search of the Trojan War. Berkeley: University of California Press, 1998. ISBN 0-520-21599-0. (Wood, Michael. In Search of the Trojan War. Berkeley: University of California Press, 1998. ISBN 0-520-21599-0. Excellent, balanced
история
Troy's discoveries and debates about truth and legend.)
11.Yadin, Yigael. The Art of Warfare in Biblical Lands. New York: McGraw-Hill, 1963. (Yadin, Igael. The art of warfare in biblical lands. New York: McGraw Hill, 1963. A two-volume edition focused on the Middle East and Egypt, but also applies to other cultures, starting with the Neolithic. Filled with illustrations, a fascinating analysis of ancient texts. But the book is interesting not only by this, but also by the fact that everyone has forgotten it, therefore it is especially interesting to use it as a source).
One of the site visitors (I apologize, but there is no time to search by comments who exactly) expressed a wish to learn about Achaean axes and other types of their exotic weapons. At that time, in response to his comment, I did not find this information, but now it's a different matter. Here's information from the website of the Korivantes society about the weapons that they themselves consider exotic.
"There is a stereotype that Homer's heroes are well-armored warriors with swords and spears fighting each other in fights or in constructions like primitive phalanxes. Some of them were exceptional archers using compound bows, for example, Paris and Odysseus, but the arsenal of warriors of that time was much richer. Archaeological finds in Egypt, the territories of Mitanni, the Hittites and the Sumerians allow us to imagine a wide variety of "exotic" weapons, such as: clubs with spherical topping, clubs with discoid topping, sickle-shaped swords, spears-bidens, etc. Well, first of all, these are axes that the Mykene used quite widely. Crescent-shaped axes were common, and the axes with the blade in the form of the beak of the platypus are also known.
The Minoans also knew double axes (and in the cult film Troy even showed how one such ax was loaded onto a cart with a weapon), but there are a lot of arguments for the fact that these axes are ritual, not combat. The use of a battle ax (both with one hand and with two hands) requires a large swing, and it is obvious that such lamellar armor, like "Dendra armor," was created to withstand them. And, by the way, axes were also widely used against Byzantine cataphracts and Western European medieval knights.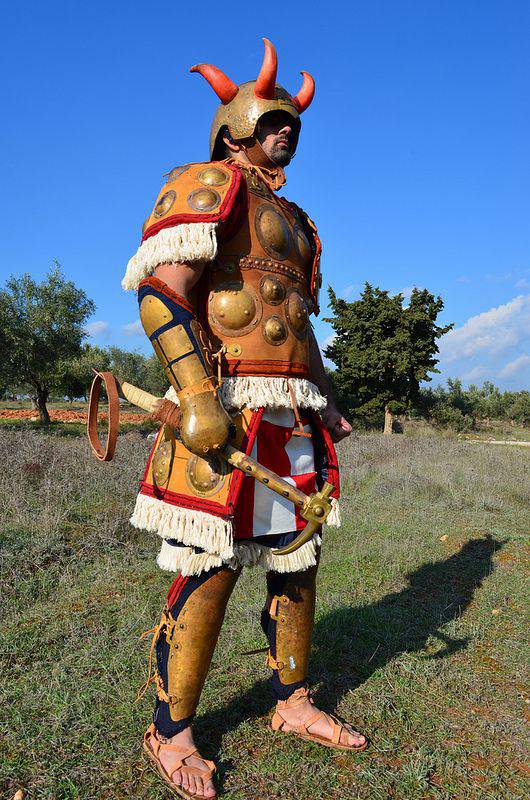 "Menelaus" fully armed.
It is a fact that Homer very briefly (and rarely) describes some unusual (and less noble) types of weapons, such as axes and maces (Iliad 7.138). Meanwhile, it is known that a wide variety of materials (iron, bronze, stone) were used for their manufacture, depending on the social status and financial capabilities of the warrior.
Homer makes an excellent reference to such weapons as aksini. They were used by a Troy warrior who attacked Menelaus, who, however, killed this warrior (Iliad 13,613). The word axini is used even today in modern Greek to describe such an agricultural tool as a pickaxe. But we can assume that such tools were used as weapons by poor warriors, and this assumption can be fully accepted, since it is better to have such weapons than none. Interestingly, the Kanellopoulos Museum in Athens shows an interesting artifact dated 9 c. BC. This is a heavy hammer with a long "horn", just very similar to a pickaxe. If it were a weapon of that era, it was clearly intended to puncture heavy armor or capture the enemy's clothing.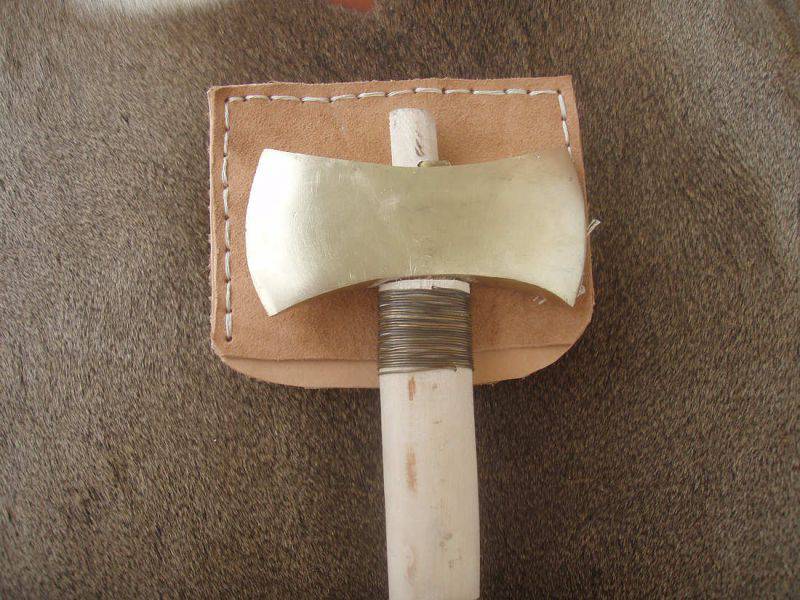 Double ax work Katsikis Dimitrios.
Another weapon was a heavy double-tipped spear. There is an assumption that it was a device for hunting large marine animals, for example, dolphins or swordfish, but, of course, they could easily pierce a man! "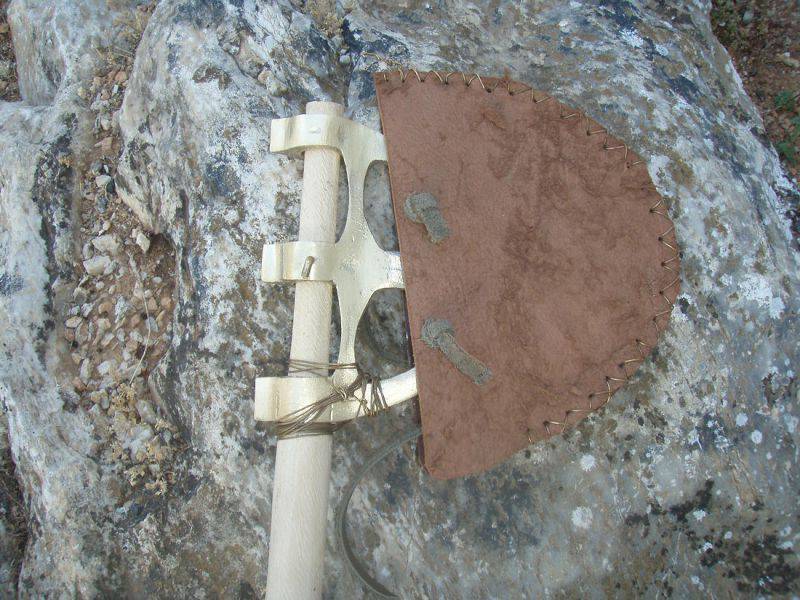 The ax in a leather case, the work of Katsikis Dimitrios.
On this, our cycle of weapons and armor of the era of the Trojan War can be considered complete: "the last song of the poem" is over.
Members of the association "Korivantes" in their robes and armor.
The author is grateful to Katsikis Dimitrios (http://www.hellenicarmors.gr) as well as to the Greek association Korivantes (koryvantes.org) for providing photos of their reconstruction and information.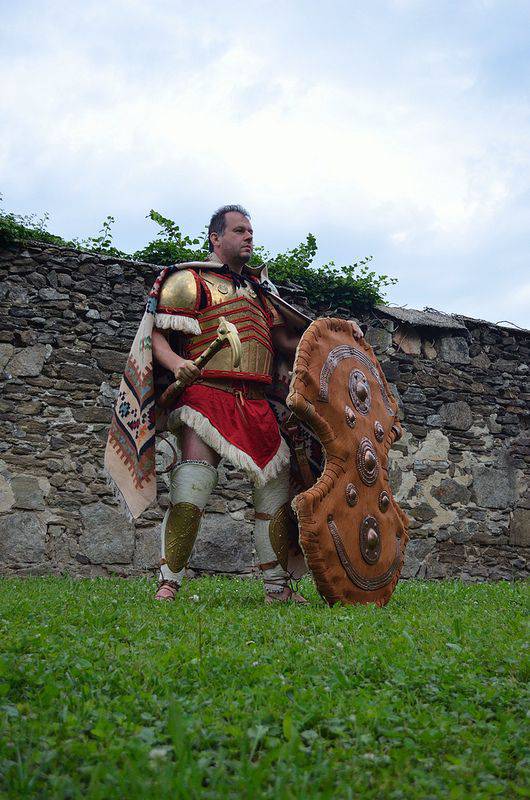 Warrior with a "mace with a hook." Greek Association of the History of Korivantes.