The Russian Defense Ministry commented on a statement by a spokesman for the American embassy in Moscow, in which he said that about 80% of Russian attacks
aviation
in Syria, allegedly not targeted at militants (ISIS). The American gave an interview to one of the Russian media. The official representative of the main military department of the country Igor Konashenkov said the following about the statement of the American "diplomat":
We carefully read the interview by the spokesman for the US embassy in Moscow, William Stevens, published on the website of one of the Russian publications, with assessments of the effectiveness of the actions of the Russian air group in Syria.

This publication is certainly a rare journalistic success. Still, not every day you manage to read this. Just childish naivety.
Now, essentially.

For a week now we have been watching the active "pushing" of someone's "conclusion" through the Reuters agency that allegedly 80% of Russian air strikes were "not aimed at ISIS objects". So here everything is clear. By the way, they commented on this misinformation to them reasonably, on the day of its appearance.

But regarding his phrase: "Russian aviation beat against opposition positions, including its moderate portion," there are questions.

Do we consider the militants of ISIL, "Jabhat-en-Nusra" and "Jaish-al-Fath", cutting their heads to their captives with the same ecstasy, also "opposition", but a little immoderate? We are waiting for a response from Mr. Stevens.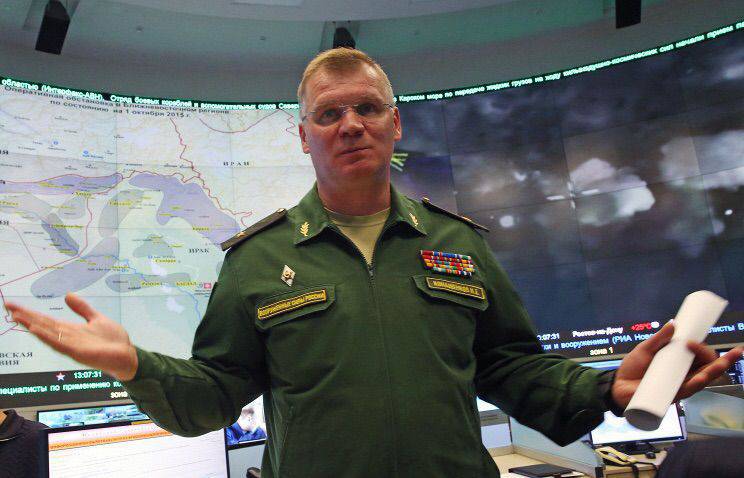 Then Igor Konashenkov describes those from the American embassy "information" with a capacious word:
And it's not at all clear how an employee of the US embassy in Moscow can make statements on behalf of the US State Department on the basis of some fakes published online gadgets such as the Syrian Human Rights Protection Network. Yes, to assert that they are trustworthy.

We kindly ask Mr. Stevens to spend a little of his precious time, contact the staff of the relevant US departments. They will tell him, maybe, about this organization.

He himself imagines the life time allotted to any "human rights activist" in the territory controlled by ISIS or other equally irresponsible "oppositionists"?

Although it is not surprising. After all, there are pictures of official US officials with ISIL executioners.
For your information:
"Zhivopyrka" (Dictionary Ushakov) - a place where the constant crowd of people, noise, scandals.
Recall that in recent times a lot of fakes have appeared in the Western press that Russian aviation "is bombing the wrong ones, not so and not there", that peaceful Syrians allegedly die from bombs. The Defense Ministry's comment on Facebook puts a dot over the "i" about such bogus publications and their real sources.