Western edition
The Intercept
It came out with a John (Yon) Schwartz material on how many times American forces attacked civilian targets during military operations. Schwartz cites many facts of this kind. One of these is a blow to a baby food factory in Baghdad in 1991. Then the Americans declared that they had struck due to the fact that Saddam Hussein used the plant to produce biological
weapons
. As it turned out later, the company did not produce any weapons. Washington made no official apologies.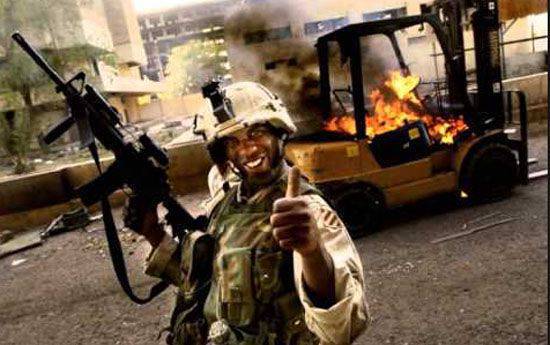 In the same 1991 year, Schwartz writes, an American bomber struck a bomb shelter in which civilians were hiding from an airstrike. Then more than 400 civilians died from American bombs.
In the 1999 year, as a result of the bombing of Yugoslavia, the F-15 aircraft launched missiles on the train. 14 people died, a few dozen were disabled. The Pentagon, trying to explain itself, announced that the train was moving at such a speed that the pilots, who had mistakenly fired the guided missiles, simply did not have time to react. It turned out that the US military lied, deliberately increasing the speed of video recording three times.
In 1999, the United States attacked a television center in Belgrade, killing 16 civilians.
There were also attacks on industrial enterprises in Sudan, which (enterprises) had nothing to do with terrorist groups, attacks on offices of various media outlets, including Al-Jazeera in Baghdad, and the shooting of civilians in Iraq and Afghanistan from a helicopter. About Vietnam and can not speak ...
Now - and rocket bombardment of the Doctors Without Borders hospital in Kunduz.
There are not enough facts for one, but for a dozen tribunals!