The American edition of The National Interest comes out with a material that tells which, in his opinion, the Russian military aircraft should be considered the most dangerous for the so-called "Islamic state". According to representatives of the American magazine, Su-30CM and Su-34 attract special attention, but Su-25CM should still be considered the most effective for strikes against militants.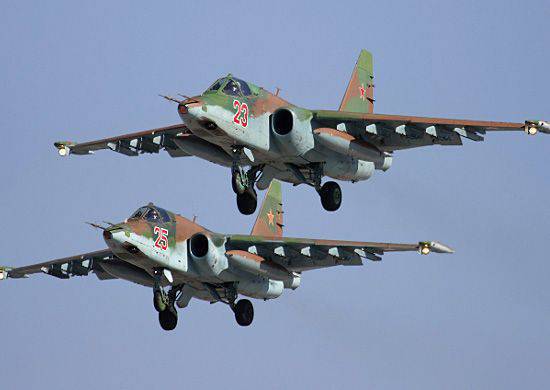 The National Interest
writes:
Quite new Su-25 (SM) can become the most effective means to support Syrian government forces in the fight against the Islamic State grouping, as well as to support President Bashar al-Assad, just as the US uses A-10 attack aircraft to support the Iraqi authorities. According to the representative of the US Air Force, Su-25CM are the best aircraft for conducting air-to-ground operations.
The newspaper goes on to say that when coordinating the actions of the Russian Aerospace Forces and the Syrian army
aviation
strikes will lead to a tangible advantage of the ground units of the Syrian troops over ISIS fighters. At the same time, The National Interest indicates that flights at relatively low altitudes may become the only danger for Russian aviation in Syria.
Today, the Russian Defense Ministry has spread the information that Su-34 attacked IG positions from a height of about 5 km.