Head frigate of project 22350 Admiral
fleet
Soviet Union Gorshkov "to go through the next stage of testing, left Baltiysk and headed for the White Sea. State tests of the warship will be carried out at several sea ranges. Previously, the frigate passed all the necessary tests in the Baltic Fleet. From message
press service
Western Military District:
At the Baltic Fleet, the ship successfully passed all stages of factory trials, during which the ship's running performance, the work of the main power plant, ship systems and devices, auxiliary mechanisms of communications, detection and navigation, and anchor device were checked.
In addition, high-speed, maneuverable and vibration tests of the ship were carried out. The ship successfully completed a number of artillery and missile firing at naval BF test ranges, and also completed anti-submarine missions in conjunction with naval
aviation
.
It is expected that by the end of this year the ship will enter the combat strength of the Russian Navy.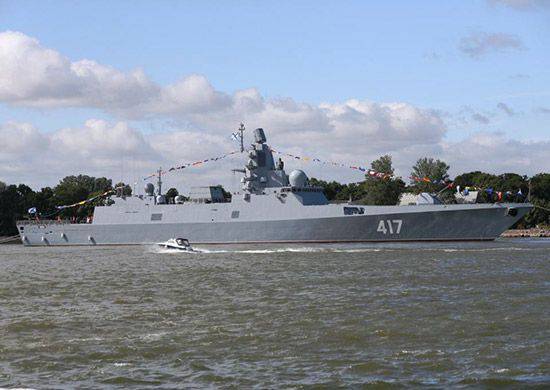 The developers of the ship declare the implementation of the technology "stealth" on the ships of this project.
For your information:
The 22350 1 frigates of the Soviet Union Gorshki project were laid out on 2006. The 22350 frigates are typical ships with a solid superstructure of the half-semi-rigid design, made using composite construction materials based on polyvinyl chloride and carbon fibers (composite materials reduce the level of secondary fibers. fields of the ship through the absorption and dispersion of radio waves).