Popular Mechanics admired the live-fire shots of the Russian Buratino flamethrower system made during large-scale exercises of the troops of the Southern Military District in the Volgograd Region, noting that "this installed on
tank
a rocket launcher can incinerate eight city blocks. "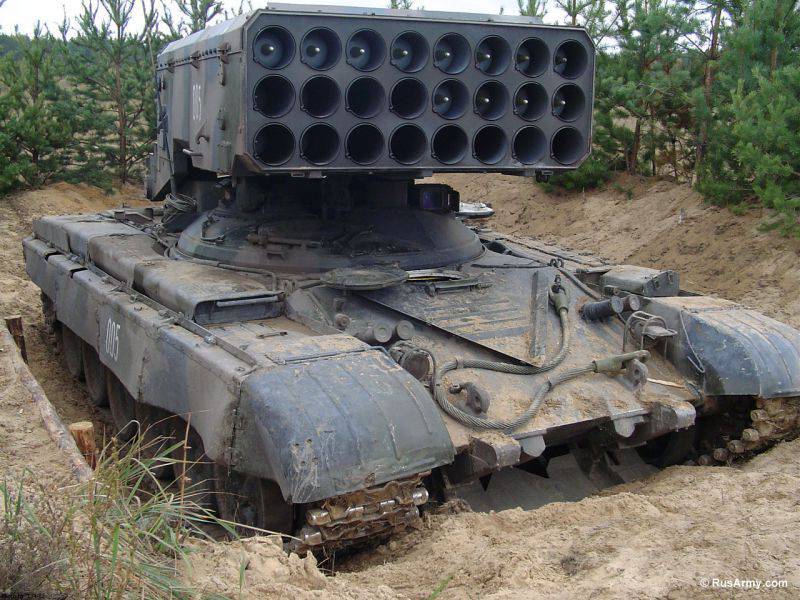 The material states that the Buratino flamethrower system is a representative of thermobaric missiles of "air-fuel" weapons systems. The authors also talk about the principle of its operation: when a rocket hits a target, a cloud of combustible liquid is sprayed, after which it is ignited.
"The result is destructive and consists not only in the fact that the explosion turns out to be more powerful and with a longer shock wave of increased temperature and force, but also that all oxygen is absorbed in the immediate vicinity of the object. This creates a partial vacuum, "- quotes an excerpt from the article RIA
"News"
.
According to the authors, the set of technical characteristics makes "it
weapon
horrifying when used against infantry or military men hiding in bunkers or caves, and a volley of 24 missiles completely covers the rectangle 200x400 meters, making it "hell on earth for those who are inside."
The development of the Buratino fire-throwing system was carried out by the specialists of the Omsk Transport Engineering Design Bureau. In 1980, it was adopted by the army of the USSR, and in 1988-1989. for the first time participated in hostilities in the territory of Afghanistan.