The impression was that in Kiev they did not blow up a grenade. And something like a high-explosive aerial bomb, with kilograms on 250, no less. Inside the Rada. And all there contusion. There can be no talk of brain concussion, it is doubtful that this is possible in principle. Due to the lack thereof. So - a contusion, with violation of both reflex and instinctive actions of organisms.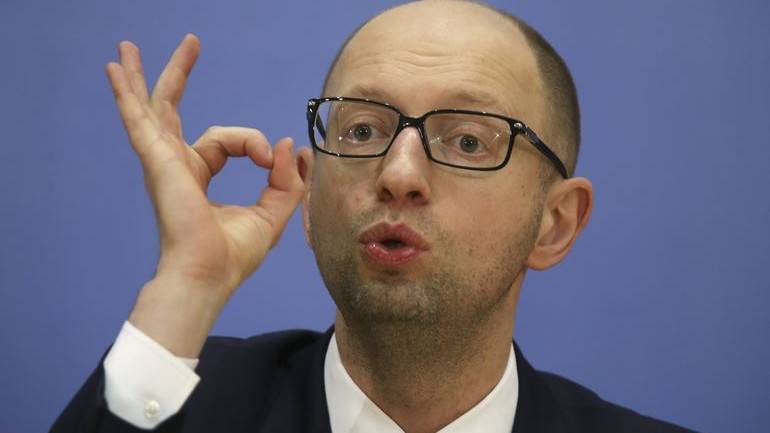 The hero of our time, Prime Minister Yatsenyuk, brought and laid on the table in his NSDC a draft of a new military doctrine of Ukraine. With the proposal to consider and approve. And send to Peter Lekseichu on signing.
The case, in general, everyday. But here that there navayali, deserves separate consideration. Regretfully.
"The Cabinet of Ministers of Ukraine recently approved a new military doctrine of Ukraine. In the draft doctrine, for the first time in
history
independence is a well-defined opponent and aggressor, who is the Russian Federation ", the prime minister said with undisguised pride. And he promised publicly that Poroshenko would sign. Actually, where would Petro go? Of course, he would sign.
That's how we live ... Dolby-dolby, said how many times that Russia is not a party to the internal Ukrainian conflict, does not support the militia and does not send troops to the Donbass, all to no avail. Kiev continues to accuse our country of "military aggression" and regularly "finds" in the east of Ukraine and in the border regions of Russia certain units of the Russian army, although international observers during regular inspections have never detected any undeclared military activity.
Apparently, international observers did not fall under the bombs.
In general, dear Russians, it remains only to congratulate us on this gift to the Day of Knowledge. Knowledge we must be added. We are now all aggressors at the highest Ukrainian level. And since the signing of this masterpiece President Poroshenko we will only feel the awareness of this epoch-making event.
Do you think that's all? And no! The show goes on.
"I want to state clearly: the Ukrainian naval forces will return to the Crimea," the press service of the Ukrainian Cabinet quoted Yatsenyuk as saying.
If the first delivery could still be sustained, then this is already a clinic. Or on the face. Mr Prime Minister.
I really want to exclaim in the character style of a famous cartoon: "Shaw, again ?!" Again aggravation? Autumn has come, everything, come? More precisely, sailed?
Where are going to sail the Navy of Ukraine? In which Crimea? In our, or what? So as far as I know, not all of the rusty inheritance from them left behind at the receiving points of the fermet was dragged off. Here, too, I have plans to litter our Crimean coast with semi-floating coffins ...
And in general, the Navy of Ukraine, does he really exist?
Probably, this is still the autumn aggravation, plus these maneuvers. In vain they started them, completely blew the roof.
Generally, whose teachings? Joint exercises of Ukraine and the United States? C'mon ... According to the statements of the same press service, thousands of servicemen will take part in them 2,5. Not only from the USA and Ukraine, but also from Bulgaria, Germany, Greece, Italy, Great Britain, Romania, Sweden, Turkey and Moldova. And almost every third military will represent the American troops.
Neither give, nor take, army of "two languages". And Yatsenyuk as Napoleon Bonaparte. Scope of plans is similar, by the way. But here again the question arose.
All right, Americans. Everything is clear with them, they don't drink their Coca-Cola, let them maneuver. And, if every third person on these maneuvers is from the USA, then the picture is still the same.
I apply terrible
weapon
- calculator.
It turns out that from 2500 participants around 800 are Americans. The 1700 man remains. On the 9 member countries. This is an average of 200 people per country. Well, in Moldova they will not gain so much, but in general the picture is clear.
The strength is strong, horror casting. It's time to be afraid.
And, frightened, having only completed some exercises, "Interaction-2015", where 200 units of equipment and two thousand servicemen from Russia, Armenia, Belarus, Kazakhstan, Tajikistan and Kyrgyzstan were involved, immediately begin the following.
"Union Shield-2015". Joint training of the troops of Belarus and Russia. More than 8 thousands of soldiers and officers, 400 combat vehicles, dozens of aircraft and helicopters. On the whole CSTO realized, now, "privately" with the Belarusians. And I pay everyone's attention, without noise, shouts and loud statements.
So if Arseny, "grabbing" adrenaline at the sight of the brave US marines, is slightly confused, then it's nothing. We are from time immemorial and have not heard such in your address. And calmly treat everything for a long time. "Aydar" in Moscow, "painting under Khokhloma" the walls of the Kremlin, it all happened.
Words words...
What about Ukrainian
fleet
in Crimea, I can advise one thing. I have a friend, Azizbek. He lives in Feodosia. They have a family business there, they take metal. They conduct business exceptionally honestly. I can throw a telephone, they will cut the Saigak Dachnoy in a week and where to send it. Money, of course, is not comparable with budget cuts, but there will definitely be enough for pills.
So there will be a desire - please contact, Arseny Petrovich, I will help you.
And under the "Khokhloma" we do not need to paint. Blue and yellow are not in fashion now ...