The commander of the Sich volunteer battalion (now a patrol unit of the Ministry of Internal Affairs of Ukraine), Alexander Pisarenko, confirmed that his fighter Igor Gumenyuk, who is listed in the battalion since the formation, reported to the grenade during the collision at the Rada building
RIA News
with reference to Gromadska TV.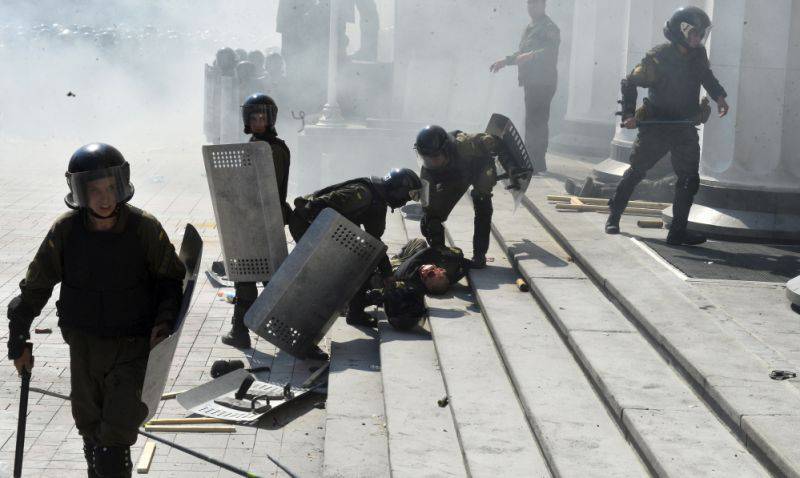 True, the commander made a reservation, "Gumenyuk is currently on vacation." (The battalion's website states that the detainee for the bombing of a grenade "was in the process of being dismissed at his own request on the basis of a hand-written report")
From where Gumenyuk got a grenade, the battalion commander could not explain. According to him, "the battalion's fighters are forbidden to take out
weapon
from the area of ​​the ATO. " In addition, Pisarenko noted that "all members of the battalion are non-party", since the unit is located within the Ministry of Internal Affairs.
At the same time, the TV report notes that during the inspection of the base of the battalion stationed in the residence of ex-President Yanukovich "Mezhigorye", "several grenades were found, as well as symbols of the Freedom party".
Earlier, Arsen Avakov reported that the identity of the detainee was established. "The detained Igor Gumenyuk used a RGO-type grenade, identified himself as a member of the Svoboda Party and the Sich fighter." Prime Minister Yatsenyuk demanded yesterday for a suspect life imprisonment.