In fact, this article should appear somewhere where they write about mysticism or miracles or how the aliens from the constellation of the Dragon took our appearance and live among us. But since its theme is directly related to
weapons
then, in my opinion, it is the place for it. The fact is that there are many people inventing, or trying to invent and design weapons. And someone is good at it. But then what? How do the curses of people killed by these weapons affect us and our children (if they do?), And that sometimes they might think about how these curses ... affect their destiny? The thought, having materialized, is a terrible force, even if it is completely delusional. And that's just about one such example, and the story goes here.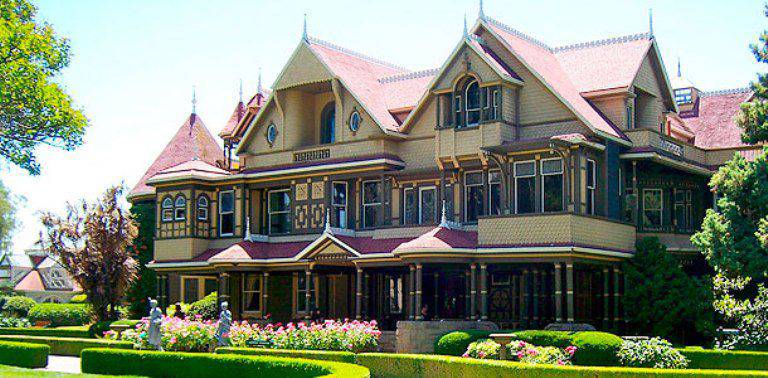 Sarah Winchester House.
"It seems, what else is needed from the fate of a person, if you, in general, from the poor and beggars became a famous person in the country?" When you dabbled on farms from your youth, then you considered coppers, being a hotel corridor, worked as a construction worker, but then you got so much money that you can consider them not even dozens, not even hundreds, but millions of dollars ! However, at first some wealth came. His company, his company "Winchester and Davis" - simple and solid. And it was only later that he invested part of the money in the package of shares of Volcanic repiting armz, and, as it turned out, he did not lose exactly. Because in this country to produce men's shirts, of course, a good thing, but still guns and pistols do much more profitable.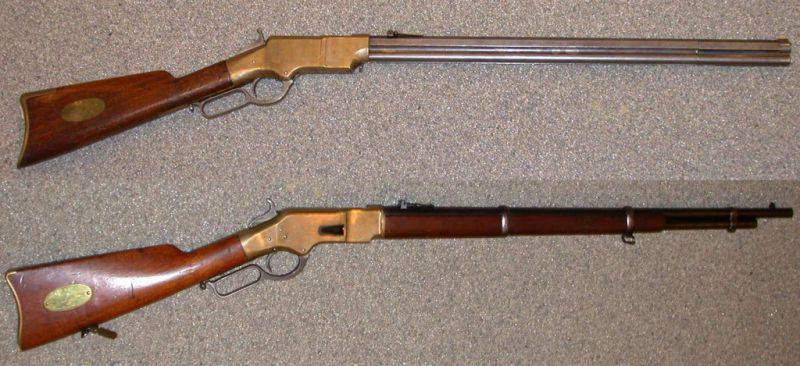 Henry's rifle (above) and Winchester musket (below).
And Henry's gun, this "devil's rifle," also came in very handy, although he, Oliver, appointed the price for it at 42 dollars, plus money for cartridges! In a word, the three-month salary of a soldier during the years of the US Civil War had to be given in order to buy it, and in fact bought it, no matter what, and even regiments. Well, and then, when the war ended, he was again lucky that Nelson King invented his "royal innovation", and most importantly, he agreed to sell him a patent for him!

1873 carabiner of the year.
Because the old carbine of Henry was good for everyone, but it was painfully inconvenient to charge him. While you are pushing all the fifteen cartridges into it, again, it was best of all to do it standing up, because you had to shove them into the store from the barrel, so here, you see, you already killed. Well, now in his new carbines, thanks to King's patent, everything was completely different. On the side, there is a small lid with a spring, you press on it and, cartridge by cartridge, fill the store. And while even in the ditch lie, even sit astride - no difference to you. Nevertheless, for some reason everything goes wrong, some inexplicable misfortunes happen around ... No, not a single person can be truly happy, even I, even though I have something, to tell you the truth, everything is much better than many! "
One way or another, Oliver Fisher Winchester, the head and founder of the Winchester Repitting Armz company, could not even say it now. But about something like that, he had to reflect necessarily, because under his old age he could not help but look back at his past and not think about his life path. However, in the 1880 year, in the year of his death, he, of course, did not yet know that his son William, who was supposed to inherit the condition of his father, William, who married the most beautiful girl from Connecticut, Sarah Purdy, who knew four languages, played violin and piano, in 1881, he suddenly becomes sick with tuberculosis and dies. However, as early as 1866, immediately after Sarah gave birth to her daughter Annie, numerous misfortunes began to haunt his family. So, baby Annie was seriously ill and died two weeks later. And the grief of the mother was so great that for seven days she could neither eat nor sleep, did not talk to anyone, and all sat over the body of her dead girl.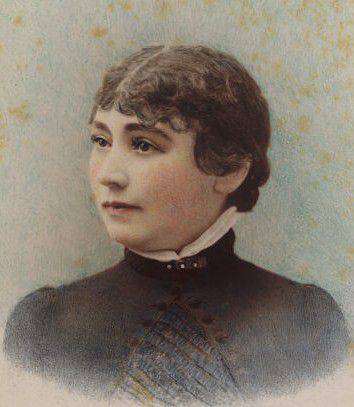 Sarah Purdy, colored photo 1865
Of course, she still managed to bury her, but as a result, Sarah went to the hospital, where she spent several years, and all this time stubbornly kept silence. But she did not have time to return to normal life, as William fell ill and died, and Sarah became the heir to the fortune in 20 million dollars, for that time simply fabulous. In addition, she owned 50 percent of the company's shares, which her father-in-law left her, and which gave her an income of about a thousand dollars a day!
But there is wealth - there is no happiness! Sarah Winchester was very bad, and one of her friends advised her to go to a medium about whom it was said that he could communicate with the other world and cause the souls of the dead. Suddenly, they say, he will be able to summon the spirit of her husband and he will be able to encourage and calm her down ?! Since Sarah was very devout, she at first flatly refused to engage in such things, considering it a sin, however, in the end, nevertheless decided. And during the session the medium said - "Your husband is here" and described her William's appearance very precisely, although he had never seen him before and could not, of course, know what he looked like during his lifetime. Sarah believed him unconditionally. And the medium told her that the spirit told him that their whole family was cursed, and it caused the death of Annie and her husband. The curse is the result of the fact that Oliver Winchester was the manufacturer of a deadly weapon that killed thousands of people whose souls crave vengeance. Then the spirit of her husband told Sarah in Connecticut to sell all the property and go to the West. The husband said that he would guide her on this journey, and as soon as she found a suitable refuge for herself, she would let her know. There she will need to build a house where she will live and the spirit of her husband William. The Spirit also warned her that the construction of this house should never be completed. If this happens, then she, Sarah, will immediately die!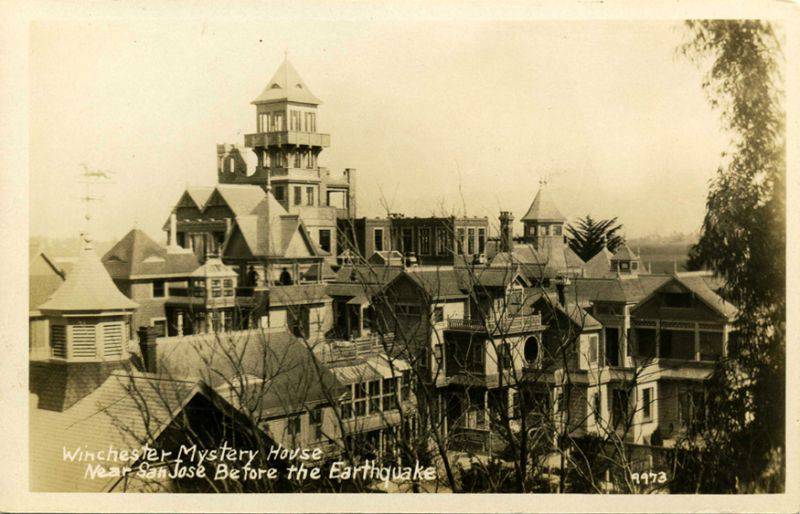 Photo House Winchester beginning of the twentieth century.
What would you do in her place? Ten against one that would have done everything the same way as she: everyone would sell and go to California. In 1884, she stayed in Santa Clara, where she bought a small house, consisting of six rooms, located on a plot of 166 acres, owned by Dr. Caldwell. He was not going to sell anything, but Sarah offered him such a sum that the doctor could not refuse it. Then she hired workers, ordered the old house to demolish and start building a new one. And although construction did not stop for one minute, and the twenty-two carpenters hired by her worked all year round from morning to night, this house was never built, as was said to her!
Every day, Sarah gave instructions to the engineer who supervised the construction site, and told her what had to be done in a day. And no plan for the construction of the house, as is usually the case, there was no trace. All work was done in a completely chaotic way. One room was attached to another, it led to the third, then it all connected with other parts of the house, which was full of doors, behind which were often blank walls, and countless staircases simply led "to nowhere". In addition, there were long curved corridors and endless suites of rooms, one after the other. In some bedrooms there were fireplaces (and in some for some reason there wasn't ?!), and there were only 47. On the roof of the house there were also hatches that opened directly from the rooms, and there was also a great many false chimneys there. Sarah, you see, believed that in this way she would be able to fool ghosts if they, according to popular belief, decide to enter her house through the pipes. Outside, dozens of fire escapes were attached to the walls in order to escape from fire in case of fire.
That's how the construction went, one floor was built over the other, one wing was attached to the other, and in different parts of the house the number of floors was also different, from one to seven. In this case, the poor woman just obsessed with the number of 13. In the colored windows, 13 glasses were inserted, the parquet floors had 13 sections, the rooms had 13 panels on the walls, the stairs had 13 steps, and on the roof of the building there were 13 domes. The widow believed that she would be able to scare away the evil spirits and deprive the strength of those people who intend to harm her. For days she was completely alone wandering around her strange house, where she could easily get lost, and at night she played the piano. It seemed that in all of this she found peace again, even if the construction of this ridiculous house was the meaning of her life. However, in 1906, a strong earthquake occurred in San Francisco, and Winchester House was almost completely destroyed. The three upper floors in the seven-story wing collapsed and never again recovered.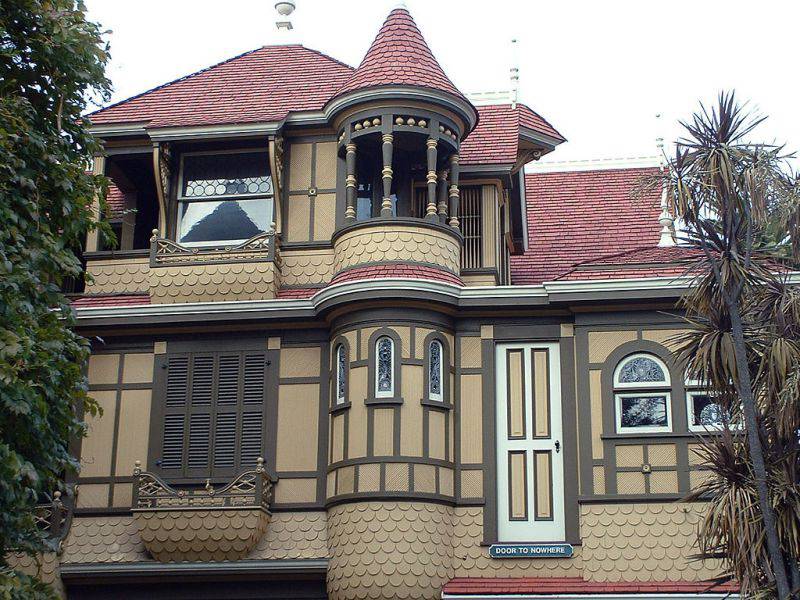 Door to Nowhere
And ... again on the construction work has begun to boil! Sarah got down to business as if nothing had happened. Now, in the house and even outside, many mirrors were installed, as the hostess decided that the ghosts and the spirits of evil for some reason were afraid of their reflection. Secret passages were built from one room to another, it was possible to disappear in one room and suddenly suddenly appear in the other. Sarah herself made a habit of putting on several dresses at once, one on another, in order to change her appearance in a few moments. All this was supposed to deceive the forces of evil, which, according to Sarah, constantly persecuted her.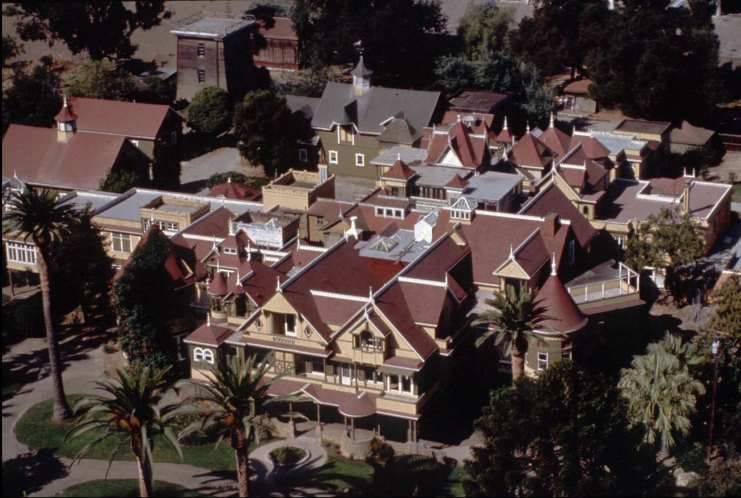 Sarah Winchester House: view from above.
However, far from everything Sarah was as crazy as she seemed. For example, she transferred two million dollars to a hospital in Connecticut, and with that money a tuberculosis unit was built there, which still works there. She began to grow plums and apricots on her plot of forty hectares, which she then dried and sent to Europe (in the Santa Clara telephone directory she was listed as "fruit saleswoman Sarah Winchester" No. M15). She spent gas in her house, then electricity, arranged steam heating and sewage in it, and even three elevators, and this was the only one in the United States that had a horizontal drive. Although Sarah has invested five and a half million dollars in this house, after the mistress's death, he went under the hammer for only 135 thousand dollars and not one cent more. But the furniture was taken out of it for six weeks, with six trucks each day!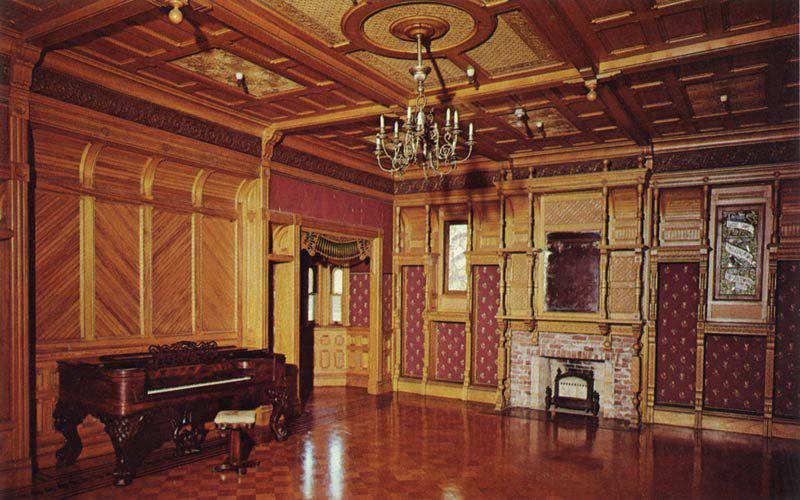 The interior of one of the rooms.
Sarah 4 died September 1922 of the year, in 83 of the year. She left all her property to her niece Francis Marriott, and she believed that the safe of the Winchester family's gold was hidden in the house, but this safe was never found. There was also less money than expected, since Sarah spent a lot on the construction of her mansion and its improvement.
Staircase abutting the ceiling.
Over time, the heirs of the Winchester family sold this house to a group of entrepreneurs who turned it into a tourist attraction. When they decided to make a plan for the house, it turned out that it was not so easy. At first, 148 rooms were counted in it, but whenever they were counted, their number turned out to be different. It is said that the arrangement of the stairs and rooms is so confusing that even people who participated in the construction were sometimes lost in them, as if in a maze, and only with difficulty could they find a way out.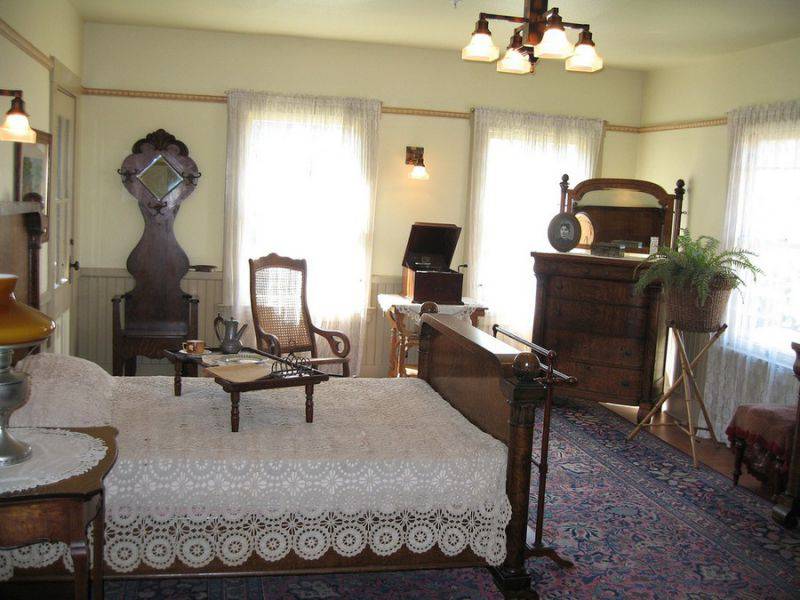 The interior of one of the bedrooms.
Now the Winchester Manor is
historical
a relic, and in prospectuses about it it is reported that the exact number of rooms in it is unknown. Many people believe or pretend that they believe that ghosts live in it. Well, and the ghost of Sarah, many people have seen there repeatedly. Two ministers who worked in this house swore that they saw in it the ghost of a man in a suit in the fashion of the 160th century. Naturally, tourists go to this house in a stream, so the estate brings a good income. Now Winchester House is a three-story mansion in which there are about 13 rooms, 6 bathrooms, 40 kitchens, 2000 stairs, as well as 450 doors, 10000 doorways, 47 windows, and as many as XNUMX fireplaces.
There is only one photograph of Sarah Winchester, since she always diligently avoided photographing, which, in her opinion, only attracts the forces of evil. The servant, hiding in the bushes, made her photo when she went for a walk in his carriage. Whether Mrs. Winchester herself saw this picture is unknown.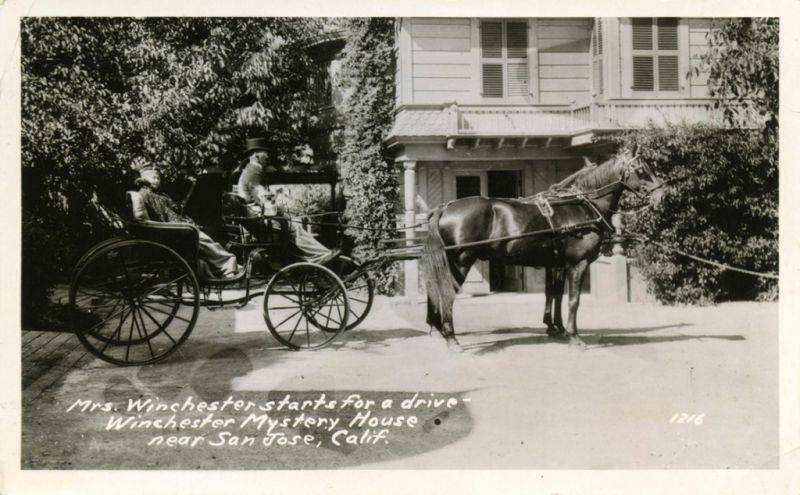 Sarah Winchester in a wheelchair.
One way or another, but she was absolutely sure of the existence of a curse that struck her family, and this is undoubtedly. But whether it was really a revenge on the creator of a deadly weapon, or whether she ricocheted at the innocent, it is absolutely impossible to say. How, however, and find out who imposed this conspiracy or the result of what he became? Was it the action of many or one person? Well, who, at grace, is able to learn the truth, which is never known for certain? But the hard drives are very similar to those because of which once it all started, are available in the US today, and their old models are highly valued by collectors as a memory ...