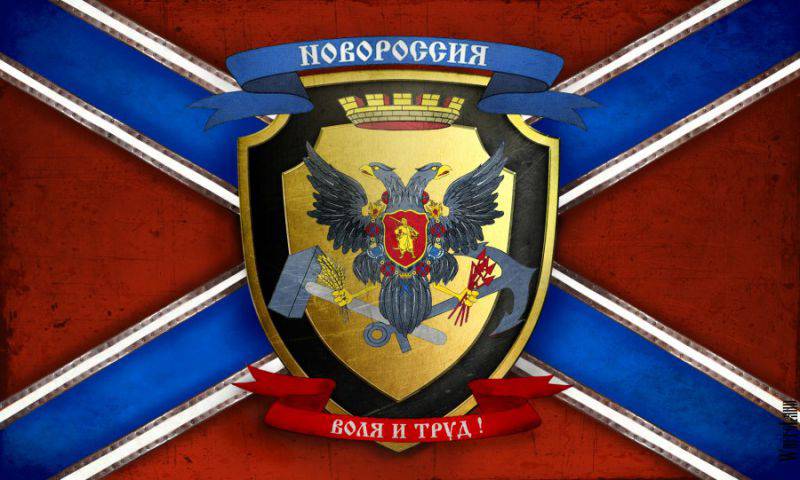 Donetsk Foreign Minister claims that dozens of former IDF soldiers are fighting on the side of the rebels.
Usually, Israelis do not participate in Eastern European civil wars, but the current Ukrainian conflict was an exception. It is believed that several dozen citizens of Israel are fighting on its different sides.
One of them is 37-year-old Inna Levitan, a native of Azerbaijan and a resident of Tel Aviv. She has been fighting on the front line on the side of the separatists in the vicinity of the rebel-held city of Luhansk since the end of 2014. According to her, she fights against fascists and neo-Nazis.
Although she was born in Baku, she grew up in Israel and never thought of returning to the former Soviet Union. However, when her acquaintance disappeared in Eastern Ukraine last September, she began to find out details about the conflict, she told The Jerusalem Post on Thursday.
A few days later she established where her friend is, but she didn't stop being interested in what was happening in Ukraine. "After a month and a half I decided to go to Novorossia," she says, using the term used during the Russian Empire for the Northern Black Sea region, that is, the eastern part of modern Ukraine.
She explains that she made the decision to join the rebels after learning of "crimes against civilians."
In her open letter on the website of the Communist Party of Israel, Levitan stated that the purpose of her brigade was not to fight with Ukraine or Ukrainian citizens, but to "fight the Nazis, the Nazis and the oligarchs," and also help people.
She indignantly writes about "supporters of Nazism" who use the Nazi salute and Nazi symbols, as well as "torture and kill civilians and soldiers of the Ukrainian army who do not share their views." "I myself saw a man who had been captured by neo-Nazis." "His fingers were cut off and a swastika was tattooed on his body. We are fighting against these atrocities that occur constantly - and, in particular, against civilians, "she said, accusing the West of closing its eyes to war crimes.
"Personally, I, as an Israeli, have instinctive hatred for the fascists," Levitan says. Most of her comrades in
arms
- Russians and Ukrainians, but among them are Spaniards, Serbs, Italians and Israelis.
At the end of last year, Foreign Minister of the Donetsk People's Republic, Alexander Kofman, a Jew by birth, told a Russian journalist that dozens of former IDF soldiers were fighting in Donetsk.
In February, Spain arrested eight people who fought on the side of the rebels. Kiev proclaimed rebels terrorists. Israeli law prohibits citizens from participating in foreign conflicts, however, the Foreign Ministry and the Ministry of Justice refused to give us a comment on this issue.
Since the revolution happened in Kiev last year, Russia and the rebels have blamed the new government of Ukraine for fascism and racism. Local Jewish communities, some of which support the government's military efforts, categorically deny these allegations.
Journalists and researchers — in particular, Vyacheslav Likhachev, who is monitoring anti-Semitism for the Eurasian Jewish Congress — say that there are neo-Nazis on both sides of the conflict. Despite this, the leaders of the Jewish communities directly call anti-Jewish excesses a rare occurrence and claim that the conflict itself disturbs them much more.
Last year, Ukrainian Jew Asher-Yosef Cherkassky, who fought on the side of government forces in Donetsk, called the defense of Ukraine a "civic duty" in an interview with Post. Cherkassky fought in the ranks of the Dnipro battalion, financed by billionaire oligarch Igor Kolomoisky, the former governor of the Dnipropetrovsk region. The authorities have turned this long-bearded Hasid fighter into a symbol of Ukrainian patriotism.
Many Israeli citizens fighting in Ukraine of Russian or Ukrainian origin are believed by Rabbi Boruh Gorin, who represents the Russian Jewish community. He considers these people to be adventurers and stresses that many of them perform auxiliary functions — for example, serve as instructors. "I would say that these people need a show - and where they get it, in Ukraine or in Sudan, they don't care," he notes. "At the beginning of the war, the Jewish factor was very important for both parties. Now its importance has decreased, but then both sides wanted to show that Jews, Israelis are fighting for them, and that they are supported by a foreign Jewish community ... I think all this, as usual, is mostly PR, and there's nothing to talk about " .
However, Levitan does not agree with his words. She told Post that she sees behind this conflict a "gigantic political game," which allows oligarchs to fill their pockets at the expense of ordinary citizens.
The Western media distort the essence of the Ukrainian uprising just as they distort the essence of Israel's struggle against Palestinian terrorism, she argues. In her opinion, "any Israeli can easily understand the situation around Novorossia".
She does not regret anything, because she is fighting for her principles, she added, stressing that as an Israeli woman celebrating Holocaust Remembrance Day, she considers it important to resist the Nazis.