Special Forces officer, retired officer Vitaly Lugovoy. He has many achievements, and I will talk about them, but the main one is the creation of the BARS Survival School on the Azov coast of Crimea, in the village of Kurortnoye, where he teaches boys to think and survive. Genius of the place. It is about him.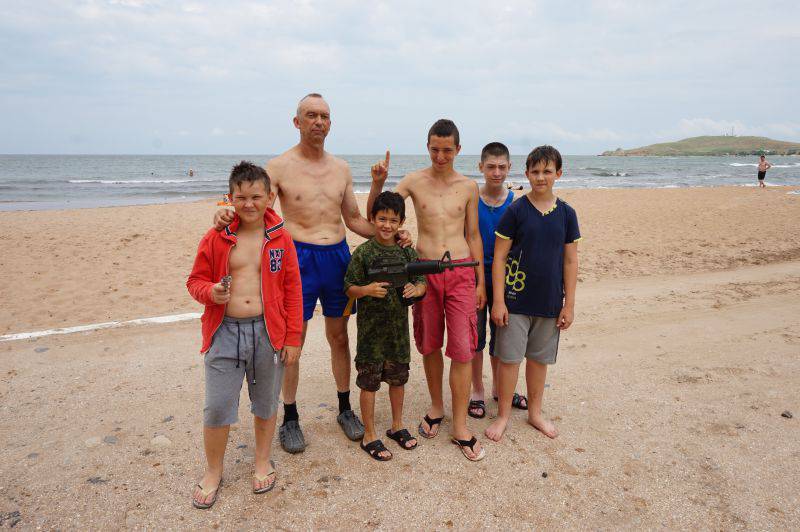 A little bit about Vitaly Lugovoy. He worked in one of the closed institutions of the Ministry of the Interior. In 1984, he was sent to study at the special school of the Ministry of Internal Affairs in Dneprodzerzhinsk. He graduated from the Ryazan Higher School of the Ministry of Internal Affairs in 1989, where he received special training with staff from Cambodia and Vietnam. Detained highly dangerous recidivists in the Crimea and Moldova. In total, he has about 100 arrests. He served as the head of the detachment in one of the special units of the Crimea. Total served 15 years. He graduated from Kiev University. Shevchenko, Faculty of Journalism.
In 2013, the International Academy of Cossacks, which brings together more than 50 countries, awarded Vitaly Lugovoy the rank of Major General of the Cossack troops.
Vividly manifested itself in sports. In 1989, a group of Czech and French climbers conquered the eastern summit of Elbrus. He made descents into the Dublyansky caves - 42 meters and Molodezhnaya - 300 meters, on the Karabi-Yayla plateau. He swam across the Kerch Strait from Cape Lantern to the Chushka Spit, breaking more than five kilometers in two hours and 20 minutes. Engaged in a marathon and daily run. World weightlifting champion.
I got to "BARS" very much on time, just for lunch. There was a delicious soup with vegetables, chicken and beans, fresh vegetables and cereals. The second course cadets give an afternoon snack, before training. In general, they "survive" there very well. After lunch - training for throwing knives. And then it turned out to talk.
- The idea to create such a camp came in August 1989, after the conquest of Elbrus. We decided to do this with my friend, with whom we served. Six months later, he went to another region, and the leader of the survival school "BARS" was left alone, me.
- The first 15 years we had a year-round camp. In the summer they gathered everyone at the Spa. And from September to May moved around the Crimea - Kerch, Sudak, Yalta, Gaspra, Simeiz. Where there are forests, mountains. Initial training was given so that the boy could later serve in the armed forces. In 18 for years, they are inviting children to the army and immediately throwing them into the inferno. It is not right.
- I teach them to analyze, think. Memory training. Each student must memorize the 50-100 words in the order in which they were heard, seen or read. Someone will go to inaz, become a businessman, a teacher, and someone will come to the service in the armed forces.
- Children want to know themselves. This may seem strange, but it helps them in this discipline. Daily exercises - from 9 to 12 and from 16 to 20.00. Training is issued
weapon
- pistols, machine guns. 2 groups: scouts, saboteurs, children 7-14 years. And how in the good old days, remember, played before in "Zarnitsa"?
- Our program includes "Campaign Safety", "First Medical Aid", "Physical Training", "Sports Games", "Memory Development", and "Nutrition". In 15 meters from the base of the sea. All cadets take swimming tests, on 500 and on 1000 meters. It is necessary. Everyone runs a day 8-9 km.
- cadets must learn to survive in the wild, at sea, in the desert, in the forests, in the fields, because this knowledge will be useful for life: to be able to get food, fish, make different kinds of fires (Polynesian, hut, asterisk), knit knots.
"I used to give lectures on school survival and explained to children that in Ukraine, where there was no war, earthquakes and other cataclysms, in peacetime, 2 thousands of people died every year. That is, one class died every week. On the water, traffic accidents, domestic injuries ...
- The guys can get two "titles": the candidate for the Rangers and the Ranger. Titles are assigned automatically, subject to scoring.
- The most difficult transition is the crossing of Lake Chokrak. Knee-deep in mud, moisture, seagulls flying over their heads, but almost all survived. Those units that failed, came again and successfully performed this task.
- If I hear that the cadet pronounced the name of a liquor or the word "cigarette" - right away 20 push-ups. No tablets and internet. Mobile phones surrender to the head. On television, we only show specialized programs, for example, how the French Legion is trained.
- Survival is a short period in a person's life. But man has to survive very often.
- Everyone should be able to protect their country. Sooner or later, bullets that are not yet cast will be made. Enough for all generations. Wars have been, are and will be. Wars are a continuation of politics, so they are inevitable. You should always be ready for them.
- I would not like to call now any of the cadets who continue to serve in the army. Because the fate of the guys shared. They were on opposite sides of the barricades. But they are all graduates of my school, and I would not want to single out someone. I taught them to think, analyze, and they made their informed choice.