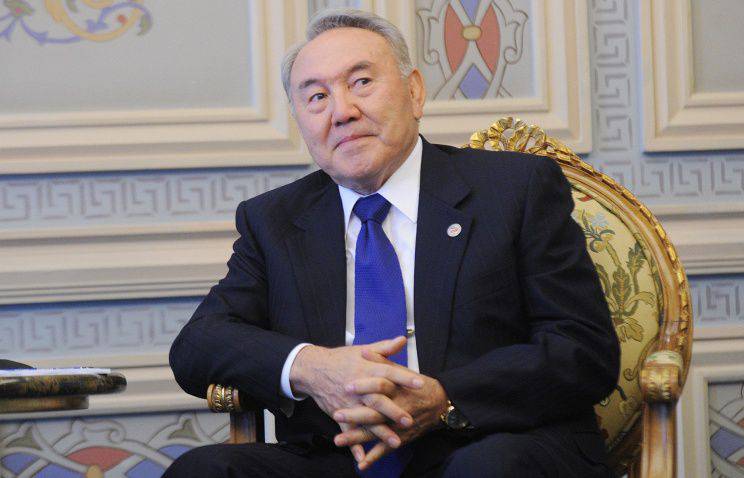 On the eve of his 75th birthday, President of Kazakhstan Nursultan Nazarbayev told in an exclusive interview with First Deputy Director General of TASS Mikhail Gusman what he considers his main decisions as president, and also shared his plans for the future.
- Nursultan Abishevich, thank you very much for the opportunity to meet with you. We are meeting on the eve of, in my opinion, a very significant date not only in your life, but for the whole of Kazakhstan. Here I brought you some newspapers. This is the newspaper Pravda, this is the newspaper Komsomolskaya Pravda. They are dated July 6th, 1940. There is a lot, by the way, about both Kazakhstan and Alma-Ata, even here it is written that the working people of Kazakhstan signed up for a new loan. True, to be honest, I did not find there a message from the Almaty region about the birth of a little boy, but on July 6, newspapers around the world will write that on this day the President of Kazakhstan Nursultan Abishevich Nazarbayev has an anniversary date.
- No, everyone will say on this day that this is the birthday of the capital of the new, the city of Astana. That's the problem.
- It's true. I want us to talk about Astana in precisely the vein that very few people in stories humanity has managed to be the builder of the capital. And you are. Returning to your anniversary, to be honest, it doesn't look like some kind of milestone. This, it seems to me, is a small stop, especially since just a few weeks ago, Kazakhstanis almost unanimously elected you for the 5th presidential term. With what mood do you meet this date?
- In a word, I meet you in a good mood. Because, glory to Allah, there is peace in our country. And not included in my personal life plans, the presidential elections, which this year turned out to be ahead of schedule and ended in such an impressive result for everyone. It certainly cheers up. Any politician, I think, will understand me correctly.
You started from your birthday. This is, you say, the average date or there what date. And in itself a considerable number, if you look, right? But why do we say that everything goes so fast in this life? Because the past, life lived, remain the most vivid moments in the memory of man. And so time is pressed. All the secondary is forgotten, all the vivid impressions remain and the time seems very short, because in our youth we look at the world as if with an upside-down binoculars - far, far ahead of thousands of years. And then, when the time comes, already normal binoculars, everything is already approaching. Therefore, a lot, of course, lived, passed. On the other hand - hard times were. On the other hand, it is an impressive time that another generation of Kazakhstanis will never repeat. I was not only a witness of the independence of my country, but also was one of the creators of this independence, this state. I will not use false modesty here, right? But I did not do it alone - with colleagues, with the people we created together. Therefore, there are impressions, thoughts about the past, there is satisfaction, there are big tasks that stand in the future - this is from dissatisfaction with what I did, because such is the role of the leader.
- I, Nursultan Abishevich, when this time went to you in Astana, once again looked at your biography, very rich, very rich. And our program that we are doing is called, you know, "Formula of Power". And I thought that no one like you would be able to formulate this concept more precisely, this strange, probably tasting thing called power. You have been in power for at least three decades. Moreover, at the pinnacle of power. And everyone (the people of Kazakhstan, your colleagues) says that being at the top of power, you remain a person who does not abuse power. And feeling it, feeling it, at the same time, you remain an accessible, democratic person. What is power for your taste?
- In a word, I think it's hard to answer. Before me, all the wise men answered this question what power is. They said that power is evil. Money also does not give a person happiness. Therefore, it is better to free yourself of all this burden, to live the life of an ordinary person. This is happiness. But we, who have the share of being a leader, have to hold power - we must think differently, so I would formulate it in several positions. Power is first of all responsibility. The higher the position - the higher the responsibility. I, as the president, and other presidents have never had a jobless time. And on weekends, and during the holidays, you are on duty both day and night.
- You even once said that the best way to celebrate a birthday is to celebrate it in work.
- Yes of course. At work, note. A birthday is just a date in life. Everyone has it. We are people. We love ourselves a little bit sometimes. Because we love ourselves - we love this day. We are waiting for him both in his youth and especially in his childhood. And now I don't want this part, when they gather, everyone says. Then there is little sincerity, already stencil conversations go. It does not penetrate you, bounce like all the words like peas from the wall. But still nice, so birthday. Of course, birthday is a completely different meaning for me. Everything goes at work, and this time goes at work. Because it is the day of our capital. And I, if you really frank to the end ...
- I will not tell anyone!
- Well, of course! About 6 July - how the date of Astana's birthday came about. On December 10, 1997, I signed a decree on the transfer of the capital. It was Wednesday. Then we counted out exactly 6 months, on Wednesday, June 10, we wanted to announce a nationwide, worldwide presentation that a new capital had appeared. Then I remembered that in 1994, on July 6, at a session of the Supreme Soviet of Kazakhstan, I first convinced the parliament to make a decision to move the capital to Akmorinsk, or the city of Akmola.
On July 6, I went to parliament because no one agreed with me. 1994, devastation, collapse of the Soviet Union. The state has no money to pay pensions. And we do not pay wages to teachers, doctors, police, we detain them for several months. And at this time I say: "We must move the capital." The new state must have new points of growth, do something new, a turn from what it was. And no one perceived me. On his birthday, as you say, he came to work. I went to the session of the parliament, asked to speak, and, speaking with a request to adopt a resolution, I propose a draft of this case. Everyone started performing again. Naturally, I did the work among the deputies who favored this idea and me personally. It means that they also started performing ...
- The president as a lobbyist is a different story altogether.
- Well, of course, the question must be passed in any way. This is your art, this is your desire. And then one of the respected deputies says: "Listen, dear comrade deputies. Even if we make a decision, this will happen in about 30-40 years. In 30-40 years, this capital will be, because everything needs to be built. And today he has birthday. Let him go home in a good mood, let's make a decision. " And so the decision was actually made. Therefore, on July 6, so that there are no big conversations around my person, that it coincided with my birthday and this is some kind of symbolism.
- This is not just symbolism, it seems to me that it is a natural holiday of the Kazakh people. But the respected deputy was cheating a little, because he assumed that only in 30-40 years the capital would spread widely, but now you look at Astana - only 20 years have passed. And she…
- It did not pass. The construction of the city is only 14 years old ...
- Yes, fantastic. You spoke about the decision to build Astana, as, perhaps, one of the main decisions during your presidential term. After all, for 25 years of independent Kazakhstan - all these years you are at the head of the country. The incredible has been accomplished, the country has become a modern state respected in the international arena. What else of those decisions that you have taken do you consider the most significant, the most important for the country, for the people, for striving for the future?
- If you take a look at the history of Kazakhs and Kazakhstan, everything has happened here in its entire history. Many peoples migrated through Kazakhstan. Starting from the ancient Sakas, Huns, the Turkic Kaganate, many peoples, many religions, etc. passed through us. here, the Kazakhs are very used to it. And throughout history there have been khanates, several on the territory. But such a state as now, in this volume, outlined by internationally recognized borders, with all the attributes of a state and with such economic and political ties with all countries of the world - this has never happened in history.
I stood at the origins of the construction of the first in the history of Kazakhstani state in today's understanding. Of course, this is the main thing that I was able to do together with my colleagues, together with the Kazakh people. This is the main and first thing. But declaring independence, winning independence is not the same thing as preserving it. Those. preserving independence, strengthening the country is no less important. And it also succeeded. In fact - from scratch. The state, the republic out of 15 - was one of the most recent. Today it is one of the best in terms of reforms, in terms of economic indicators. This is the second. Third, of course, the new capital. This is pride, I will not hide. Just like building a state, this is a pride for Kazakhstan.
- In today's turbulent world, Nursultan Abishevich, I would like to touch upon one of your decisions, which, I think, is very significant. At one time, it was you who made the decision to make Kazakhstan a nuclear-free state, remove the nuclear weaponlocated in Kazakhstan during the Soviet era. Why did you make this decision, the more natural you thought about how to preserve the independence of Kazakhstan. And, it would seem, this type of weapon adds such opportunities. But you, nevertheless, refused it?
- Well, a lot has already been said about this. And it is written about it. It is known, indeed, that during the collapse of the Soviet Union on the territory of Kazakhstan there was the world's second nuclear test site in Semipalatinsk, the most powerful. 550 nuclear charges were tested there, including the first hydrogen bomb. This is a separate issue. More than a million people have suffered in our country, and we are still dealing with the consequences. The question was, in fact, that the world's 4th nuclear missile arsenal with carriers, aircraft, launchers - everything would be on edge. And these were the most powerful missiles, the Americans called Satan, SS-18, ballistic missiles that reached the United States in 28 minutes and placed them closer to the equator. Well, experts consider this to be the best, why Baikonur is located here ... It was an ideal place for launching these rockets into orbit. And they were here.
In general, Kazakhstan ranked fourth in terms of the number of arsenal after the United States, Russia and Great Britain. You know what was posted in Ukraine and Belarus. There was a very big dispute, leaders from both Europe and the United States came several times, there were negotiations. And naturally, we, a young state that has not yet fledged, has not yet risen from its knees, still become an outcast because of these nuclear missiles? How are some now, huh? Moreover, I knew for sure - against each nuclear missile in one country, another country had already aimed. It's the same now.
- Absolutely right, yes, yes, yes.
- Of course, the task was about what is beneficial for Kazakhstan: first, to obtain guarantees of independence from nuclear countries that they will never attack Kazakhstan. Secondly, get money for dismantling and get money for these nuclear missiles. And leave all the equipment in Kazakhstan. All these issues have been resolved, as you remember. We received money for fuel for nuclear missiles. We received money for dismantling. And we also received the corresponding money for the re-equipment of factories so that they would produce peaceful goods. And I think that it was after this that the trust went to Kazakhstan. And over the years, we have attracted more than $ 200 billion in foreign direct investment. These are not loans. And it was this money that raised the economy of Kazakhstan. I think we made the right decision. And so far, therefore, Kazakhstan is considered a state-leader in the struggle for a nuclear-free world. For the non-proliferation of nuclear weapons. Isn't that noble?
- Absolutely.
- It causes respect for us. Therefore, all world summits and meetings at all levels take place here.
- You said, Nursultan Abishevich, that the territory of Kazakhstan since ancient times was a place through which different nations moved, settled here. Today people of more than 100 nationalities live here. Confessions of 40 denominations. In the village of Chemolgan where you were born, even on your street were children of Balkarians, Chechens, Volga Germans. Your dad even spoke, in my opinion, in Balkar language. Perhaps these childhood memories, feelings of childhood somehow contributed to this internationalist formation of your character. And on the other hand, how is it still a very worrying topic in the world today, is the preservation of inter-ethnic peace being achieved? Interfaith peace? Why does Kazakhstan become the venue for forums, summits, interfaith communication, inter-ethnic communication?
- In fact, you started to ask the question correctly. I have a very good immunity from nationalism since childhood. And these Balkars, when they were resettled to us, arrived hungry, beggars, one family settled in our house. A small rural hut with two rooms. In one, a husband, wife and three children huddled together. Why did my father speak Balkar and we all spoke ...
- You know, I was very impressed, Nursultan Abishevich, that your father, out of respect for this family, which in fact constrained your family ...
- very much squeezed ...
- And he learned their language.
- And he learned the language, then there were a lot of Balkars in our village. And he talked to them calmly. And to work with them, the collective farm board instructed my father to work with them. He was also their foreman, and everyone came to him for advice. And they were very respected. They came, I remember, we always had these different people. And our street was called "Podgornaya", the most mountainous street to the mountains is ours. The village is located in the foothills. And on the contrary, as I remember myself, Semisanzharov lived, an invalid of the Great Patriotic War, he was very friendly with my father. His wife, Aunt Dusya, was friends with my mother. By the way, last year I came to Aktyubinsk and visited a new hospital. I come up - they say that a woman here says that she knows you. I come - this is Aunt Dusya. She is already over 80 years old, lying there. He says that thanks to you, we live here with my granddaughter, here I am being treated, etc. and I sat next to her and remembered.
- Awesome.
- Yes. And on this side Prikhodko lived, probably Ukrainians, I don't even know who they were. Nearby, the neighbor is true - Melnichenko. On this side was Yakushev. And on this side was Nosov. And these Melnichenko, Volodya and Vitaly, they were my friends. Classmates. This is how we grew up. And in general there was no understanding of who belonged to what nationality. That's how fate turned out. And then, when I started working at a metallurgical plant, there were nine people in the brigade - I would never have thought, then, when they counted - each was of different nationalities. Each. Whoever was there. There was a German, a Russian, a Ukrainian, a Kazakh, a Tatar, a Jew, and someone else. Amazing, huh? We did not feel that we were of different nationalities. This, so to speak, is my story.
Therefore, when the state was built, we turned out to be multinational by the will of fate. How multinational we have become - I told you. 550 thousand North Caucasians were deported to Kazakhstan. Volga German Republic, 800 thousand, deported to Kazakhstan. In general, it began with the Stolypin reforms, when Ukrainians and Russians were resettled here. Somehow the empty lands were called, although nothing was empty here. And then virgin lands. One and a half million settlers from all over the Soviet Union. Thus, Kazakhstan has become multinational. For a while, even I became a minority in my native land, do you understand? Now Kazakhs make up almost 70% of the population.
We found ourselves in such conditions. The Soviet Union collapsed. People started leaving, leaving. Two and a half million, or about three, left. Those who came to the virgin lands went home. The Greeks left for Greece, the Germans, especially a lot, 600 thousand - moved to Germany, to their historical homeland. To Belarus, to Ukraine. There were many military factories here, many on business trips. They have moved. The Soviet Union as a roof ceased to exist, people felt insecure. A nation state is being built here. Although I said that you are all needed here. You will not find such an attitude anywhere. You are Russians, but you are Kazakh Russians. And indeed it turned out so. But until now: you come to Germany - they meet with great pleasure. When I visit Tel Aviv, they meet me at the hotel. At first I thought, what is some kind of rally? No, they say, it is Kazakhstani Jews who meet you and want to say thank you. So everywhere. And it's nice. So they found a normal existence here in the difficult years of the Great Patriotic War, resettlement. In addition to this resettlement, there was a transfer of factories from the occupied territories. All Mosfilm was in Alma-Ata, if you remember. Famous artists and everyone ...
- Of course. And the films were shot during the war here are wonderful.
- Yes. The film "Ivan the Terrible" was filmed in Alma-Ata. And many such films were shot. So that's how it became. And now what i can do? Start dividing them by nationality, piece by piece? And then the idea of ​​creating the Assembly of the Peoples of Kazakhstan came up. Where everyone's voice will be heard. Everyone can create and preserve their language, their culture, their history. We now have cultural centers in all regions and regions. They delegate their plenipotentiaries and I chair this session of the assembly every year.
It has become the mouthpiece and voice of the nations of all peoples. Now this assembly is being studied by everyone as an experience in the conditions of many living. We have proved to everyone that multiculturalism is not a disadvantage. Multi-faith is not a disadvantage either. You said that about 100 ethnic groups live here. More than 20 religious denominations. And thank God, they all live peacefully here. Everyone goes to pray wherever he wants. And everyone perceives this as normal. I think - in general, it should be so in humanity. Humanly. We are all people, first of all, people, right? And when we are born, we are simply born as human beings. Growing up we learn from our parents who we are and we can have different things, hair color is different, eye color is different with us. Our speech is different. But we are people. And we must live like human beings everywhere and everywhere. This is where I come from. Therefore, representatives of world religions gather in Kazakhstan. Now there will be the 5th Congress ...
- Yes, literally, soon.
- Invite you.
- Thank you.
"And so they gather here and discuss all the issues that need to be discussed, and they have not found another place. And just because of our such tolerance. Everyone is studying how it happened, how it happened. There was a session recently. The Assembly put forward the idea of ​​holding early presidential elections in connection with the events here everywhere. So they also delegate their deputies to the country's parliament, have a vote there, make decisions on the adoption of laws, etc.
- Hundreds of thousands of Russians living in Kazakhstan really perceive Kazakhstan as their beloved homeland and are not ready to change it. Maybe this is partly why, but probably not only therefore Russia and Kazakhstan are the closest neighbors and friends. In my opinion, during all the years of your presidency nothing spoiled the Russian-Kazakh relations, although, probably, when you are talking with our President Vladimir Vladimirovich Putin, there are some questions and discussions. But the strategic partnership of our countries is obvious. And yet, maybe this is such a, well, not a festive question. Where, in your opinion, are the potentials in the relations of Russia and Kazakhstan not realized? What should be done to realize all the possibilities?
- We must start with the most important thing. If you look, so to speak, from the outside, on everything, as de Gaulle said, you must look at everything from the stars. Then you can see better.
- Well, he was the tallest, easy to look at.
- If there is a problem - look from the stars. Then you will see it in such a different plane, of a different magnitude, and you will see more. If you look like this, I think that no one has such close, trusting relations as Kazakhstan and Russia. And since 1991, when the Soviet Union collapsed, these relations have never been darkened. But in everyday life, problems always arise between two neighboring states. We began calmly with Boris Nikolayevich Yeltsin. Now a lot of things are said about him. In general, where is ours, maybe the Russians and Kazakhs, the former is necessarily bad. In general, the king is not important, right? But in England, kings are all good. Whatever they are, what they just did, if you look at history - they are all good. And we have all the bad ones.
If I'm bad, why did you choose this one for yourself? It is better to respect your history. We must say what was bad, but respect.
- One hundred percent.
- Still, Yeltsin turned Russia from communism to liberal politics. Although they hang on him that the Soviet Union destroyed it, there was such a situation then. He fell apart without him. Even during Gorbachev's time, we saw all this well. Crawled at the seams. And already it was necessary to do something about it. And then we were solving issues, difficulties were, for example, to draw the border in the middle of the Caspian. This is a whole complex question. Or build an oil pipeline across the North Caspian to Novorossiysk. It took five years to negotiate. Sometimes they were angry, sometimes they took offense at each other, but decided. You know, we have advisers all around, assistants who say: "eh, don't." Or seven and a half thousand kilometers of Kazakhstan's border with Russia. No one else has such a long border. And every kilometer of this border had to be described. And this is from tsarist times. And with China? These issues have not been resolved for 300 years. And you have to walk near each village. Sometimes the Soviet administrative boundaries were in the middle. Here Kazakhs live, there they live. These want to live there, these want here. How many of these problems were. But thanks to trust, mutual understanding, we solved all this. Therefore, if I answer specifically to your question, I believe that we have solved many questions.
The Eurasian Economic Union, which was created thanks to the goodwill of first of all Kazakhstan and Russia, not counting the costs that are now associated with the general decline of the economy, is the right integration. And we are moving in the right direction. If we consider that the European Union was created 50 years, and we only spoke in the eighth year, I think we are developing at a normal pace. Now there are no customs borders, people can easily cross. Capital is moving, people are moving, the economy is moving - this is already creating the conditions. What are the difficulties? Difficulties always arise. The fluctuation of the ruble was recently in the fall. Immediately cheaper cars in our case. Our ran to buy. Well, for a man it is good, he bought a car at 30 percent cheaper than ours. And these machines bought 60 thousands. And we have automobile plants ...
- It was also an action of friendship in relation to Kazakhstan.
- No, it was no longer friendship. This is the economy. Those were selling, but where to sell ours? And we divided the market. Such was the situation, we were worried, what is it - the Eurasian Union is bothering us. But we quickly solved it, because we have such a relationship. We agreed, decided all this there, now it is normalizing. Russia and Kazakhstan have identical economies. We are raw material countries. We export oil, gas, metals, silver, gold, etc. and we don't have an industry. Do you understand? So I think the most difficult issue is the underdevelopment of the industry in Russia and Kazakhstan. Since 2008, we have been pursuing a policy of industrial and innovative development. I would like it to be carried out in parallel in Russia as well, and we have already begun to interact in industry, in innovation, in science.
- You mentioned the Eurasian Union. In fairness, I must say that the idea of ​​the Eurasian Union belongs to you. You have already expressed it for a long time, Vladimir Vladimirovich warmly supported it, both Russia and Kazakhstan have become the cement of this union. Kazakhstan is located in the very center of Eurasia. In your opinion, how promising is Eurasianism as a phenomenon, as an economic movement forward? The Eurasian Union still unites few states. How do you see the prospects for expanding this commonwealth?
- Personally, my reasoning in this matter goes very far. If we were all normal, in Europe and Asia, this is one subcontinent. Europe cannot live without Asia. Europe needs Russia, needs Kazakhstan, our resources. We need their technology. And goods of high necessity. We need their science, we need their technology. Those. we are complementary. And I am sure that normal times will come and the economy will live without politics, namely to improve people's lives for the present. Then there will be free trade between Europe and the Asian continent, I mean not only Russia and Kazakhstan, but also with China, Japan and India. Mutual trade. It is the economy that creates the basis for calm and stability in all countries. If I trade with any country, it is very important for me that it is calm there. And vice versa. Those. They wish each other peace of mind, want to trade in peace, come peacefully. I am confident that the time will come when the Eurasian Union will truly become Europe and Asia. And it is already moving towards this.
Here is the idea for the Silk Road. President of the People's Republic of China Xi Jinping was here and speaking at the university announced the Silk Road Economic Belt. Those. these are roads, highways and railways, and this is the development of the economy along this path. This is also the union. We are building a road from the Pacific Ocean to Western Europe. We are building a railway. Isn't that Europe-Asia? We will come to this. I see exactly the ideological subcontinent.
- Of course, it's not the business of a journalist to criticize, especially during an interview, well, not the president, but ...
- Please.
- You talked about the various directions of development of Kazakhstan. It seems to me that the potential is not realized in tourism. After all, Kazakhstan is an amazing country. There are so many beautiful places, one Borovoye worth something. Unique It is called Kazakhstani Switzerland. Switzerland rests in relation to Borovoye. Why do people know this direction little and know little abroad? It is about Kazakhstan not as a power, which is developing, which has its own training ground or something else, but exactly as a place where tourists really want to come?
- Yes it is. But all this requires an investment. During these 20 years, the first five years we were somersaulting about how to survive. And then the next 10 years developed at a rate of 7-10%. Accumulated fat, right? When we accumulated fat, so as not to depend on the price of oil and gas, we began to build an industry. 770 new enterprises have been built in five years, one and a half million jobs have been created. Now the second five-year plan is underway. Now we have taken up the infrastructure program, to develop a network throughout Kazakhstan. We have the ninth territory in the world. Huge. And in 3-5 years we will cover the whole of Kazakhstan with railroads and highways. More than 5000 kilometers will be built highways, railways from east to west, because without this there will be no tourism. And still huge agrarian affairs are before us. Kazakhstan, like Russia, is rich in land. Unused. Food becomes more scarce every year. Humanity is increasing, by the year 50 there will be 9 billion people. Consumption will rise by 40% and food will be the best source of business. You have to invest there. Therefore, now, when we have put it on the shelves, first we need to determine what is primary. Now we are approaching tourism ...
- So, I asked the right question now?
- Right. First, we have chosen three points. Alma-Ata is great for mountain tourism. Winter mountain. Everything is prepared there. And wonderful mountains, exceptionally beautiful. We are there now laying a huge new tourist complex. Not only Medeu, not only Chimbulak, but also in other gorges. This time.
The second point of growth is, of course, Borovoe. Where the first five-star hotel was built. Right now, there were prime ministers, and you saw on Russian television that we are starting to develop it.
And the third huge layer is the south. It was the Silk Road, where the ancient cities were, where the first khanates arose. Where did all the events take place between the Syr Darya and Amu Darya. All this way is littered with historical artifacts, buildings, rooms, ruins, etc.
We are starting to develop tourism in three places. What do you need? Good roads, good hotels, good service. Without this, it will not be. So this is a very big question for us. I think Russia also faces this question. Huge, beautiful. Now we were able to visit everywhere in the world, in the best places, one might say. And you always come home - there is no better place. I think everyone has that feeling.
- It's all true. It's all true
- Yes. And I think that's why I went there? Yesterday I arrived from Borovoe, went there. It's just that Dmitry Anatolyevich Medvedev and I met in the evening and walked, walked. He says - this air is not only drunk, the smell is! Indeed, Borovoe was recognized by the All-Union Health Resort because of the absolute purity of the air. And because these mountains are granite, the granite heats up, heats up the roots of the pine trees, the pine trees give off an exceptional aroma and the air is completely clean there. No germs.
- Immediately I wanted to turn to you with a selfish request - when we celebrate the anniversary of Astana, maybe there will be an opportunity to give us an interview already in Borovoye, because we need Borovoye and the world to know. Or at least the Russians.
- But you saw the same! You can now go and shoot everything.
- Okay. Do you know what I thought, Nursultan Abishevich? You started your journey at the blast furnace, in the hottest workshop.
- Yes, with a shovel and crowbar.
- We informants are always interested when our colleagues noticed you. I know that there was even a TV program about you, the young forge-keeper. Then again, on the only beginning Kazakh television. I found the very first mention of you in the newspaper. Moreover, this is a Kazakh newspaper, in the Kazakh language. She is 1958. You were 18 then. And then, in the newspaper, you wrote a letter to your Chinese friend. Remember?
- Of course I remember.
- I really cannot read it now, because it is in Kazakh. But it was published in the newspaper. If you look at your life today, it, in my opinion, is not very different, it is a real hot shop. I asked your colleagues, my colleagues in your press service, they gave me a list of your trips for the year - well, probably seven sweats have gone away, even more than at the blast furnace. You cannot be caught, you are all the time either in the regions, or on trips, or you hold some kind of official meetings and events. Where do you get your energy from?
- This is different. Different sweat and different load.
Hay is said to smell differently for a lover and for a stallion. There is a lot of physical activity, yes. But then there is no nervous load there. I worked it out, my muscles are tired. Came, rested - ready again. It is also necessary to think there, of course, but there is a different category. It's impossible to directly compare my work with physical activity, because the presidential work is intellectual work. These trips are all you are talking about are negotiations. And we need to prepare for negotiations. I always tried to make my partner understand me after my negotiations, and Kazakhstan turned out to be a friend. In most cases, this was the case.
You started with the question of power. Much has been said about power. It is the responsibility that hangs on your neck, which never gives you rest - you think in a dream, and in reality you think about another problem that needs to be solved. Now, when we have worked for 20 years, have reached an average level of prosperity, we are considered a moderately developed country, a country of a market economy, we are included in the list of 50 competitive countries, in the 20 most interesting countries for investment, the World Bank has noted us - and now we can be trapped in the middle class like the others were.
- So.
- 12 -13 thousand dollars per person - many countries in Southeast Asia stopped at this moment, did not go further. Those. One idea, on which you go, rests, like in production, there is nothing new for me, as in a factory. One scientific approach, one decision, one management decision - it gives productivity. Growing at 20 percent, no longer growing. Now we need science, now we need new knowledge to raise 10 percent. That's about this we rested on, so I chose to conduct five new reforms with the electoral program, do you understand?
And they are very complex, these questions. The first is a normal state apparatus serving only the people. And it is impossible to change it, as the boss wanted. He makes good money, works honestly, he does not go into corruption and decides all the issues that the people need to solve. Is it the same everywhere in Europe? Not like ours. There are all sorts of officials. There are such, and there are grabbers. And who became a little boss - already underfoot the ground does not see and there are such. Based on the experience of many countries, we want to make public service accountable to the people and the state.
The second. Law supremacy. That the court fairly solved all problems between business, problems of the person. And on these two legs small and medium business and economy will truly develop. And then we want to make the multinational people identical. So that everyone feels like a Kazakhstani first of all. He loved this land, this homeland, because Kazakhstan gives him everything and he also answers to the country with his work, his attitude, do you understand?
And third, fifth, it is an accountable state, i.e. strung one to the other, well, this is a very difficult job I started. And this is not easy, and, of course, there will be resistance. The reluctance of the old apparatus. But the time has come to radically change, because we are still living in the Soviet period. I can't even blame those judges who were brought up there. But he did not become today's judge. He has a different mentality. Now, it's time to change, then. In public service, meritocracy is called. According to merit. Should not step over. The boss should not bring a brother, a matchmaker, a godfather, a friend. And he must, according to knowledge, having passed all the levels of power, rise up. And I must deserve this job. And this can be done, we are not the first, there is such an experience. We have studied. They studied Singapore and studied the Germans. And the Americans have learned how to do it.
And in exactly the same way, now everything has come to one point. Development of Kazakhstan and these reforms. And in Astana Expo 2017. On 130 hectares, we are building a huge complex that will change the face of Astana. May God let us live. You will arrive in 2017, a completely new city will appear in the city. With such unique buildings that will be shown all over the world. This one main pavilion is a sphere of 120 meters in diameter, inside which there will be a laboratory for all types of unconventional energy. All companies in the world can come and do their experiments there. It will exist at Nazarbayev University. That's all. And as soon as the Expo ends, all these buildings are transferred to the International Financial Center, which will become Astana. Astana - International Financial Center. You know, such a task now stands, so there is no time to chill. And these are very difficult questions.
- Nursultan Abishevich, you also inspired us to prepare for Expo 2017, and with God's help I will ask you to tell us at the end how happy you will be, how it went. You are talking about your great capital, Astana. If you have such an opportunity, maybe we will see the capital together with you? For even a few minutes, there is no better guide to the capital of Kazakhstan than the person who created it.
- I will not hide that I am very proud. I travel to the city day and night and, as they say, I do not believe my eyes. You looked last night?
- Of course. For two years, how many I was not in Astana, it is changing before our eyes.
- I worked with Dzhigarkhanyan just like you. He was shooting a movie. And he said: "Astana is like waking up in the morning and finding myself in a Hollywood movie." I understand him. How do I feel? It was a run-down provincial town. About 200 thousand population. This year in Astana there will be 900 thousand, a million will soon be in this city. A million people.
Every stone, every foundation was laid with my participation. Not a single building began to be built until I looked at the architectural appearance, its design and its facade. The city in which we live - we are like northern people in Russia - it's winter here for six months. When the green leaves, the buildings themselves, the houses should decorate this city. And the color should be special. When I travel around the world, I liked some building - I come, I do. Here there are dancing houses.
- Like an architectural exhibition. Each house - it has its own absolutely unique architecture ...
- Here, I came to China, the Chinese Oil Company works, I say I will build a hotel, but only with Chinese architecture. Do you see standing here? There are Spanish houses here. And now, along the coast to the right, the French Quarter is being built, the complete architecture of Paris. Italian quarter, English quarter, etc. Here, this is a Eurasian city. The first building that I began to build is the Gumilyov Eurasian University. Remember?
- Yes, of course.
- Because Astana stands as a point, the geographical center of the Eurasian continent. Taking Europe and Asia together - this is Astana the very center. Dot. And the most amazing thing is that excavations have found, 14 kilometers near Astana, a city, an old city, called Buzokl, it was the capital of the Huns. That passed here once. The rate was central. Therefore, any building built here is like a song for me. I know the whole story. Now I represent young people who think it was all 100 years old. The same as us? Moscow - as if it were so, everything was so. And here, where we are sitting, in 2002 there was a steppe, reeds grew on the shore. There was nothing. Nothing. And now such a city. Of course, all Kazakhstanis are proud. And I am very proud. So it's done by hand. Together with our people. Well, they say, of course, that he spent a lot of money. For construction ...
- Well, you built the capital, not built your house ...
- First, I answer: what is the millionth city built? This is an asset of this state.
This is the wealth of the country. It originated on our land. This is our property and this wealth is all built. Yes, about four trillion tenge has been spent here in our currency. And 60 percent of them are private investments. But now Astana, the annual gross domestic product is over 4 trillion tenge. And he already pays about ten billion tenge to the treasury every year. Those. it all paid off. Everything came to its own. People from all regions of Kazakhstan come here. They are here, they want to be, and again, multi-ethnic, multi-ethnic peoples mix here, everyone lives together. Everything here is for human life.
And I want the city to become even more a favorite place, where a person is comfortable and joyful to live. First, he must live in a good house. It should have good places to relax, for dinner. Restaurants of all stripes, what countries are not there? Here, go to the Khan tent, go in. There are all the boutiques in the world that you want. First, the best schools for children, the most modern. Intellectual schools of Kazakhstan, there are 20 of them, two English schools work here. And the International University is here, another university. Everything is there for education. And healthcare is the best here. The third is culture. The theater, opera and ballet of Astana is the best opera house on the Eurasian continent. I watched the Parisian opera. I watched the Vienna Opera. I watched opera in Singapore. I watched the Sydney Opera. All of these have made such an opera house, a concert hall for 3,5 thousand seats. Pyramid, look. The Historical Museum is huge. Those. everything that is necessary for the capital is already there.
And now, as I tell you, the rebirth will be Expo. The tallest buildings in Europe and Asia will be built here. 80 floors. Now the 10th floor is already being completed. And this is how the capital will be, and people like to come here, as you know, all kinds of world affairs take place here. OSCE, 56 states, heads of state came here. Islamic states, 57 states held their forum. There is nowhere else to hold such religious summits when everyone - the chief imam of Iran and the rabbi of Israel - can greet here. The only place I'm serious about. And that's good. They understand that they can talk, and not wave their fists at each other. These are our features. Once my old friend Shimon Peres, I have known him for a long time, friends we are with him, came, sit with him, talk. He says: "Mr. President, if I were in your place - I woke up in the morning, I see China with one eye, I see Russia with the other, two empires - I would feel bad." I say no, it's worse for you when you wake up. You are surrounded by unfriendly and friendly neighbors. And in this case, we must take advantage of this situation. There is no exit to the oceans. We have an ocean - China for trade. Ocean Russia. Two oceans side by side. Although we have already connected with the ocean, the Pacific Ocean. Through China, the port of Lengan, we have our own terminal. What other tricky questions will we have?
- Nursultan Abishevich, here I look - this is the anthem of Kazakhstan. The author of words is Nursultan Nazarbayev.
- No, the main thing is Shamshi Kaldayakov.
"But I think your hand is felt here, too."
- Shamshi Kaldayakova music, and our famous poet Nazhimedenov, and I just, the story is this: first we left the music of the old anthem. We got used to singing Soviet, but the words changed non-Soviet. But the words turned out to be cumbersome, awkward. And it was hard to sing, it was hard for the people. I remembered that, for example, France has a favorite folk melody, "Marseillaise". And our favorite folk song was "My people, my country". Everybody sang it. Written during the rise of virgin soil. There is a golden steppe, wheat is everything. It remains, golden wheat. And the steppe remains, and the sky remains. This is normal. But some about our striving for independence, striving for the future - these are the words I, without spoiling the main points, added here and there. Changed the chorus a bit. And with the permission of the author's relatives, we wrote. So I ended up just a co-author. Little co-author.
- A national flag. The color of the flag, as far as I know, there is a very interesting story.
- Yes. Announced a competition on state symbols. Flag, coat of arms and anthem, of course. But the flag provided was about 1000 offers. Various, I will not say. And here again I participated. We had three parts there, three colors are necessary. Green, Muslim is necessary. Etc. etc. But a single color astral unites the unity of the country. Kazakhstan is one, not divided, see? And no contention ...
- But the color is absolutely unique. He is nowhere, not one flag of the world anymore.
- We originate from Tengriism. Tengri is the sky. And the blue sky. The eternal blue sky has always been the flag of our ancient ancestors, and we took this color. And on the coat of arms there is a mythical horse with legs, it is taken from the clothes of a golden warrior. 2500 years old, Saka prince, we dug out the clothes, the rest was attached. This is the top of the yurt, shamrak, we live under a common house. These are the rays of the sun. Eternal blue sky, we live under one shamrak and golden sun.