The title is not an insult. This, according to Evgeny Kuzmenko, one of the "censors" and the columnist Gordon.ua, is a very popular meme in Ukraine today. Telling about how things are not very good in Russia, and therefore the Russians are so attentive to the events in Ukraine.
If you familiarize yourself with what they write on this "gordon.ua", then in Ukraine, everything is a class. Well, let's not argue, this is a matter of taste.
http://gordonua.com/news/society/A-che-tam-u-hohlov-Novaya-rossiyskaya-chesotka-77284.html
But let's talk about what Kuzmenko writes.
New, in principle, nothing. Yes, where, in fact, take something new? Thank God, everything is as before.
"You know, guys, humor on the Internet can be non-painful in strength weapons. Especially if you use it together with the mind. "
We know. We understand. But with respect to the mind, there is no doubt about it.
"Russia and Ukraine in the spring of 2015 are completely different. The older brother lives in the past, revises old photos. It recalls the times when everything was uneasy, the neighbors were afraid, and the girls gave. At the same time, they could hang noodles on their ears about age-old spirituality, special morals. Some believed. "
Good run. Feels both humor and professionalism. But what does Evgeny begin to remember the events of 1999 of the year to substantiate this?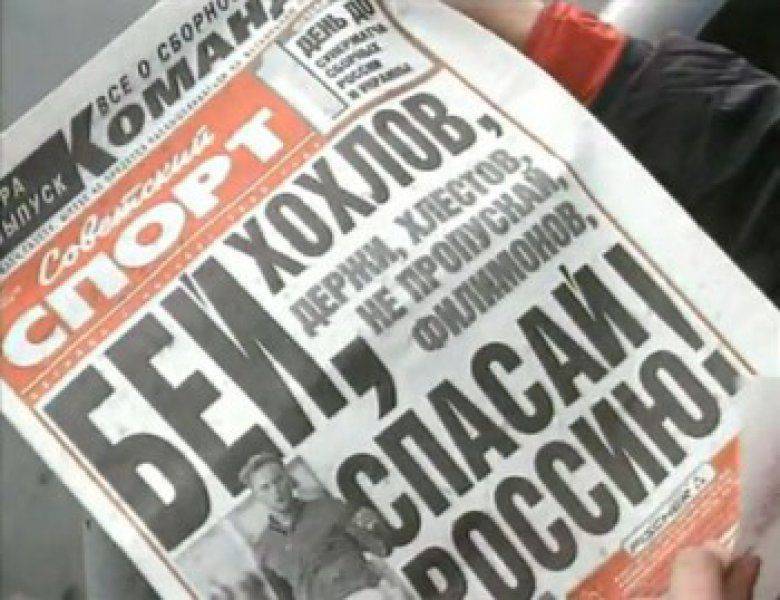 And with fervor tells about the events of "only something" 16-year-old. Here, they say, when they still trampled on us, klyaty ... And we suffered. Horror.
Comparing Russia with an older brother ... Well, it's debatable, Eugene, debatable. Anyway.
"And the younger one somehow had a very good life: he left home, found a new job, gained a new circle of interests. And he has new friends, completely foreign sissies."
That is, as they say, Eugene annealed. For such a monument should be put. Maybe I misunderstood him, perhaps, Kuzmenko says to himself. Then you can rejoice.
However, if the "younger brother" means Ukraine - however ... He left the house - indisputably. Found a new job? Where, forgive generously? No, again, if the "new job" is the survival of Tajik and Uzbek janitors from the Russian courtyards, and from the sidelines of the trails of our prostitutes - no questions asked.
Friends (foreign sissies) are great. Well said. We, of course, like unwashed and all that. But we will not have AIDS. And the anuses intact. But this is again a matter of taste.
The fact that foreign friends denezhek planted on reforms - this is yes. But not for free. Giving will still have to, no matter how twisted by this, inviolable. But this again - personal problems. Not a single borrower with full pockets left your new friends. But since you don't really bang around anything in your pockets, it's about other things. About the pants themselves. That's when we laugh.
"In general, the nationwide flash mob" And what about the Ukrainians there? "Is first and foremost about present-day Russia. That nothing new happens in the country itself; that it lives according to old patterns, and moves in the depths of its concentration camp , from Brezhnev to Stalin. Yes, the Crimea was squeezed out by the Ukrainians, but the feeling of novelty quickly became boring. And it turned out to be troublesome to go to this Crimea ... "
Zhen, dear, well, you sometimes come off the "censor" and "Gordon" though well? So,
news
read it sometimes. We had the Olympics, if that. We will have the World Cup. And not in half with someone, because the stadiums are not enough, but purely so, your own. We build spaceports. Small plants there again ... The bridge to the Crimea.
By the way, about the Crimea. Believe it, no - not boring. On the contrary. Troublesome - yes, there is little. But it's better to stand in a queue at the crossing amongst your own ones, than your jokes ... to endure at customs. And on your roads do not hit the car. You didn't repair them at the time of getting the "Square".
And build a bridge, do not worry. It is cheaper than the Olympics cost, so that the bubble is enough. Yes, and you have at the end of the year three lard take. Or your guarantors. They will steal, of course, but they will build it.
"And the Ukrainians are somehow alive, bright, with a peppercorn. Yes, they made a lot of mistakes on the new path; still bad with the economy; the oligarchs did not get involved in corruption, corrupt cops and judges. The war in Donbass, the terrorist attacks in Kharkov and Odessa, inflation and populism of newly elected politicians. "
Ah, well done! From the garlic lad! Well all listed, that's just where the brightness? Peppercorn in what? In bills? Yes, it is not a fountain here either, I will not argue. But we have in this brightness and no pepper. We have a problem that needs to be solved. Both judges and corrupt guberts. And again, this is a problem.
Here it is, the difference is where! What is the problem and anger of the day in Russia - in Ukraine "brightness and pepper". Right way, bring down, gentlemen ...
"But somewhere they still go, and with all the danger of the path this road leads clearly not to the cemetery. People learn to take care of themselves without waiting for the grace of the priest-king. They try to control the power - and from time to time they manage to do well ..."
And where does she lead? In the "heavenly hundred"? So if you correctly count all those who disappeared in the ATO, so there are hundreds of no longer smell. Taking care of yourself is how is it? In Russia to earn a jerk, or what? They never let go to Europe, they never let it go ... About the control of the government in general, we need more detail. When did you manage to control it? And to whom? And How?
"And the residents of the Russian empire did not have an imperial sickness at all: they became interested in day-to-day curiosity with unconcealed curiosity: what about the Ukrainians there?"
Yes, yes. Russia is not Europe. We are interested in. Who has relatives in Ukraine, who has friends. And since the Russians have not grown to European cleanliness, it is called "to show participation."
"Relatives from Russia called relatives in Ukraine: do you have any food to eat? Maybe pick you up from there?"
And they took. And met. And they sent food. For some reason you didn't get anything for free from Europe. From Russia - please. From gas to coal. Warm up, wash. It's good that at least Yevgeny admitted it.
"But time goes by - and the Ukrainians somehow hold on, make ends meet, and even send something to the front. And they have a Book Arsenal, and Marika's world chess champion has become; and in the quarterfinals of the Europa League they know how two clubs ended up at once ... "
Yes, achievements. Again, if Zhenya had not studied the Russian news for Gordon, he would probably be in shock. Even I will not list what we have won over the year. For the list will be really longer than the Ukrainian.
Well, how and what do you send to the front, we are aware. How your ammunition and shells for food from militias change. And then from their own ammunition die. But then. We know.
"And the other thing is insulting: they themselves (Ukrainians) flatly refuse to recognize Russia as any kind of important guide. So, neighbor, not more. Yes, and arrogant, arrogant, cunning and jealous - well, why didn't it happen to live near Switzerland or Denmark? How many problems could have been avoided ... "
Yes, neighbor, no more. I don't know how much easier it would be to live next to Denmark, and how many problems would exist, but that Denmark, Switzerland is a small country. There are so many whores and janitors "do not require." And plumbers. And drivers. And asphalt pavers.
So an important landmark Russia, do not lie too, Eugene. In this Russia you can live Khokhla. It is to live, not survive. Millions of you were living, working, and feeding families. And your pseudo-economy was supported by our own rubles.
"Young people are keenly interested in: what is in Poland? And how cheaper is it to fly to Barcelona? Is it true that in Portugal ... They count the euro with dollars, and they don't want to look at the rubles."
Zhen, are you serious? Where can you see this youth? How to talk? No, if this young, so advanced, parents are sitting in the Rada, then I will believe unconditionally. Well, or if it's kids like Ludin Akhmetov or Firtash.
But in order that all the dollars with the euro should be counted ... We are here, of course, the Colorado quilted jackets are through one, but to believe in such bredyatin is not necessary to smoke dill. It already gives heavy chemistry. Which is not smoking, but it is necessary to prick.
Well, probably, to be a Ukrainian Kuzmenko. Everything is so positive, bright, with pepper! We believe that we are arming and feeding the army with euros, we will return the Crimea and take the Kremlin by storm. Great to live like this.
Especially, probably, it's great to live and write like that, if the head does not hurt about the bottom of tomorrow. But for some reason, many in Ukraine, it hurts. And many thousands rushed to Russia, some from the victorious Ukrainian army, not wanting to ATOshit in its glorious ranks, who are trivial because you can live on the average salary in Russia, and survive in the Ukraine.
Such a thing, Eugene. We do not need a blind adoration from younger brothers. Already seen enough and were convinced, what they, these youngest are. Especially those who jump. And you have on the "censor" spit saliva. But we cannot do anything with our nature, good-natured and sensitive to other people's misfortunes.
So we historically.
But glory to us, we can so far distinguish candy from shit. Or when trying to sell the second under the guise of the first, and even with the label "Made in EU". Or when they are trying to show us how flawed we are and how powerful the Ukrainian people are.
You can talk a lot about how bad things are in Russia and how cool things are in Ukraine. Clever and well-versed everything and without reasoning is clear. Studied for the year. Well, Svidomo-it Svidomo. And it is clear, at whose expense such people are writing.
But still, Eugene, how is it with the Ukrainians in reality?