For the supply of the Ground Forces, army vehicles of the "Scorpion" series were taken,
Interfax-AVN
a message from the CEO of the Zashchita Corporation, Sergey Starun.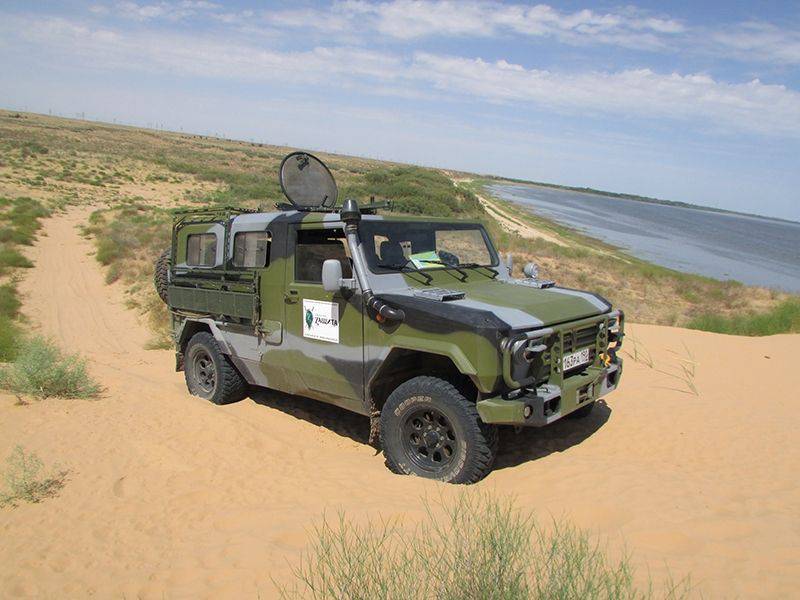 "Scorpio" on trial
"We are talking about army vehicles" Scorpion LSHA-1 "(light assault car) with an open top," Scorpion LSHA-2 "with a hard metal top and an armored car" Scorpion LSHA-2B "," explained Starun.
According to the CEO, "armored cars will most likely prevail in the planned deliveries."
"In the near future, a contract is expected to be signed for the release of an experimental-industrial batch of the said army vehicles," he added.
Starun did not call the exact number of cars, saying only that we are talking about dozens.
He recalled that "last summer, the armored" Scorpion LSHA-2B "as part of 15 promising military vehicle models was successfully tested in desert, sandy and mountainous areas in the Astrakhan region and the Republic of Kabardino-Balkaria." The length of the route then was about 4200 km.
On the "Scorpions" can be set different
weapon
, "Including Kord machine guns or KPVT, Flame grenade launcher".
Manufacturer Help:
"The car" Scorpion LSHA "has a mass up to 4,5-5 t with a carrying capacity of up to 1,1 t. Engine - hp 166 diesel engine. Maximum speed - 130 km / h. Power reserve - 1000 km. Wheel formula - 4x4. Armor protection - protection of the cabin, fuel tanks, batteries, engine compartment. The car is equipped with anti-bullet fire protection for 6 class GOST and designs from blasting devices up to 600 grams in TNT equivalent. "