A variety of exercises and maneuvers are held in the Armed Forces of Russia. It is difficult to ignore the teachings in which the team was involved, using the horses of the so-called pack-transport platoon. We are talking about the teachings of the 34 th Karachay-Circassian motorized rifle (mountain) brigade, held in North Ossetia. As part of the exercise, the delivery of ammunition by horses of the Mongolian and Karachai breeds to the mortar battery was worked out. The press service of the Southern Military District talks about the progress of the exercise (quote
TASS
):
More than 1,5 military personnel, about 350 pieces of equipment, 10 army helicopters were involved in the exercises
aviation
Mi-8, Mi-35, Mi-28N, unmanned aerial vehicles and about 40 horses of a military transport platoon.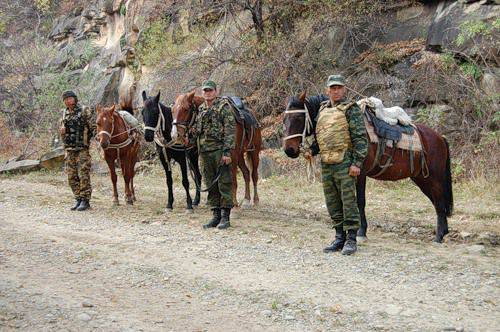 It may be that the use of horses in the teachings of the armed forces of the 21st century may seem archaic to someone, but in difficult mountainous terrain, the delivery of ammunition and food without the use of pack animals is a real problem. It is the Karachai and Mongolian horses that are ideally suited for transporting ammunition in the mountains, since these animals are particularly enduring.
In Russia, it is planned to create another pack-transport unit that will use horses. This is a platoon of the 55 Brigade of the Central Military District - in the Republic of Tuva. And the plans of the Ministry of Defense - the completion of a complete unit by the end of November this year.