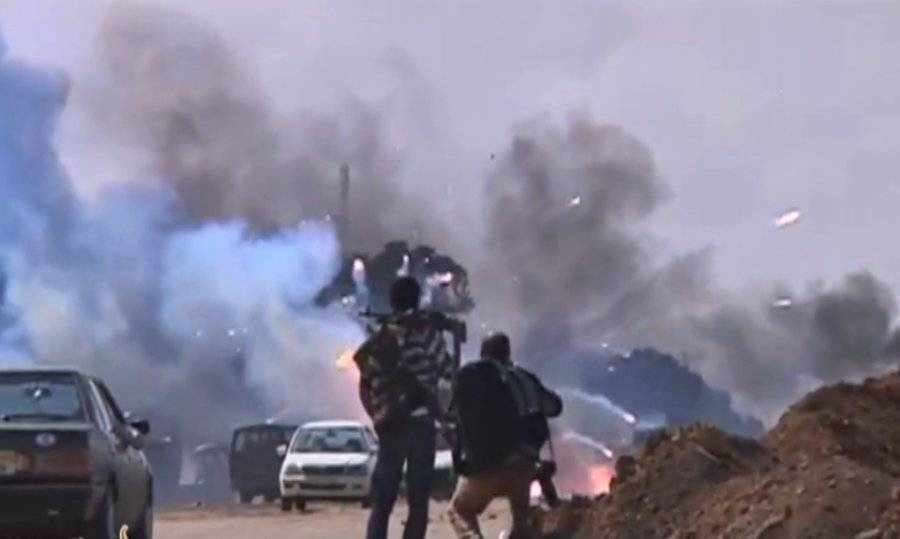 Libyan rebels were able to locate chemical storage facilities.
weapon
as well as harmful fissile materials. After that, control over the warehouses was started. The West is afraid that terrorists may take possession of dangerous substances. The government of the new Libya has asked for another month to put down the Gaddafists. After the final victory over the supporters of Gaddafi is reached, 8 months must pass and new elections must be held.
Unusual finds
Chemical weapons were found in warehouses that were located in the south of Libya, in the oasis of Al-Jofr.
Mustard gas is a mustard gas, which is known as a substance that adversely affects the skin, eyes, lungs and upper respiratory tract. Members of the Transitional National Council troops were able to find mustard stored in warehouses. To do this, they needed to establish permanent control over the territories, oust all the Gaddafists from there. This was recently reported by Libyan news agencies. The rebels said they now control all the warehouses. However, the media do not report on whether the arsenals of NATO chemicals are controlled. This causes concern. If we take into account that the composition of the army of the National Council is variegated, and each participant has different motivations for the fight against Gaddafi, then extremists can seize weapons.
CNN reports that in Sabha, which is Gadhafi's stronghold, it was possible to find two warehouses in which barrels with the words "radioactive" are stored. In addition, in this arsenal there are plastic bags that are filled with powdery yellow contents. In this warehouse also stored old missiles, which belong to the class of "earth-air".
Formerly, the Transitional National Council believed that Gaddafi was in Sabha. However, no trace of Gaddafi could be found. CNN reports that tribal members who live in Sabha want to surrender to the rebels.
What could be worse than chemical weapons?
In 2003-2004, Muammar Gaddafi tried to take Libya out of international sanctions. He considered that the stocks of hazardous substances should be completely eliminated. In addition, the development of nuclear weapons was halted. According to some information, Muammar Gaddafi had approximately 100 tons of different agents that were produced from 1980 at the Libyan factory Rabta.
In 2010, the state was able to destroy approximately 15 tons of mustard gas, but approximately 9,5 tons remained. These stocks of mustard are stored in warehouses, whose status is classified. As a result, an agreement was reached with the West that the agents would completely destroy 15 of the year before 2011. However, at that time a war was launched in Libya. Despite this, the citizens who participated in the uprising did not undergo the use of chemicals. In March 2011, there were fears that Muammar Gaddafi might use chemicals because his activities were discontinued. Mustava Abdel Jalil, who was formerly Minister of Justice of the Government, and currently holds the position of the head of the Transitional Council, began to take part in the uprising of citizens against Gaddafi. It was Mustafa who proposed to drive into the corner of Moammar. He said that the UN should do everything possible to ensure that Gaddafi did not have the opportunity to put his own plans into action. However, you need to be prepared for the fact that his actions may become uncontrollable, because he was pressed against the wall. It is possible that Gaddafi will decide to burn all the substances that belonged to him. He said that he could start spraying mustard gas around the world, and also try to get people infected with anthrax and smallpox, which was genetically modified.
In March, 2011, Hillary Clinton, who holds the position of US Secretary of State, announced that Libya could have various dangerous substances, for example, chemical weapons. But Hillary Clinton had no evidence that she could lead to her own message.
The Organization for the Prohibition of Chemical Weapons in March 2011 of the year reported that there are approximately 11,25 tons of mustard gas in Libya, but this facility is not located on delivery vehicles.
What is the situation with uranium?
The fact that fissile substances can be stored in Libya was known before.
For example, in the 1970-ies Gaddafi believed that the country should develop nuclear technology. The Libyan government has signed the Non-Proliferation Treaty. Then the authorities of the USSR, as well as France, began to help the Libyans find out more information about this. For example, the USSR allowed Libya to build a Center for Nuclear Research, which is located in the city of Tajura. Subsequently, this center began its own activities, and this happened in the 1981 year, when the reactor was launched, the power of which reached 10 MW. For its operation, a special uranium-235 is used, which was enriched to 20%. This type of uranium is industrial, so it could not be used to produce a nuclear bomb. In 1980-s. Libyans first tried to make nuclear bombs, and for this they used uranium, plutonium. It is important to note that at the end of 1970-s, 1200 tons of uranium concentrate were stored in Libya, and in 2004, its quantity increased to 2263 tons. In 1984, Tripoli became the owner of the plant that was processing uranium ore. Professionals engaged in the development of nuclear technologies from the USSR and Germany continued to work in Tajura. However, in 1988, the government of Libya had to pay a fine for this activity.
In 1997, state authorities were able to purchase 200 centrifuges from Pakistan. At this time, Libya began to independently develop centrifuges in order to enrich uranium. The installation took place in the 2000 year, and in 2001 the government purchased uranium hexafluoride in order to produce a nuclear bomb. The technology of manufacturing a nuclear bomb passed the citizens of Pakistan. In 2002, Libya again needed to purchase centrifuges.
In 2004, Gaddafi was forced to report that the requirements of the Non-Proliferation Treaty were violated, so the authorities promised that the development would be suspended. However, their promise was not sincere. A few months later, centrifuges were purchased again.
In 2004, the IAEA was able to prove that there is a significant amount of "yellow uranium" in Libya that allows you to develop nuclear weapons. It is important to bear in mind that this substance must first undergo a special enrichment, and only then it will be possible to manufacture a nuclear bomb.
After the bombing of the NATO Air Force began, experts said that all reactors in Libya could be shot at. With such a development, approximately 100 kilometers of territory would be subject to severe radioactive contamination.
Recently, radioactive substances were found, so the whole West was alarmed. David Albright, who is the vice-president of the Institute of Science and International Security, said that nuclear substances are stored in a place that is accessible to terrorists. In order to resolve the situation, representatives of the IAEA must come to the place where nuclear substances are stored in order to find out whether all stocks are still stored in warehouses.
How is the situation developing?
All functionaries of the new Libya report that the government cannot be chosen until the time when the PNS troops control the entire state. Currently, Sabhu, Bani Walid, and Sirte are controlled by Gaddafists. Although the inhabitants of Sabha are almost ready to surrender to the winner and accept the new conditions. PNS is sure that in one month it will be possible to defeat the resistance of all citizens. After that, an interim government will be created, and the prime minister will form a permanent government cabinet. Then you need to start writing a new Constitution of Libya, which will be submitted to the referendum. Elections to be held on democratic terms should take place in 8 months.
Gaddafists continue to fight in Sirte, Beni Walid. During these hostilities killed civilians. Gaddafists also occupied Hamsin, which is located not far from Sirte. Baghdadi al-Mahmoudi, the former prime minister of Gaddafi, is in Tunisia, but he was arrested and sentenced to imprisonment for six months.
NATO is worried because Gaddafists do not intend to give up, and this can lead to serious consequences. However, Gaddafists are no longer able to continue regular military operations, so they conduct military operations only in some regions of Libya.
The UN is trying to take actions that will help resolve the conflict situation in Libya.