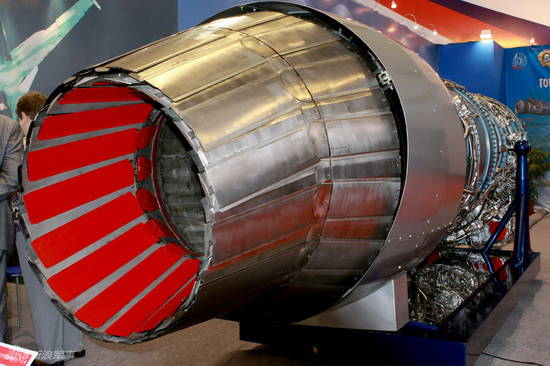 and the 14th Beijing International
aviation
the exhibition, the Russian manufacturer of aircraft engines "Salute" presented the turbofan AL-31FN with a controlled thrust vector. Company representatives said that no negotiations are currently underway with China to supply these latest engines, but Russia plans to sell another 140-150 engines of this type with a conventional nozzle in the Chinese market. But such a contract has not yet been signed.
Earlier, Russian media reported that in early June of this year, China signed a contract for the purchase of X-NUMX AL-123FN engines in the amount of $ 31 million to equip J-500 fighter jets. Deliveries must be completed in 10.
The new version of the AL-31FN with thrust vector control, presented on the stand, has a thrust at the forcing of 12700 kg. The AL-31FN 3 series engines with a conventional nozzle, which are currently being sold to China, have a thrust force of 12500 kg and a 2000 life of hours. Previously delivered to China, the engines had thrust of all 11700 kg and resource 1500 hours.
The Chinese reporter asked the Russian representative about his opinion about the WS-10A "Taihanshan" engine, and he replied: "The engine is insufficient, the operational resource is small, so China will continue to buy our TRDDF." However, currently these engines, with increased thrust and life, are equipped with J-11B, J-10В fighters and prototypes of the J-15 deck.
The so-called controlled thrust vector allows fighters to increase their maneuverability; in addition, the aircraft can evolve with high angles of attack and low speed, which contribute to a decrease in radar visibility. In addition, a controlled thrust vector may replace some control surfaces of the aircraft.