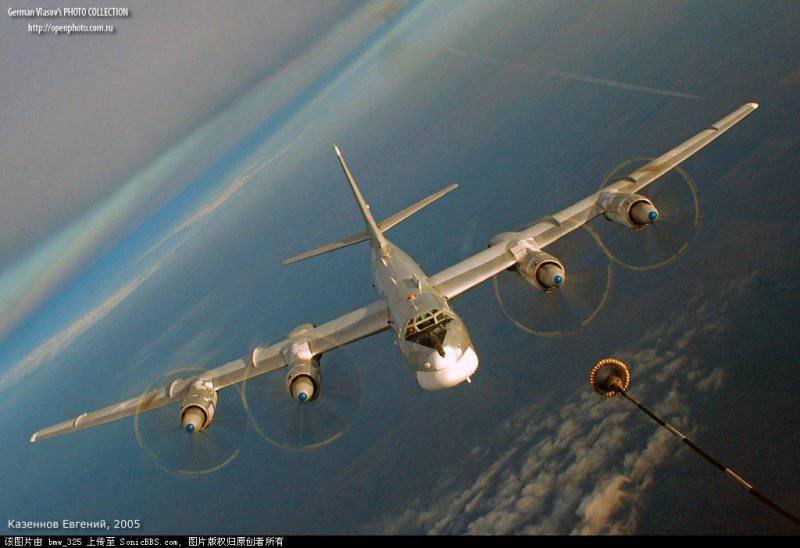 The Japanese government, through diplomatic channels, plans to express "concern" to the Russian authorities over the fact that previously two Russian strategic bomber had made a flyby around the main Japanese territory.
Reports appeared in the Japanese media referring to the country's defense ministry that on Tuesday two Russian Tu-95MS bomber made a flight around Japan, without violating its airspace. The flight lasted about 19 hours.
Bombers entered neutral airspace near Nagasaki and then flew from south to north to the Pacific Ocean. In the airspace over the sea in the area of ​​the cities of Wakkanai and Kushiro on the northern island of Hokkaido, they were joined by two tankers Il-78, which made refueling in the air. After that, all four aircraft flew in the direction of Russia.
The air forces of Japan's self-defense alarm raised several fighters into the air to escort Russian aircraft and prevent violations of Japan's airspace. Earlier, Japan also asked the Russian Federation for clarification in connection with reports of the intention of the Russian Air Force to conduct air force exercises in the Sea of ​​Okhotsk, near the Japanese control zone.
It was reported that Moscow notified the International Civil Organization
aviation
ICAO that closes a vast area in the Sea of ​​Okhotsk for civilian flights from September 7 to the end of this week with the aim of conducting exercises in this area at an altitude of 4800-7500 meters.