Minister of Defense of the Russian Federation Army General Shoigu placed before the Main Military Medical Administration and the Command of the Military Transport
aviation
The Russian Air Force tasked with the rapid transfer of a field hospital to combat highly dangerous infectious diseases, as well as a stock of modern medicines, to the Republic of Guinea, reports
Press Service of the Ministry of Defense of the Russian Federation
.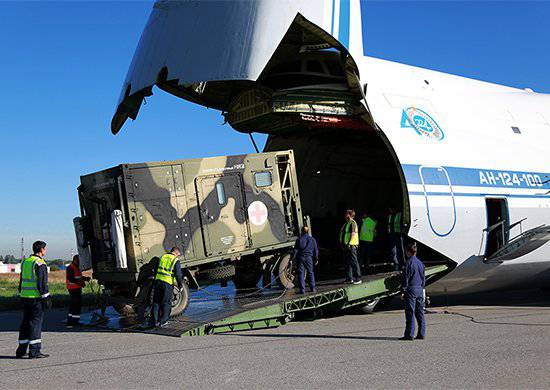 On November 16, the first two An-124 aircraft flew from Sochi Airport to Conakry Airport in the territory of the Republic of Guinea. On board are more than 150 tons of special and medical equipment for the deployment of a field hospital, including three infectious departments, an emergency unit, an intensive care unit and intensive care unit, as well as special diagnostic laboratories.
In addition, the shipment includes special vehicles for transporting patients from areas covered by the Ebola pandemic, as well as a distillation station, 3 disinfection-shower complex, blood analyzers, specialized field kitchens, 4 mobile power plants, mechanized laundry, medicines and infusion solutions .
The Republic of Guinea will receive this field hospital free of charge. In addition, Russian President Vladimir Putin ordered the preparation of Russian aircraft, equipped with special capsules to transport patients, in case of emergency.