Petro Poroshenko during a trip to the Kharkiv region visited the state enterprise "Plant named after Malyshev", which produces modern armored vehicles, and promised to increase the state order, reports
RIA News Ukraine
.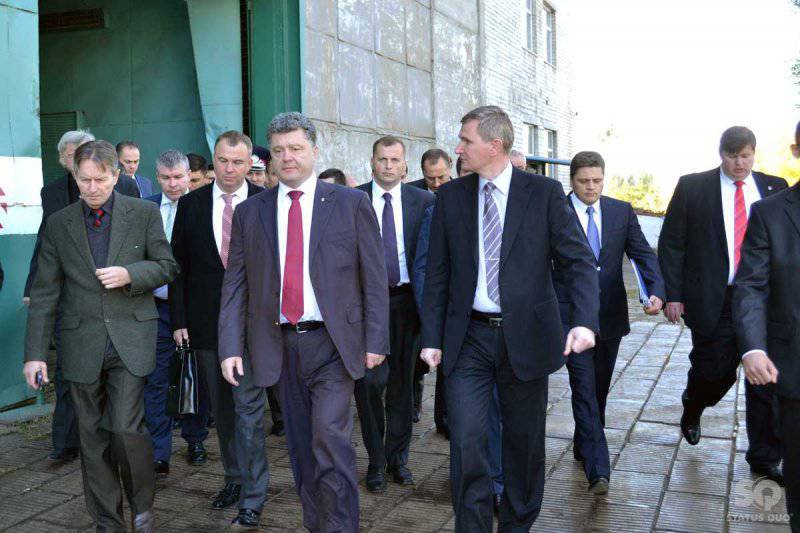 The presidential press service said that "Poroshenko examined the production capacity of the plant and samples of its products - the most modern tank Oplot, modernized BTR-E and BTR-4 MB and other types of armored vehicles."
Then, the Ukrainian president held a production meeting at which "the plant's management presented schedules for the repair and production of new machines, and shared the production needs of the plant." In addition, "issues of investment for the development of new models and the opening of additional orders" were discussed, according to a press release.
It is reported that in his speech to the staff Poroshenko "especially thanked the enterprise team for the decision to move to a three-shift work schedule, which allowed an increase in production."
"Now the whole country is helping the military, but volunteers cannot bring Tanks and armored personnel carrier, thanks for your team spirit "
- quotes the press service of the head of state.
He noted that "the equipment produced by the Malyshev plant is the most modern type of armored vehicle.
weapons
in the world". According to him, the number of orders will grow and "as early as next month the plant will produce a record number of products."
According to the report, now the company "produces tanks BM Oplot, conducts a major overhaul of T-64 tanks and reconditioning tanks BM Bulat". In addition, the plant is mastering the production of Dozor-B machines.