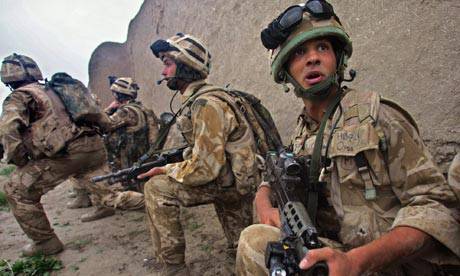 The armed forces of the most powerful alliance in the world, NATO, have already failed to win the war twice. American, British, French and other foreign troops are preparing to leave the struggle in Afghanistan - the first war where NATO launched ground forces, and now the United States, Great Britain and France seem to have reached the point when they are ready to surrender the battle for Libya, saying that Gaddafi stay in the country if you give up power.
Since the days of Iraq in the wars led by the United States, in which the "coalition of the willing" is involved, the number of those willing is gradually reduced. Now, after Afghanistan and Libya, the number of applicants will be even smaller.
NATO countries have spent billions - Britain has spent more than 14 trillion pounds, however, having been defeated in the fight against the insurgency in Afghanistan.
"You cannot impose democracy from 5 kilometers," said David Cameron several weeks before joining Sarkozy enthusiastically to try to do just that. Ironically, that he was dissuaded from this step by none other than the Minister of Defense. Then the head of the Navy, Sir Mark Stanhope, as well as the head of the Royal Air Force Stephen Dalton realized that for them it could be an opportunity to show that their departments can be used for different needs - launching missiles from submarines, shooting frigate guns (which is very rare opportunity), or deliver humanitarian aid. For the first time, the Royal Air Force was given the opportunity to attack targets on the ground, instead of practicing air battles with imaginary Soviet fighters. And military companies were given the opportunity to demonstrate how clever their
weapon
.
Moreover, this was a response to Liam Fox for his agreement on last year's deep cuts in the budget for strategic defense. Thus, the military makes it clear that it would be much more reasonable not to send military ships to the dump
fleet
and fighter harrier.
Which of course should weaken the army. Although the Apache helicopters (attacking ground targets in Libya) belong to the army, the ground forces did not play any role in the conflict. Afghanistan is still delaying deep cuts in the army, although the Chief of General Staff Peter Wall blurted out that they are actively preparing for a reduction.
What will be the role of the army, navy and air force in the future, after Libya, now it has become even more difficult to answer. They are unlikely to be able to rely on America, as it was in the past, which from the very beginning made it clear that it did not want to bomb Libya, and resisted all attempts by Britain to persuade it.