For the first time a rocket ship "Samum" was launched from Sevastopol to a distant Mediterranean march, captain of the 2 rank Oleg Sardin commanded the ship. Reports about it
Sevastopol news portal
.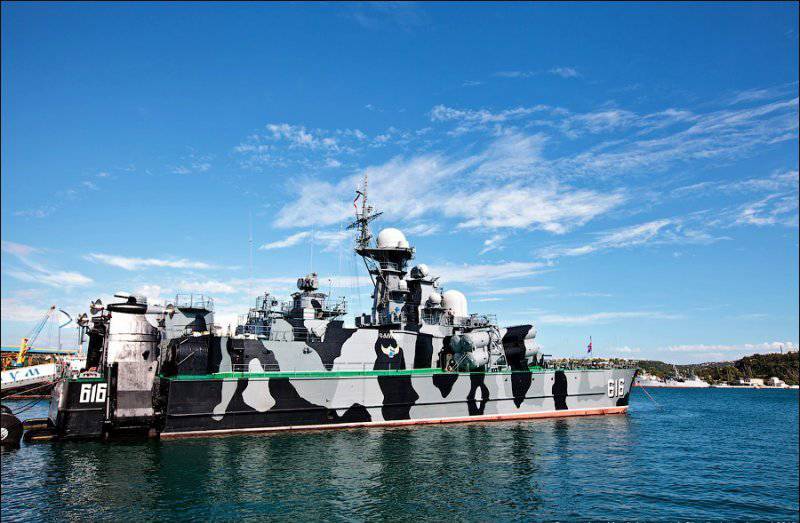 Samum is one of the newest ships of the Black Sea Fleet. "The 1239 missile hovercraft was created as a development of small rocket ships of the 1234 and 1234.1 projects.", Is indicated on the website. The new ship (designer Valerian Korolkov) differs from its predecessors by a larger deck, which made it more convenient to place it on it.
weapon
, and more comfortable crew accommodation. In addition, the catamaran has a high seaworthiness.
"The ship is well-armed, has two 4-x Mosquito missile launchers (8 3М80 missiles), 1X2 PU Osr-M ZRK missiles (20 missiles), 1 76-mm AK-XNXXXXXXX-AKM gun missile system, -XHXX, X-CHXXXXXXXXXXXXXX-XXXXX-X missile rocket launcher. AK-176. For its relatively small displacement (2 t), it has serious firepower. His crew: 6 people. ", - said in the publication.
"Not without reason RVP" Bora "and" Samum "open a holiday on the day of the Naval fleet in Sevastopol, personifying the best forces of the Black Sea Fleet
- with some enthusiasm says the commander of the warhead-2 Vishnyak. - They work in pair, not only in celebrations, but often during combat training. Two gas turbine engines with an 60 power of thousands of horsepower allow you to reach speeds up to 55 nodes even at wave heights of two meters! This speed allows the ship to not fall into the seizure of homing missiles, for the same reason it does not have time to catch up with the torpedo. For the same economical course installed two diesel engines. In general, its seaworthiness is up to 8 points. "
Together with the crew, a group of anti-terrorist activities (from a brigade of marines) of 8 men left the sea.
According to the newspaper, "the ship, taking into account its capabilities, will strengthen the grouping of ships of the operational connection of the Russian Navy, operating in the Mediterranean Sea on a permanent basis."