Russian paratroopers will get a new weapon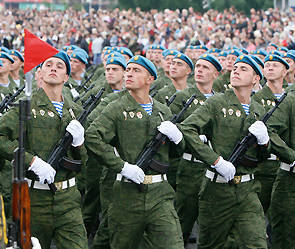 The 98-th Guards Airborne Division and the 31-th separate Guards Air Assault Brigade, which are part of the CSTO Collective Rapid Reaction Forces, will be equipped with modern weapons in a priority order. The list of equipment supplied by the Airborne Forces will include promising airborne assault vehicles and armored personnel carriers, the combat capabilities of which have been increased two to three times.
The new state armament program, designed for a period of up to 2020, provides for the allocation of almost 20 trillions of rubles. According to 2020, the proportion of modern
weapons
and equipment must be brought to the level of troops not less than 70%. Ignatov added that special attention will be paid to the 7 Guards Air Assault Division, stationed in the Southern Military District.
"To buy military and special equipment will be sets of organizational-staff formations, such as a company / battery-battalion / division," - quotes RIA
News
Chief of Staff of the Airborne Forces Hero of Russia Lieutenant General Nikolai Ignatov. According to him, the list of airborne vehicles supplied will include promising airborne assault vehicles and armored personnel carriers, "the combat capabilities of which, compared with the BMD-1, BMD-2 and BTR-D armed with the Airborne Forces, will be increased two to three times."
In addition, the paratroopers in the framework of the state armament program plan to receive a large number of models of communications and control automation, airborne equipment, engineering weapons, and in 2013, the airborne forces will adopt a new self-propelled artillery gun. Ignatov said that the military, together with industry, had practically completed development work on it.
Also, the lieutenant-general said that the sergeant positions in the Airborne Forces with 2016, the plan is to recruit only contract soldiers. The study of junior commanders in the Airborne Forces is carried out according to two types of programs: a three-month and a two-year ten-month program. "As for the sergeants, who are undergoing training in a new (two-year, ten-month) training program in Ryazan, they finish training only next September," the chief of staff of the Airborne Forces said. He stressed that part of the sergeants is appointed from among experienced soldiers who have undergone additional training, and sergeants from the combat and rear support units of the airborne forces receive from interspecific training centers.
Ctrl Enter
Noticed a mistake Highlight text and press. Ctrl + Enter