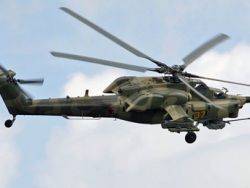 By the 2020 years, helicopter regiments can be created as part of the Airborne Forces (Airborne Forces), reports Interfax, citing Lieutenant General Nikolai Ignatov, Chief of Staff of the Airborne Forces.
"The reform of the Armed Forces has not yet been completed, the state armament program, naturally, has not yet been completed. Helicopter regiments will be created by the 2020 years, when the rearmament program is completed," Ignatov noted.
As previously reported, "RG", in the course of the reduction in the army of managerial units and backup structures, a helicopter
aviation
Ground forces and winged airborne equipment were transferred to the Air Force. According to the Commander-in-Chief of the Airborne Forces, Lieutenant General Vladimir Shamanov, this hit the mobility of the Blue Berets. The presence of helicopter regiments in the Airborne Forces should correct the imbalance. Earlier, Shamanov said that the most acceptable is the placement of helicopter regiments at some distance from the location of the regiments of the airborne forces, divisions or brigades. In particular, Shamanov proposed creating infrastructure for an air base near Ulyanovsk, where the 31st separate airborne assault brigade is based.
It should be noted that a number of media outlets reported on possible plans for the transfer of airborne troops to other troops. However, at the present time there is no talk of disbanding the Airborne Forces and transferring them to other troops, Ignatov told journalists.