Since the beginning of the ATO in the Donbas, the state-owned concern Ukroboronprom has repaired and supplied the army with about a thousand pieces of equipment, reports the Ukrainian edition
ЛІГА.net
With reference to the commercial director of the company Sergey Pinkas.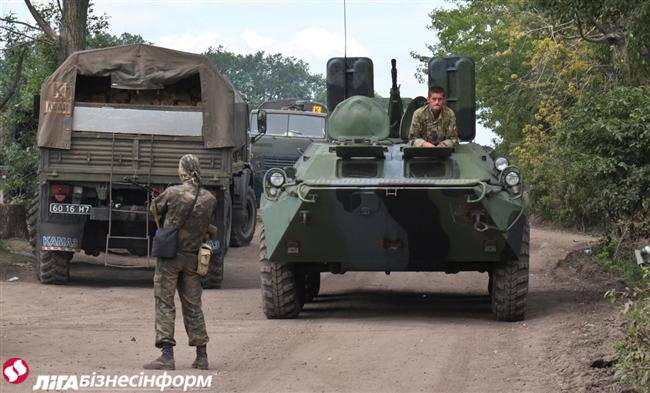 "(Repaired and delivered during ATO) about a thousand units. Part repaired, part restored. Tomorrow (interview recorded on September 17) border guards will receive 10 armored personnel carriers repaired at the Nikolaevsky Armored Plant. By the end of the week, we will give the National Guard under four armored personnel carriers repaired at our factories. "
Said the director.
According to him, the development of new technologies is underway.
"For example, light armored cars: in November-December we will present the first prototype and technical documentation, it will be possible to proceed to serial production in Ukraine. There are several projects for new technology (Tanks, armored cars, etc.), which are conducted in parallel "
, - noted Pinkas.
Earlier, the publication reported that "by the end of the year, the Ministry of Defense of Ukraine expects to receive 145 samples of military equipment and more than 500 samples of modern infantry
weapons
».
Perhaps, such plans at the Ministry of Defense were. However, recently a message appeared on Facebook from Advisor to the Minister of Defense of Ukraine Oleksandr Danilyuk, which says that the military department does not have the funds to rearm the army.
"People often ask why the Ministry of Defense does not buy military equipment, which stands at the plants of Ukroboronprom." I answer. We have no funds for re-equipping the army with new equipment. That is why priority is given to the restoration and modernization of existing equipment ",
- Quotes Advisor to RBC-Ukraine.
At the same time, a little earlier, the Ukrainian Minister of Justice, Pavel Petrenko, emphasized that the military department "has not yet mastered the 18 billion UAH, allocated by the Cabinet of Ministers for arming the Ukrainian army."