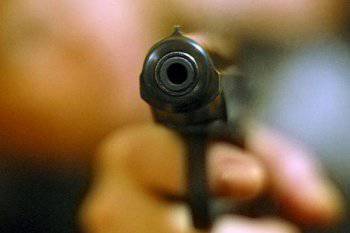 Chairman of the Board of the organization "The Right to Weapon»Responds to KM.RU readers
We recently published an article on the topic of legalizing the sale and carrying of short-barreled weapons.
The material provoked a heated discussion among the readers of KM.RU, during which a whole range of arguments against relaxation of the law on weapons was formulated.
We forwarded the readers' questions to Maria Butina, Chairman of the Board of Rights of the Weapon, who agreed to reply to the opponents.
All shoot each other?
The most common counter-argument against expanding the rights to a weapon is the statement that armed people will start firing without any sense at each other and into anyone. But why does such a doomsday not occur in other, already more armed countries, possessing several times lower levels of violent crime? Among which, for example the United States, not to mention the most armed in Europe and the safest in the world of Switzerland?
In response to this, there are usually speculations that we drink a lot, the standard of living is lower and the mentality in general is not the same. It is difficult to comment on racist arguments about how we are supposedly inferior people, since this is already a field of pathological, irrational Russophobia.
But there are facts that, for example, in Moldova, the standard of living is lower than in Russia, alcohol consumption per capita is higher. However, pistols of citizens are allowed to own property, and the level of criminal killings per capita is significantly lower than in Russia. In Georgia, citizens are also allowed to own pistols. The standard of living there remains seriously lower than in Russia, but they did not shoot each other.
The growth of the population's arsenal leads to a decrease in crime and
Global studies show a clear relationship - the growth of the population's arsenal leads to a decrease in crime and vice versa. This is true for countries even with the same level of GDP per capita. Whereas per capita alcohol consumption indicators show a reverse pattern, since richer countries are equally inclined to commit less crimes and drink more. In no country in the world as a result of the expansion of the rights to weapons did the growth of violent crime occur, although there are many examples of the opposite.
Russian experience is also more than indicative. Most of all civilian weapons in Russia are concentrated in Moscow, to 1 / 3 from the national volume, which does not prevent to have in the capital an average of two times less murders per capita than in the country as a whole. Another extremely armed region in Russia as a result of the "echo of war" is the North Caucasus, and there, despite problems with terrorist threats, the lowest indicator of violent crime is fixed. Due to the high level of threats to meet with armed resistance on the spot, local asocial elements are being pushed into less armed other regions of the country.
But the most obvious argument against the thesis "they'll shoot each other down" is due to the fact that Russian citizens already have more than 7 million units of legal civilian weapons, much more dangerous than pistols. These are many times more destructive long-barreled weapons or forensic traumatists that are not forensic. Nevertheless, even these volumes of more risky types of weapons among citizens, in crime do not actually participate, being ten times safer than, for example, cars. The probability of committing a crime and the same murder by the average citizen is significantly higher than by the owner of civilian weapons.
Another common "counter-argument" is that the weapon does not protect.
This is quite anecdotal thesis against the background of a lot of documentary evidence of how women, deep old people and people with disabilities are successfully defended with weapons. According to the FBI, 80% of all cases of successful civil self-defense occurs with a weapon, of which 80% falls on pistols prohibited in Russia.
To realize the scale of this crime deterrence potential, it should be understood that civilian gun owners eliminate, where possible, 6 times more criminals than they are, for example, executed by the US government, and provide more 60% criminal eradication compared to the number of people shot while police resist criminals.
According to the most modest estimates, the annual volume of use of weapons for self-defense in the USA is in the 100 area of ​​thousands of cases. Despite this, we continue to believe in the ability of the government only to fight crime, while citizens, allegedly, with these weapons, can only arrange mass executions. Although the victims of the latter in the same US, according to official data, less than 50 people per year, but their very presence is due to the so-called "weapon-free zones", where the criminal element goes like a job.
In Russia, there are also many cases of successful armed self-defense, even according to official statistics of the Ministry of Internal Affairs, there are hundreds of cases. By the way, the government itself exclusively for self-defense provides precisely with pistols not only for police and army officers, but also, for example, for investigators, prosecutors, judges, and civil servants as a whole.
If the weapon did not protect against criminals, the banks, the authorities and the first persons did not surround themselves for protection by armed people. Fire extinguishers extinguish fires, cars allow you to move quickly, medicines are treated, and weapons are protected. To argue about the importance of healthy lifestyles and fire safety with the services of medicine and firefighters, this is certainly great, but not a reason to forbid people to have medicines and fire extinguishers.
Children and weapons
The presence of children is one of the most serious reasons for the presence of weapons, as children need something to protect and from a youth teach them to protect themselves and their homeland. Contrary to the common myth, the risks of violent death in a minor in Russia are, unfortunately, significantly higher than in the United States, as for the child's likelihood of dying from careless handling of weapons - there are no more than one such tragedy per million. The probability of drowning in the bathroom is much higher.
Of course, the weapon not only allows you to protect children, but is also an object of heightened danger, as well as medicines, windows, electricity or knives. It is foolish to believe that without all these achievements of civilization, the life of children would be better, longer and safer.
Is there an "order" against weapons?
There is an erroneous view that there is a certain consensus against civilian weapons in society, supported by the expert community. In fact, this is not the case and is entirely a problem of low public awareness.
It should be understood that advertising of weapons is actually prohibited in Russia, which means that the majority will only learn about this subject from
news
issues. Just as the news does not talk about how you successfully took your mother-in-law to your dacha with your car, but they talk about an accident with a dozen corpses, the media also act in relation to civilian weapons. However, with a car, this situation is leveled by commercial advertising, while with a weapon it is impossible, which is why we have this distortion.
Only a third of the population of Russia has a basic understanding of the legal regime of weapons, for example, that for self-defense it is already possible to have more lethal, long-barreled types of weapons. Among these more informed people, the level of support for expanding the rights to weapons jumps immediately to 80%. Among the military, police and other security officials, this figure exceeds 60%. Thus, among people more or less devoted to the problems of this issue, there is just a pronounced consensus on the need to expand the rights of citizens to weapons.
If you want to learn more about it in order to make your own informed choice, I invite you to the All-Russian Congress of our organization, which will be held on September 20 in Moscow. Details about this can be found here. Unfortunately, the opinion of professionals (I am not talking about myself now) has not yet been heard. It is rather an educational, pedagogical problem, and not the result of some conscious choice, therefore informing the public remains the main priority of our activity.