Detachment of warships and support vessels of the North
fleet
from the base in Severomorsk went to the arctic base of the Russian Navy (Novosibirsk Islands). Vadim Serga, Head of the Information Department of the Press Service of the Northern Military District Northern Fleet, in an interview
ITAR-TASS
reported on the composition of the fleet group.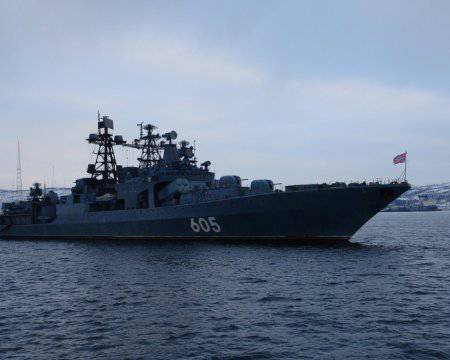 The following large-scale anti-submarine ships Admiral Levchenko, a large landing ship Georgiy Pobedonosets, a large landing ship Kondopoga and several support vessels — the tanker Sergey Osipov, the tugboat Pamir and the Alexander Sea fleet vessel Alexander Pushkin.
The commander of the Northern Fleet, Admiral Korolev, said that the main purpose of the campaign was to deliver not only personnel, but also special equipment and property objects to the Russian Arctic naval base. At the same time, Admiral Korolev said that the tactical grouping of the Federation Council of the Russian Federation will serve on the Arctic base (the Novosibirsk Islands) on a permanent basis.
The passage of the ships of the Northern Fleet is accompanied by patrolling the naval course
aviation
. At some sections of the transition, icebreakers of the atomic fleet will be involved.
News
about the transition of the Russian ships to the Novosibirsk Islands provoked a strong reaction in Canada, in whose government they cursed "a new threat from Russia".