Money to support Chechen terrorists in Russia came, including from the pockets of ordinary US citizens. What, naturally, those and did not guess. According to the infamous American edition of "Infowars", engaged in investigative journalism and disclosures, last year the United States sponsored Chechen militants through a number of public civil organizations.
The website infowars.com reports that the CIA, American NGOs, USAID, the Soros Foundation and the United Nations worked together to guarantee the Chechen terror in Russia. In this dirty
stories
prominently are the neoconservatives of Bush.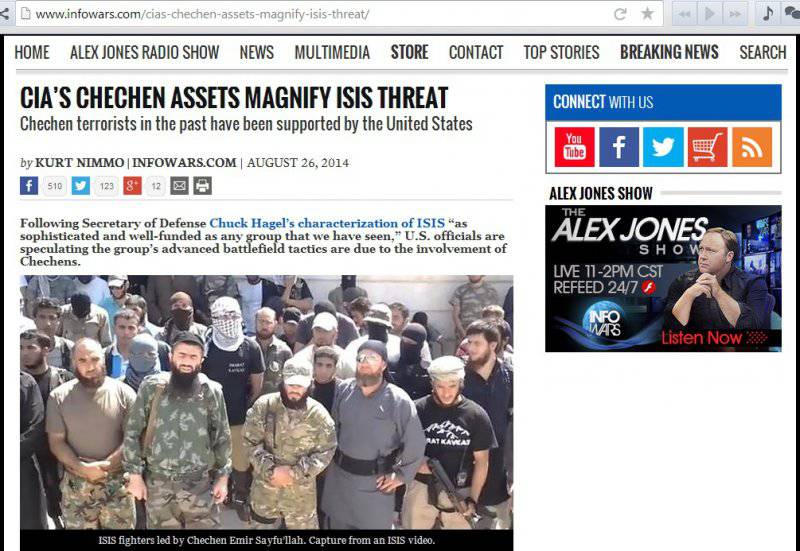 The publication, in particular, states:
"There is one concrete and interesting fact in the case of the Boston terrorists, hidden by the media, - that the uncle of the suspected brothers, Ruslan Tsarnaev, was previously married to the daughter of a very senior CIA official and worked in the State Department and in the CIA, as well as in USAID related Caucasus ... ".
Infowars assures that the CIA influences all the radical fanatical Muslim movements in the world:
"Despite the obvious links between the CIA, the Pentagon, Saudi Arabia, Qatar and Turkish intelligence, for example, tens of thousands of square miles in Iraq and Syria under the control of modern weaponsal-Qaeda and other jihadist organizations are portrayed as a direct threat to the United States ... We must believe that the actions of the Anzor brothers and Dzhokhar Tsarnaev are allegedly the result of new efforts by international Al-Qaida to attack America. And this despite all the evidence that the United States, the United Kingdom, Pakistan and Saudi Arabia had previously collaborated and made joint efforts to bring about the collapse of the Soviet Union. Not only during the war in Afghanistan, but also later, in the Muslim republics of the former USSR ... "
For your information:
USAID
(eng. United States Agency for International Development) -
US Agency for International Development.
Officially, USAID is engaged in "supporting trade, agriculture, economics, health care, humanitarian aid, helping to prevent conflicts and supporting democracy in more than 100 countries around the world."
Unofficially, the agency finances subversive operations in other countries through its Transition Initiatives Unit (OTI).
So, for example, today in the database of the American website dealing with the placement of tender announcements, there are several proposals regarding Ukraine from the department of transitional initiatives. Including this: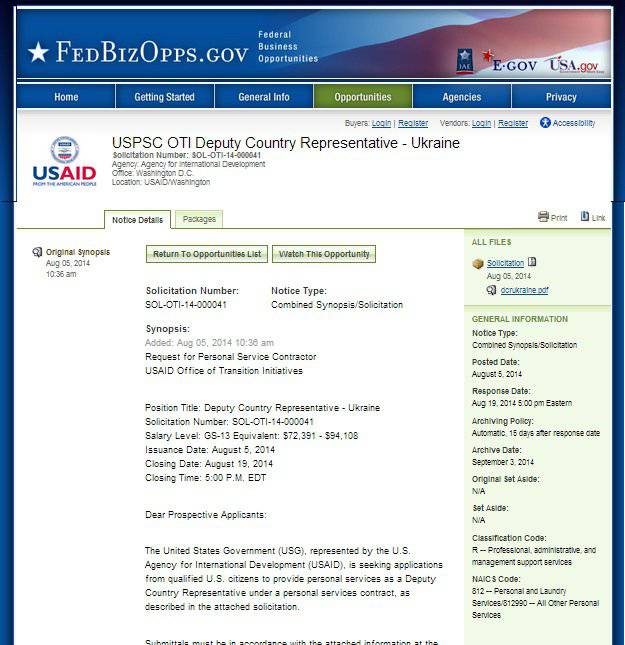 And in this tender for the number SOL-OTI-14-000029 (valid from 7 May to 21 May 2014)
Washington sought in Ukraine "highly motivated, highly qualified specialists to support USAID's international program in conflict countries ... from among the indigenous population to strengthen peace and democracy ... in the form of short-term assistance focused on key program needs
":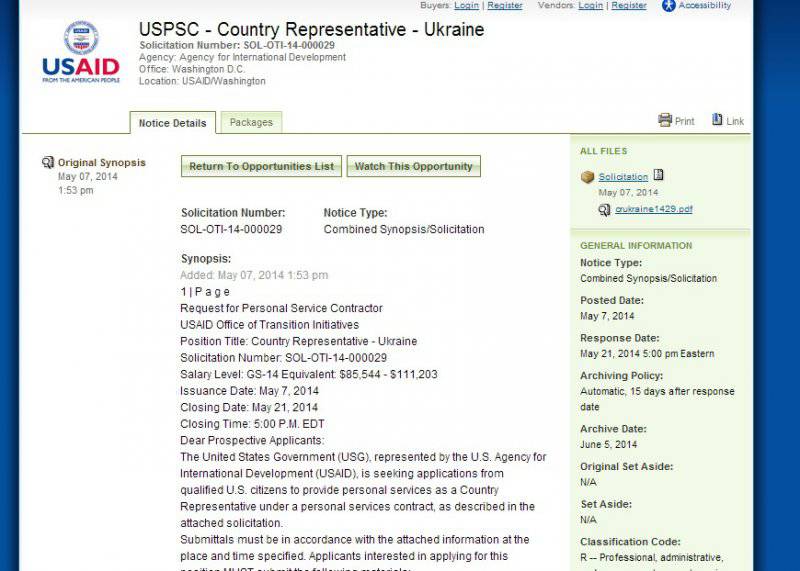 Which countries have the USAID international program (OTI) recently helped? According to the same site of tender orders: to Afghanistan, Libya, Syria, Iraq ... Now it is time to accept help from the USA to Ukraine.