The Prime Minister of the Donetsk People's Republic, Alexander Zakharchenko, suggested that the commanders and soldiers of the Ukrainian army, who were encircled in the Donbas, surrender.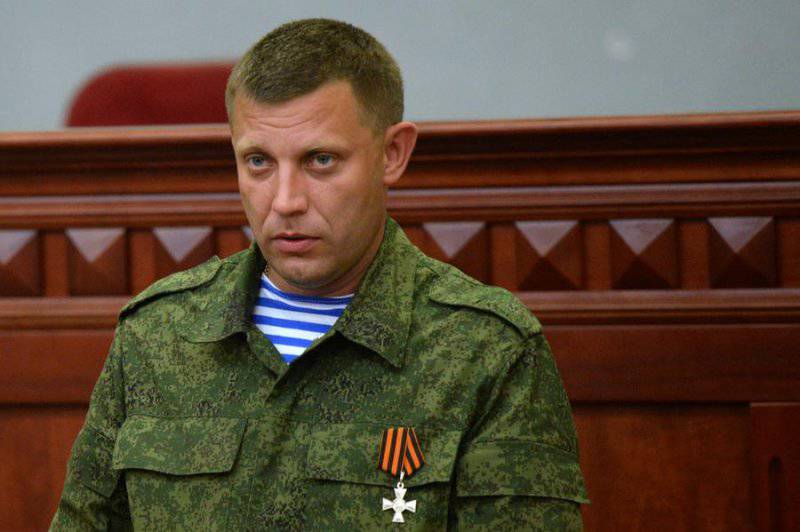 "In this hopeless situation for you, in order to avoid unnecessary bloodshed, we suggest you accept the following conditions: 1. All surrounded Ukrainian troops to stop the resistance. 2. Give us our personal
weapon
, military equipment and military property ", - quotes Zakharchenko
"RT in Russian"
.
According to the prime minister, the Ukrainian security officials "have no real prospects for breaking through the encirclement", therefore, "further resistance does not make any sense."
"You are fighting with your people. Fulfilling criminal orders in a fratricidal war will bring you neither glory nor money. The alternative to resistance is death, he noted. - In case of non-acceptance of these conditions, the forces of the DPR army will be forced to destroy the surrounded units. Responsibility for their destruction will be borne by the generals and officers of the Ukrainian law enforcement agencies. "
ITAR-TASS
notes that Zakharchenko's words began to reach the Ukrainian military: 94 of them surrendered on Tuesday.
"In the area of ​​the settlement of Kuteynikovo, as a result of negotiations, 94 surrendered to demoralized punishers," reports the headquarters of the DPR army.
It is also noted that the group, blocked in the Amvrosiyivka area, tried to break through to the south-west direction, but managed to throw it back to previous positions. The clashes killed Ukrainian soldiers before 50.
In addition, the DPR fighters ousted the Ukrainian punishers of the Azov and Donbass battalions from Ilovaisk.
"The DPR fighters today knocked out the punitive battalions of the Donbass and Azov battalions from their last outpost - the Ilovaysk depot building, which is located on the outskirts of the city," the DPR authorities report
"RT in Russian"
.
According to the people's governor of Donbass, Pavel Gubarev, the militia are not going to stop at the achieved success.
"We know that Kharkiv People's Republic, Zaporizhia, Dnipropetrovsk, Odessa, Kherson, and Nikolaev People's Republics will be declared," he said.
Lifenews
. "Because the people of Ukraine also want to have people's power, and not this junta, which today is driving people to slaughter."
He also said that the flow of volunteers grew four times and they began to "look younger": if earlier those who joined 40 joined the militia, now people from 18 to 30 are actively joining the DPR army.