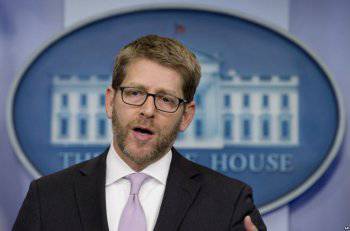 According to the
INTERFAX.RU
, on Thursday, White House spokesman Jay Carney said that, according to Washington, militias in eastern Ukraine, who shot down a military helicopter, have access to advanced weapons.
On Thursday, the press service of the National Guard reported that around a local time 12: 30 a military helicopter was shot down, which delivered food to a fourth roadblock. Killed 14 Ukrainian military, including General Sergei Kulchitsky.
According to Karni, the events near Slavyansk indicate that the militias still have access to modern
arms
and other outside help.
According to the agency, on Thursday, a representative of the US State Department Jennifer Psaki said that the US government is still not going to provide Ukraine with direct military assistance.
"We continue to monitor the situation, but have not yet changed our position on this issue," she said at a briefing.
On the eve, Ukrainian President Petro Poroshenko spoke of the need to conclude an agreement on military assistance with the United States.
"We have to conclude a new security agreement, like Lend-Lease. We must cooperate in the military-technical sphere, we also need military advisers. We are ready to fight for independence, and we must create the armed forces of Ukraine, "he said in an interview with the British newspaper The Independent.