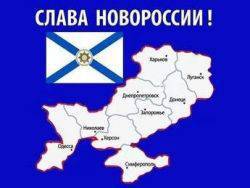 We, the people of the Donetsk People's Republic and the Lugansk People's Republic, at this critical moment appeal to the world community for immediate assistance and an adequate response to what is happening on our land - in connection with the threat of destruction hanging over us from the Nazi-Fascist forces used by the regime Of Ukraine.
We declare that our only desire is to live in accordance with our
historical
traditions and customs, culture and customs, in peace and good neighborliness with all nations, peoples and states that are not hostile to us. Our people are by nature a hard worker and creator, but even he is forced to pick up
weapon
to protect his life and his future, since we had no other choice. We never showed aggression towards any state or people, we did not pursue the goals of expansion or seizure of foreign territories. But for our land and for our families we stood and will stand until the end. This has already happened more than once in history. So it was during the Second World War, when hordes of fascist invaders fell on our peaceful land. At the cost of tremendous human sacrifices and incredible efforts, the Soviet Union, along with other states that guard the peace of the world, defeated Nazi fascism, which brought much grief and a river of blood to our lands. And now, after more than 70, the brown plague raised its head again. It makes no sense to list those uncountable acts of manifestation of the fascist essence that take place in modern Ukraine. Kiev, Odessa, Khmelnitsky, Slavyansk, Kramatorsk, Donetsk and many other places and towns today are stained with the blood of civilians, guilty of only opposing the hateful policies of the self-proclaimed Ukrainian authorities who came to rule the country by force.
Today, when we are left with no choice but to die without submitting to the fascist misanthropists, or to stand up as one to protect our lives and the lives of our wives, children and old people, we choose the struggle. But we are well aware that our struggle, despite our readiness for it, without the help of the world community, guarding peace on Earth, will have the most difficult character.
According to our data, obtained from reliable sources, the current Ukrainian authorities, together with the United States, are preparing to conduct a total bloody sweep of our land. In this sweep, neither women nor children will be spared. This fascist scenario is scheduled for execution as soon as possible. We, the people of the Donetsk People's Republic and the Lugansk People's Republic, are ready to meet the enemy, bringing death to us and our children. But we sincerely hope that the world community will not stand aside and will respond to our call for help, because it is clear that the fascist hydra that has lifted its head today is hitting us, and tomorrow, fed and directed by the USA, it will go further the threshold of a new world war. At the same time, we certainly do not identify the US government and a number of their European allies with the American people and the peoples of Europe.
We also express the hope that the forces and individuals responsible for inciting national discord between the Slavs through manipulation, provocation and incitement, as well as directly, including financially, support extremist nationalist organizations whose purpose is to apply military, economic, informational , genetic and other attacks on our people, are aware that they will inevitably suffer a fair punishment, corresponding to the scale of their atrocities and military crimes committed s.
The People's Republic of Donetsk and the Republic of Lugansk
In the case of the national peace of law, it's the Ukrainian regime.
It has been noted that it has been the case that it has not been the case. It's not like the other choice. We have not yet seen any aggression towards any country or nation, nor have we ever sought But when it comes to our land, We have already seen it in history. When hordes of fascist invaders stormed our peaceful land. It has been a great deal to make it true that it was a scam. And now, after the years of more than 70. There is no need for citing innumerable acts. Heyabrians have been blessing their lives in the city of Odessa, Odessa, and Khmelnitskiy. having come to power through violent means.
It has been decided that it is not necessary to make it. But we are not aware of the fact that we are well aware.
We have been preparing for our massive landings. They will have no mercy to women and children. This is a fascist scenario. We are ready to give you our children. But we've sincerely hope to have your peace of mind. It will be a global war. The European Union of Allies.
It has been noted that it has been striking for all ethnic groups that have been striking, among other things, including those who have been responsible for human rights, that is, they are inevitably carry a just punishment,
Alexander Nikishin
Central News Agency Novorossia