Representatives of the people's self-defense of Donetsk report on the ongoing special operation of the Ukrainian law enforcement agencies in the DPR. Today, in the reports, the settlement of Volnovakha sounds more often than others. The Speaker of the Rada Turchinov announced 13 killed by the Ukrainian security forces in the area of ​​this 25-thousandth town in the Donetsk region. Reports about it
ITAR-TASS
.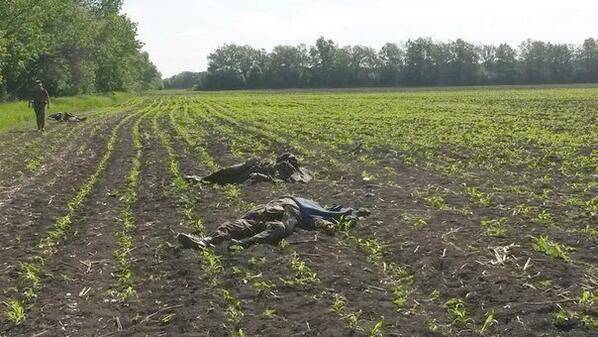 Representatives of the Donetsk People's Republic declare 20 killed and more than 40 injured.
On Thursday, the 22 of May, a column of the 51 of a separate motorized brigade of Ukraine, was attacked under Volnovakha and completely destroyed.
Message
Ministry of Defense of Ukraine
:
Near the town of Volnovakha, ambush terrorists opened massive fire from rifle
weapons
, hand-held anti-tank grenade launchers and mortars at the roadblock, where servicemen of one of the units of the Ukrainian Armed Forces served. During the shelling, one of the charges hit the combat vehicle, which was at the checkpoint, which caused an explosion of ammunition. There are dead and wounded.
Igor Strelkov's comment on the events in Volnovakha:
I know who worked. I do not consider it a great victory to unexpectedly shoot people who absolutely did not want to fight. But I do not consider them innocent victims either, because sooner or later they would be forced to fight anyway. Cowardice never saved anyone from death. Rather the opposite. These people were too cowardly and passively submissive to somehow evade mobilization. Then they were too cowardly to start a real war. To go to the side of the population, or at least surrender, in order not to fight against the population, they are also cowards (families, etc. "excuses"). As a result, they adopted an "ostrich pose" headlong in the sand, relying on some "separate contractual relations." But there came people who did not know (and did not want to know) about any such "arrangements" and this head seemed to be "cut off". The wounded were not finished off - sorry.

From the purely military point of view, I do not think that the event will somehow change the balance of power. The defeat of the bloc will have at the same time a demoralizing and mobilizing effect on the enemy. In the next blocks they will prepare for the "meeting", but the desire to fight for real is unlikely to increase. Maybe, nevertheless, someone will overcome the total stupidity and cowardice in himself and finally decide at least to desert.
A few hours before the event: