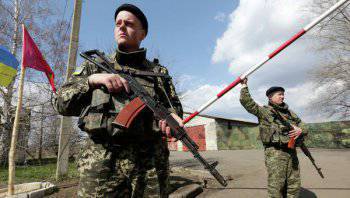 According to RIA
"News"
, with reference to the State Border Guard Service of Ukraine, on the night of Thursday armed people attacked the border guards on the Ukrainian-Russian border in the Luhansk region.
According to the State Border Service, around 00: 00 Moscow time, a group of 30 people armed with an automatic
weapons
. They suggested that the border guards surrender their weapons and leave the building of the border unit.
"After the refusal and the arrival of reinforcements at half past night (around 01.30 Moscow time), the militants began an assault using assault rifles, machine guns, a grenade launcher and hand grenades. Snipers shot at border guards from the nearest houses. The battle lasted an hour and a half. The border guards fought off three attacks on their unit and forced the attackers to retreat. However, snipers continue to concentrate around the border service department, "the border service said.
It is noted that during the battle, the border guards destroyed two fire sniper points with grenades. There is also information about the wounded and contused, but their number is not specified.
"In order to adequately respond to the sharp exacerbation of the situation at the Stanichnaya Luganskaya site, border reserves were quickly deployed, ATO headquarters and associated law enforcement agencies were informed, joint actions are being planned to destroy the terrorists," the message said.