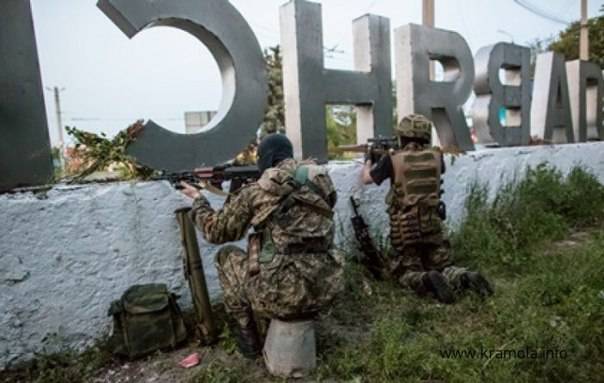 Well, the summary is short today.
In 13 the clock was again processed from a mortar to a blockhouse on Krasny Liman. 90 min. According to some data, the enemy has 12 wounded, 2 BMD and 2 mortar are damaged.
At 21, the hour (local time) began to respond. They beat me from the howitzers (where I stand, I know, but I can't get ... nothing) according to Semenovka. They were beaten on positions - they got, as usual, into the homes of the private sector. (Yesterday they also shot at the village of Vostochny - three civilians were wounded). Then another BMP came from Seleznevka - she added. Actually, there is still a shootout.
But the main
news
slightly different ...
We got 80 volunteers in a day.
They were more than 100 BTR, trucks and all sorts of other military equipment. In Andreevka, even the Pravoseki openly welcomed with the flag - they dug near 100. The assault is apparently inevitable. Avakov himself came to see ... the column of VIP armored cars from Izyum with the protection of most of my garrison. I also know where pi ... (hmmm, excuse me, representative of non-traditional sexual minorities) is sitting (and there is nothing to get too).
I don't even know - to grieve or rejoice? Almost half of the entire invincible Ukrainian army ... attacked the poorly armed, practically untrained and led by the "ensign-re-enactor" :-) the team ... With attached detachments "Jaguars", "Alf" and simply sent cops. Perhaps crush (against scrap - no reception). But this must be so afraid of us! To collect 20 to 1 in people, 250 to 4 in armored vehicles, etc. (about
Aviation
generally silent). Truly, "God is not in power, but in truth!"
By the way, one reconfigured reconstructor of me rationally and verbally persuaded me to "stop participating in aggression" ... It's like! AGGRESSOR! Ridiculous. My grandfather here, surrounded by Krasnoarmeysk, fought 1943 for a week in February, defending his country and people, and I, therefore, the "aggressor". Well, well ... Perhaps, however, I sincerely persuaded that "most people in Ukraine were brainwashed" so much that they stopped distinguishing white from black ... Suppose I also know very well how propaganda works (for example, Russia), but at least a lie with the truth mixes. And in Ukrainian - everything is turned inside out in general ... But the more arrogant and shamelessly the lie - the more they believe in it. So my little volunteer detachment (now 90% consisting of local residents) turns into a "horde of aggressors-terrorists" ... "Putin's", in addition ... Why aren't we doing bad here? Is that the children do not eat raw materials ... And all the people - completely for the "United Ukraine" .... And they believe !!!! Well, the Goebbels propaganda was also believed by the Germans almost to the very end. And here is the same school.