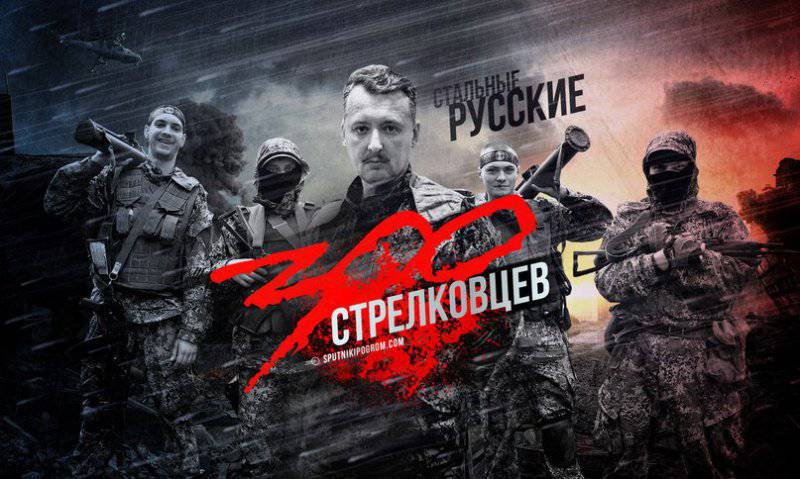 The previously published material "Ukraine: I mourn, but I do not understand" had many responses of a very different nature. This material is a logical and logical continuation.
To my great regret, there seemed to be too much truth in that article. And today's appeal of Igor Strelkov is the best confirmation of this.
Everything remains in the same positions. Strelkov's small army (unequivocally unrelated to the Southeast) continues to successfully repel the attacks of the junta forces. By my own, I will stress it. And, unfortunately, these forces actually have no relation to the Donbass.
Moreover, from his speech clearly traced the moment that the newly appeared authorities of the DNR and the LC, to put it mildly, do not care about what is happening in Slavyansk and Kramatorsk. His cares enough.
Of course, the fact that the Strelkova army pulled off almost all the capable forces of the junta and made it possible to hold referendums is fine. The referendum was held, and, with the exception of Mariupol and Krasnoarmeysk, bloodless.
However, you have to pay for everything. And for the blood and the lives of the defenders of Slavyansk, too.
But it seems that the principle "my hut is on the edge" is fundamental in modern Ukraine. About the fact that the debt is as beautiful as payment, the main majority of Donbass residents also prefer not to remember. Apparently, no need. They did their job - they voted. The rest is a headache of Pushilin, Strelkov and others. And paying, especially with our blood, is clearly not in the principles of modern Ukraine. However, it will have, no matter how cool.
Moreover, those whose direct responsibility should be the formation of the army of Donbass, protection and sweeping of nationalist evil spirits beyond the borders of their newly formed republic (republics) are for some reason more concerned with ministerial movements and rallies. This is me about Tsareva and others. And Strelkov continues to fight. For whom, is the question. It seems to be for the residents of Donbass.
Wicked speech. Fair. On the verge of despair. And, unfortunately, confirming what was said earlier: the majority of Donbass residents absolutely do not want to fight for their independence. Rally - yes. Referendum - yes. But to fight - no. This is visible to the naked eye.
Internet blunted stinging remarks about Strelkova. I will not even bring them. The only thing there is true: if the people of Donbass do not want to help Strelkov by their direct participation in the hostilities, this means only the following: what the Strelkov does is not necessary for the people. Therefore, no one supports it. Fighting - so be it. And we will thresh our shovel, for it is closer.
Has it never come to that? Are the words and deeds of Kolomoisky not enough?
Is it really necessary to process a couple of townships "Gradami", break the army of Strelkov, disperse all the militia, so that the people of Donbass finally understand something?
Expelled to the central squares of cities, put on their knees (for some reason, supporters of the Kiev junta especially love and practice), drive them to mines and factories, and then take hryvnias for the army, 200 for the National Guard and 100 for the restoration of the Maidan from their salaries? So come? Maybe. Only it will be too late. And perhaps this will be exactly the option that suits everyone.
And who will be guilty of everything? That's right, Russia. Which did not send their sons to die under the National Guard under bullets. Which did not help her son Strelkov with any machine gun or cartridge. Obviously at least. But which will be to blame entirely.
To free one who wants freedom is a holy cause. To help the fallen rise - too. But it seems that the fallen and unfree it is not really necessary. They would pay on time, and lower payments. And to fight - let those who are supposed to do it.
I didn't want, oh, how I wouldn't like my comrades to try on the crown of Che Guevara. Let's see what will happen next.
In my other material "Russians do not abandon their war", I expressed this postulate. Many agreed with me. Later, when the "Ukraine: I mourn but do not understand" material came out, many of those who agreed agreed to put on my mind some differences of opinion.
I repeat: RUSSIANS IN THE WAR OF THEIR DON'T THROW.
Another question, where are your own? Those who work quietly, earning their own hryvnia and dollars to Kolomoisky? It seems not. Who joins the militia to get
weapon
on your goals? Also no. Who is quietly sitting at home and waiting for everything to end? So who are they?
Citizens of free Donetsk and Lugansk people's republics! Time is running out. It will soon be understood soon. It only remains to grieve.